Corolla Fish Report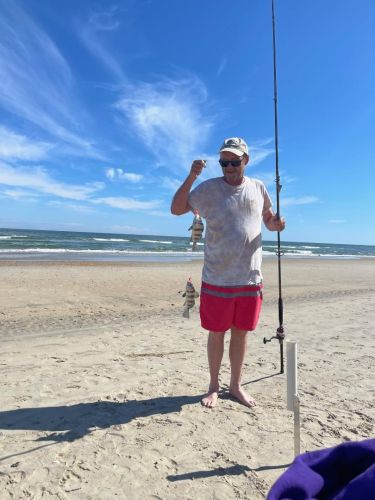 Thursday, October 13, 2022
Offshore from Oregon Inlet
Inshore from Oregon Inlet
Corolla to Nags Head Piers
Corolla to Nags Head Surf
Corolla to Nags Head Sound
  Well, kind of gloomy out today but it could be worse. I had a lot of reports from folks yesterday I guess they finally wanted to talk. The fishing was very good and most said that shrimp was the ticket. Lots of double hookups and people had for the most part had nonstop action. Now there are some not catching much and asking if anyone is catching anything because as far as they can see around them no one was catching but the shop was full yesterday with folks reloading with bait. This week we have had some really great weather days and apparently some decent fishing it's just I was hearing about it late. We had drum from slot to bigger, trout, lots of bluefish, and lots of small black drum, mullet, and croaker. Now not all were trophy size but the good weather and plenty of action have made for a wonderful week for most and that's what it is about. The piers are pretty empty today and I don't see much happening plus the wind did shift today. The nearshore boats having a good time with Spanish, blues, triggers, sea bass, and bonita. Offshore filled their boxes by lunchtime with a lot of boats heading in early with yellowfin and mahi. So if you are coming in this next week you could be in for a heck of a good time it looks like we should have decent weather and some good fishing. Today 1 to 2-foot waves with 67-degree water.

Charters are available just call and reserve a spot it's just that easy.

Send your questions and your photo to obxbaitandtackle@yahoo.com and we do thank you!