Corolla Fish Report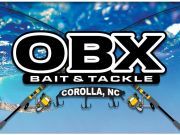 Offshore from Oregon Inlet
Inshore from Oregon Inlet
Corolla to Nags Head Piers
Corolla to Nags Head Surf
Corolla to Nags Head Sound
Friday, not that means a darn  thing. I was out the last couple of days so  I will try to get caught up. Not seeing much happening yesterday or today for that matter fishing seem to be a little slow. Have has reports of trout just under size recently and a keeper drum but that was two days ago. The water is clean and clear and we do have a weather system moving in maybe it will rough the water up and we will get some action. Water temp is good at 65 today. I am looking at another report which will go nameles but it brings up a point that I was going to mention. First I don't think I agree with the fish report based on what other info I look for but there has been a lot of folks looking for fresh mullet and I get it. This is the time of the year when mullet are on the move and are a prime source of food. We do try to carry fresh but we are the last stop to any local commercial fisherman to come to which is where most of the mullet come from. Now most people say that fresh is best and that could be subjective just like fresh shrimp or cooked shrimp? Makes you think doesn't it cooked shrimp stays on the hook better and is firmer and yes it does work. Back to the mullet if you take fresh caught mullet and flash freeze it it is just as good and there is no difference its just a fact. It's kinda funny because I will have a load of people fishing with frozen and catching fish and I will have one that has to have fresh. Another good point if your in for fresh shrimp and I am out and you decide to go to the fish market to get some fresh I'll let you in on a secret that shrimp you think is fresh was frozen as in just about all seafood. The next time you go to a restaurant and see fresh shrimp, mussels, crab I can almost guarantee that it has been frozen. Seafood does not last long from the time its caught till the time its transported and you buy it, just food for thought. Just to let you know when we get mullet in we have to but a lot of it and when you only get  three four or five people in for it we have a lot left and it only last  three days then we have to freeze it then in reality the frozen really isn't that good at that point because it was bad going in. I will bring this up again at sometime its a good topic.
Back to the fish so along the shore has been somewhat slow. Nearshore boats doing well with some nice drum to the inside. along the shore Spanish, bluefish, bonita, false albacore and sea bass. The offshore action has been yellow and blackfin tuna, mahi, wahoo with a marlin here and there.  
Charters are available this week just call the shop and we can get you all set up.

Send your questions and your fish photos to obxbaitandtackle@yahoo.com.