Corolla Fish Report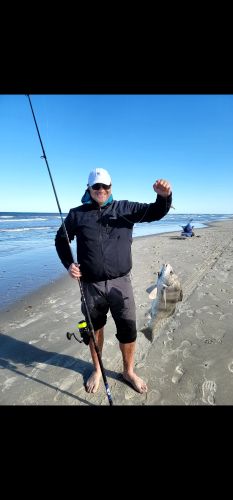 Offshore from Oregon Inlet
Inshore from Oregon Inlet
Corolla to Nags Head Piers
Corolla to Nags Head Surf
Corolla to Nags Head Sound
  Winner, Winner Taco Dinner!! Jay from Oakton, VA came into the shop and shared this photo of a 25" Black Drum caught on shrimp just behind the shop on Sunday in the worst possible conditions. The ocean was rough and very dirty but never the less Jay you pulled out a good one. Jay is definitely going to be the King of the Week the only other thing that I have heard about being caught is some skate but you never know if you don't have a line in the water. Now that I have finally remembered to bring my laptop in I should be able to get the daily reports out. Today is cloudy with some scattered showers but it is supposed to be warm today will see. The water conditions do look better today but I wouldn't say perfect. The ocean is calm along with the wind this morning. There is a good amount of folks out fishing this morning and the piers are starting to see a mullet bite along with spot and puffers but the mullet starting to move is a good sign. This is the first week that we have really had people up here so what is out there is anybody's guess and it is still early for anything to really take off yet The water temp today is 51 so we are still on the cool side of things ideally we need to be around 65.

  I do have a couple of charter boats running one up here in Corolla on the sound side and one ready to hit the ocean down at the main marina for now the rest of the boats captains are still finishing up on any repairs that need to be done and should be ready soon. Offshore fishing reports we are starting to see some yellowfin moving in and there are some bluefin still being caught with blackfin and wahoo at times. Around the inlet, on the short trips, there have been some nice drum caught and some keeper trout with a bunch of throwbacks and I am sure there are some other fish around again still on the early side of things but it's better than working.

You can book your charter at any time to make sure you get the date and time you want just call the shop we will get you all set.