Corolla Fish Report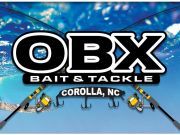 Offshore from Oregon Inlet
Inshore from Oregon Inlet
Corolla to Nags Head Piers
Corolla to Nags Head Surf
Corolla to Nags Head Sound
  Still, quiet on the oceanfront. Absolutely flat seas its like a lake right now which really doesn't help the fishing you do like to have some wave activity out there. If there is any good news the water temp did come up last night to 56 degrees. Not a huge jump but we are moving in the right direction. I see a few folks on the piers this morning and it is cloudy today and we expect some rain later today but it is warm out. I think the rest of this month is going to be slow as it is change over day and most of the Easter folks will be leaving. I will keep you up to speed if anything does happen to change.

A quick note before I finished this report I saw my neighbor out on Avalon Pier cam and he is reporting trout so some good news.

Offshore boats are hitting the tuna and charters are available call and book yours today.