Corolla Fish Report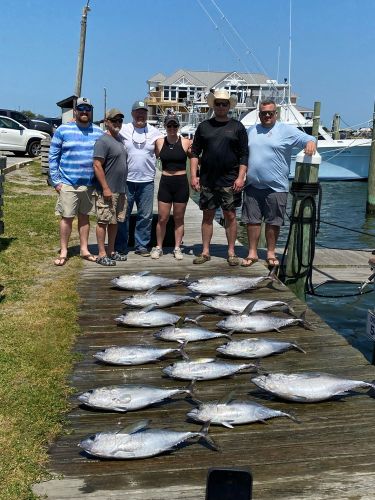 Offshore from Oregon Inlet
Inshore from Oregon Inlet
Corolla to Nags Head Piers
Corolla to Nags Head Surf
Corolla to Nags Head Sound
Sound the trumpets!! We hit 60 degrees finally. That's step one now we just need the fish to come to visit. We are seeing a good mullet bite with kingfish which is a good sign with some puffers and croakers. The skate still on the bite as well and not much we can do about that till they go away. Reports yesterday that there is a large school of spot moving around which is also a good sign this should mean that the drum should follow. The ocean looks good this morning and we do have a stiff wind today out of the southeast which is not bad. The piers so far this morning have mullet, puffers, and flounder on them. There were several drum caught yesterday afternoon. Nearshore boats are getting some good drum action around the inlet with bluefish and trout. Offshore fishing was fantastic yesterday with loads of yellowfin, a citation blackfin some wahoo, and a 130# big eye tuna so the gulf stream fishing is really starting to heat up. The air temps are going to decline this week but it should be a good week overall.

Charters are available this week and we are going to be offering an evening trip this year from 5 to 8 pm for $450 and you can enjoy the sunset have a few cocktails and even get in some light fishing to boot!!

Have a great day and get out and enjoy it.