Corolla Fish Report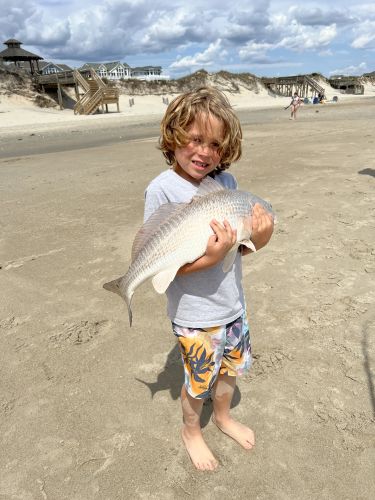 Offshore from Oregon Inlet
Inshore from Oregon Inlet
Corolla to Nags Head Piers
Corolla to Nags Head Surf
Corolla to Nags Head Sound
   Finally!! Breaking news 6-year-old Walker Anderson from Madison North Carolina one of our own strikes gold or in this case red landing this nice 28" drum in Corolla. As I understand the story Dad had caught a mullet and said the next fish was yours and boy it was a good one so congratulations goes out to young Walker. Also thanks to Dad for sharing the pic with us.
 Cloudy this afternoon and the wind is still upon us. However some good news, we have heard about some larger fish on the move from the south, and one gentleman in the shop this morning reported a 37" red drum just south of the shop along with a good mullet bite we will see if he decides to send the photo in. More reports of red drum and black drum down in Duck so a few larger fish just to our south. We have also seen a few large stripers hit to the south also. Now we are not talking about big numbers of these big boys but it is the start of things to come. It does seem that some areas are doing better than others for now but welcome to the beach which changes all the time so looking for the right holes is critical. I don't think it's going to be long before we see it just go off!! The piers this morning seem to be looking pretty good I saw a lot of mullet coming over the rails at Avalon and Jennette's reporting mullet and bluefish. Nearshore boats have drum and trout around with some nice sheepshead to go after. The offshore fleet still has great fishing going off out there with yellowfin, blackfin good amounts of mahi, and some wahoo.

  Folks if you're coming into town this next week just a reminder they will be resurfacing the parking lot here and I am sure there will be some disruption, to say the least so just be prepared for some discomfort as the work is being done. We may even close for one of those days just not sure what day that might be but it will just be for the one day at beast.