Corolla Fish Report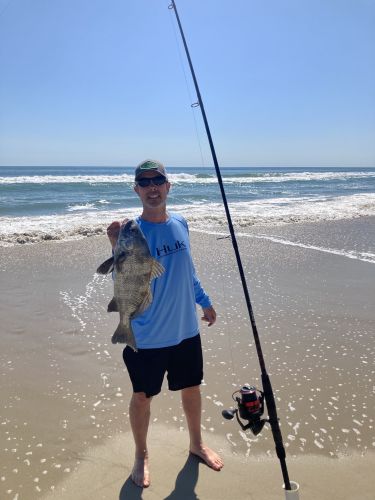 Offshore from Oregon Inlet
Inshore from Oregon Inlet
Corolla to Nags Head Piers
Corolla to Nags Head Surf
Corolla to Nags Head Sound
   Patients Pay Off!! Thomas dropped me an e-mail and had been fishing for about three hours and had One mullet. Then 10 minutes later he landed this beauty and just goes to show, you never know. Well done Thomas it wasn't red hot fishing but you did get a keeper.
   We are supposed to be on a warming trend this week and we should see the water temp pick up a few degrees as far as predictions go and we certainly need it. Today we are currently at 59 this morning with calm winds for now and we do have some 3 to 4-foot waves rolling in. The water is looking pretty clear so you just never know. The fishing is still going to be on the slow side until that temp goes up but we have seen some quality fish get landed this week. There's a pretty good turnout on the piers this morning but I have not seen much action so far this morning but we are just coming into peak high tide right now at 9:20 am so there is still time to see some action. There are a few boats out there running and the inshore fishing is good along with the offshore fishing as well. Charters are available for those that want to get in on some action and take advantage of some good fishing.

  Its looking like we are going to be delayed on the resurfacing of the parking lot as one of the machines has broken down so everything is kinda up in the air right now. We will just have to take it day by day for now if I hear any updates I will pass it along.