Corolla Fish Report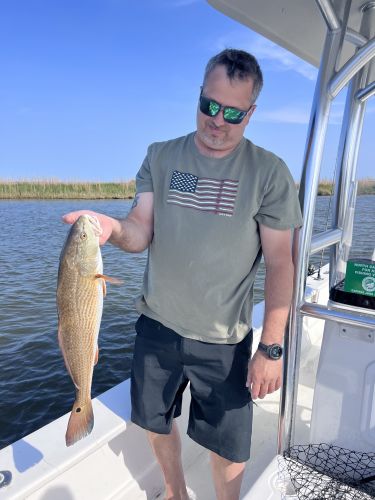 Offshore from Oregon Inlet
Inshore from Oregon Inlet
Corolla to Nags Head Piers
Corolla to Nags Head Surf
Corolla to Nags Head Sound
   The Friday report. A couple of days ago completely unexpected we had a good run on the surf side and since then it has been quiet. I am not hearing anything from the folks coming in here and the piers have been slow as well, not sure what's going on. Today's water temp is 63 so we look good there. The water is somewhat dirty along the shore and the wind is not perfect maybe we just need a bit of a shift and things will turn around. So the beach has been slow but fishing on the sound side is on fire right now. We had a charter go out yesterday at mid-day and the fishing could not have been any better. They caught 27 drum all in the slot and over the slot and from the first cast to the last it was nonstop action. The customer said that it was the best inshore fishing he has ever had and can't wait to do it again. This charter in case you are wondering leaves right here in Corolla so you have a very short run time to the fish and gives you a whole lot more time to fish as Captain Josh said if you go out in the next few days you won't be disappointed.
  Now let's head south to the inlet and the nearshore trips are picking up as well. Plenty of bluefish around and these fish are good size blues the spanish have moved in along with Yep it is cobia time and we are starting to see those fish as well. For the cobia trips, we do recommend a 6-hour trip for these guys. Offshore yellowfin are on the bite with a good amount of mahi and limits of king mackerel. We have also had some price reductions in the charters for now which I know is hard to believe but any savings is a good one.

Charters are available just call the shop for details and we offer a bunch of different trips. We are also gearing up for a huge SALE for Memorial Day weekend and you're not going to believe how much you can save Much of this stuff will be at cost so you don't want to miss out. Even if you don't need it now you can't pass the savings up. We will have combos, waders, reels, and much more at unbeatable pricing.