Corolla Fish Report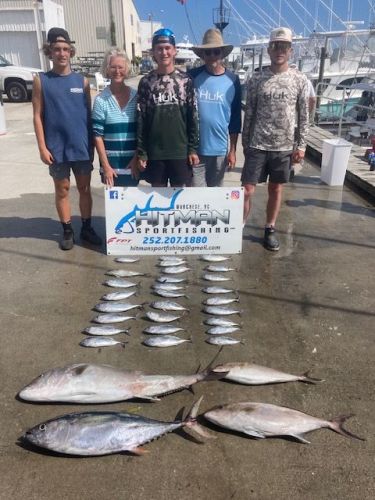 Wednesday, August 16, 2023
Offshore from Oregon Inlet
Inshore from Oregon Inlet
Corolla to Nags Head Piers
Corolla to Nags Head Surf
Corolla to Nags Head Sound
  Well, we had a windy day today And I don't think it did the fishing any good. Strong southwest wind today the ocean was flat but by midday, the water did get dirty. Did hear about a trout and bluefish bite in the morning but after that, I think it just died off. No pier report today and I didn't see much happening on it either. The wind today I think also kept most of the offshore boats in as well but they had a decent day yesterday with mahi, tuna, tiles, and sails. Soud side up here still having some good days with drum, black drum and trout, and perch. No one has said the magic phrase but I remember last year it got off to a slow start as well so I will keep it going and have a new phrase this Friday so the new folks coming in have a chance.

Charters we have them and availability too. 1/2 days to full days we have some great captains and trips call and the shop and go fishing!!

Catch a fish send your photo to obxbaitandtackle@yahoo.com and we thank you.