Corolla Fish Report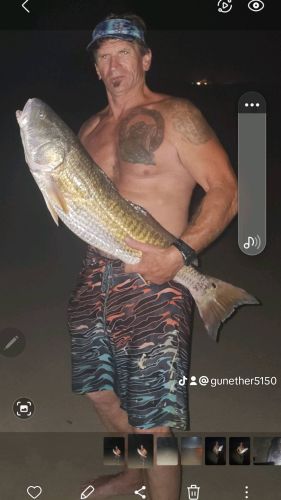 Friday, September 1, 2023
Offshore from Oregon Inlet
Inshore from Oregon Inlet
Corolla to Nags Head Piers
Corolla to Nags Head Surf
Corolla to Nags Head Sound
  Just a Drum a day that's all we ask! Well, John supposedly a newbie to fishing has been hauling one of these beauties out every night before the storm it's doubtful he has been out in the stormy weather unless you are looking for a good place to drown. The surf is up today and so are the red flags for now but we are heading into a beautiful weekend. We do have a few puppy drum from the piers this morning and there might be some anglers from the beach today but everyone is just getting back at it. The storm for here yesterday was not bad just high surf with a little rain and wind. No boats have been running so no reports there or anywhere else it will be a day or two before everyone starts to run again so that's all I have for today. I did miss yesterday but we decided to take a storm day off which was much needed. No winners last week ethier.  This week we start a new game tell me at check out to GO FISH!! and I will give you 10% off your purchase It's just that easy good luck.

We will have charters available this week call the shop for details 1/2 day to a full day of fishing.

Send your photos to obxbaitandtackle@yahoo.com and you can be proudly put in the daily fish report!!