Corolla Fish Report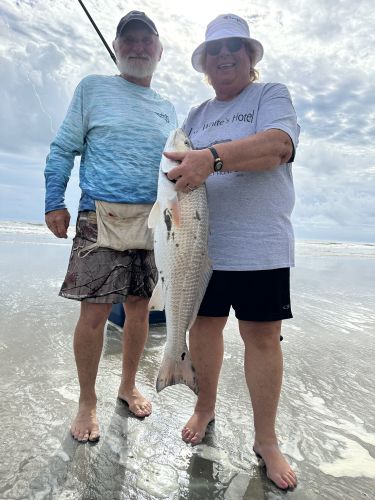 Tuesday, September 12, 2023
Offshore from Oregon Inlet
Inshore from Oregon Inlet
Corolla to Nags Head Piers
Corolla to Nags Head Surf
Corolla to Nags Head Sound
   The Great Drum Run! We have had more drum hitting the beach had a 32" drum caught by Barbara Haverty at Swan Beach right up the street from the shop and we had multiple drum caught right behind the store on cut mullet. For some, they have not caught much and others having a good time. Just remember if you're not catching anything for a period of time it's time to move to a new location. The water temp today is 78 as we start to see the swell from Hurricane Lee. We do see yellow flags along the beach so we begin to have a strong current working which for many makes it hard to hold bottom. We do have a pretty swell so if you can get out there we should see more drum. The piers today seeing a mix of fish with blues, sheepshead, croaker, and pinfish. Nearshore boats pulling on some drum, trout, spanish, and blues with longer trips getting into amberjacks, king mackerel, and albis. The offshore boats still getting a good mix with some tuna, wahoo, mahi and the billfish are off the hook. The weather has been great so get out there while you can. 

Charters will start to end this week as the storm comes closer but we do have availability for next week and we saw good fishing before and after the last storm so you can call and reserve your spot anytime.

Send your photos to obxbaitandtackle@yahoo.com and we thank you.