Corolla Fish Report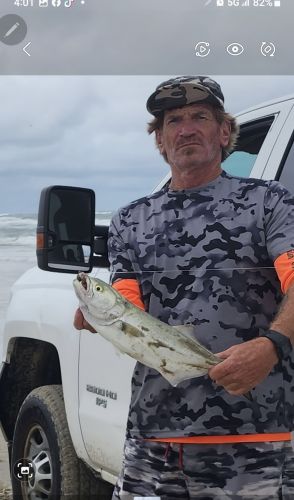 Wednesday, September 27, 2023
Offshore from Oregon Inlet
Inshore from Oregon Inlet
Corolla to Nags Head Piers
Corolla to Nags Head Surf
Corolla to Nags Head Sound
  Rough one today. Big waves and high winds for today and for the rest of the week. We have enjoyed some good fishing of late with a good drum bite along with bluefish, mullet, croaker, and small black drum. Resident John Gault was out last night and sent in a photo of a 17" bluefish and said the current was strong and running to the south but he did manage to pull something in. Not many folks on the beach this morning or on the piers and the boats won't be running either. I do have one of my favorite customers coming in this weekend and Beth it looks like this nasty weather will hold till Sunday but I did save some Drum for you when the weather clears. That's all I have for today but I will keep you all up to date.

The charter desk is open just call for details.

Send your photos to obxbaitandtackle@yahoo.com and we thank you.