Corolla Fish Report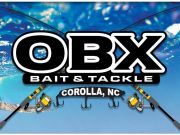 Thursday, October 19, 2023
Offshore from Oregon Inlet
Inshore from Oregon Inlet
Corolla to Nags Head Piers
Corolla to Nags Head Surf
Corolla to Nags Head Sound
  Another fantastic day we have out here with calm winds for a change. Nice clear water today with 1 to 2' waves. We had some late reports yesterday and a good bite with some 23" trout caught and a bunch of say 8 to 9" pompano hitting the lines with mullet. The bluefish with some tailors but most have had good size to them but they are wreaking havoc on a lot of anglers. The small sharks are still on the bite. Cut mullet and shrimp are working for the surf right now. Today is the calmest day we have had in a while and it feels like it has slowed the fishing up a bit for today but it's just too nice of a day not to be on the beach. Still no boat reports and the piers were slow this morning not sure if the fishing picked up later in the day but I will let you no tomorrow. 
 
Charters are available for those who may be coming in if interested just call the shop.

Send your photos to obxbaitandtackle@yahoo.com and we will proudly post them in the next report. Yes I need pictures and we thank you.