Great Fishing Today!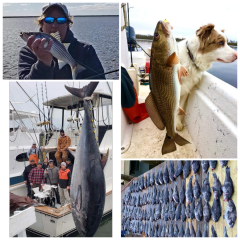 Sunday, February 16, 2020
Offshore from Oregon Inlet
Inshore from Oregon Inlet
Corolla to Nags Head Piers
Corolla to Nags Head Surf
Corolla to Nags Head Sound
Offshore from Hatteras Inlet
Inshore from Hatteras Inlet
Hatteras Piers
Hatteras Surf
Hatteras Sound
Great fishing today everywhere. Offshore guys caught lots of bluefins again today and last night with several fish weighing 600+. Also a couple guys decided to go bottom fishing out of Oregon Inlet. They had great success with plenty of togs and sea bass. Sounds fishing was good today with stripers around the Pirates Cove bridge and trout being caught around East Lake. I sold some minnows this morning to some crappie Fisherman. They caught crappie up to 14 inches.