Near-Shore Fleet @ Oregon Inlet Fishing Center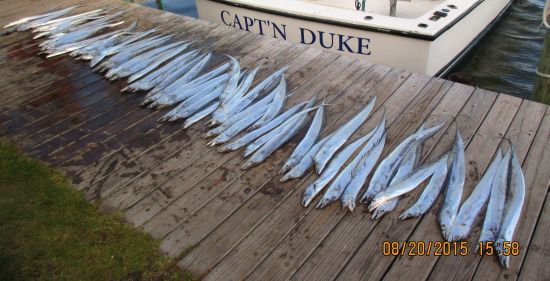 Offshore from Oregon Inlet
Inshore from Oregon Inlet
Our Near-Shore fleet here at Oregon Inlet Fishing Center consists of 7 well-appointed boats, ready to take you on your next fishing excursion!
Whether you are a skilled angler or a beginner, the captains are ready to take you out for half-day morning trip from 7 a.m. to 11:30 a.m. or an
afternoon trip from noon to 4:30 p.m.  The captains also offer an all-day trip from 7 a.m. to 3:30 p.m., which could allow you the opportunity to
fish around many of the wrecks known to have occurred just off our shores.
Call the Oregon Inlet Fishing Center at 1-800-272-5199 today to schedule your next exciting fishing adventure with any of these captains:
Capt'N Duke................Duke Spencer
Fish-N-Fool................. Bobby Smith
Gal-O-Mine................. Benjie York
Poacher ..................... Devin Cage
Risky Business .......... Jamie Wescott
Sea Era ...................... Dean Johnson
Sinbad ........................ Will McPherson