30th Annual Alice Kelly Memorial Ladies Only Billfish Tournament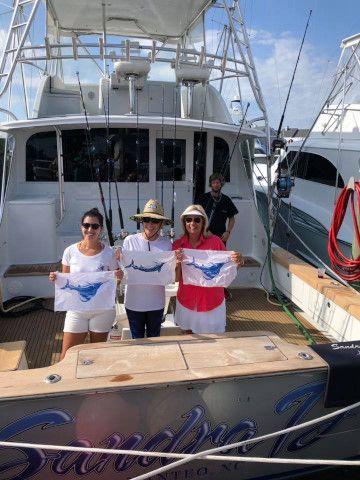 Offshore from Oregon Inlet
Inshore from Oregon Inlet
Today kicked off the Ladies Only Alice Kelly Tournament.!. We had an incredible turn out this year with a whopping 106 boats fishing in the Tournament.!! They ended up having an awesome day of fishing, and a beautiful day on the water.!. Congratulations to all the amazing women who went out today, they caught (unofficially) 5 White Marlin, 19 Blue Marlin, and 16 Sailfish... Congrats on your Citations, April Roberts Sailfish, Krystle Daniels Sailfish, and Eric Robinson Blue Marlin..
We have an incredibly fun week coming up here at the Pirate's Cove Marina.!. Tomorrow begins with registration and the Captain Meeting tomorrow, so It is not too late to register! Get out there tomorrow name and sign your team up! Come out and check all these awesome vendors in the Pavilion.... Also don't forget to check out our PCBGT Celebration Sale in the Ship's Store…
If you're not fishing in the tournament we still have a couple boats available this week, so book them while you still can… Give us a call at (252)473-3906 come visit us in our Ships Store or book online!
……Happy Birthday Mr. Jim Tobin……