The Dolphin's the Limit!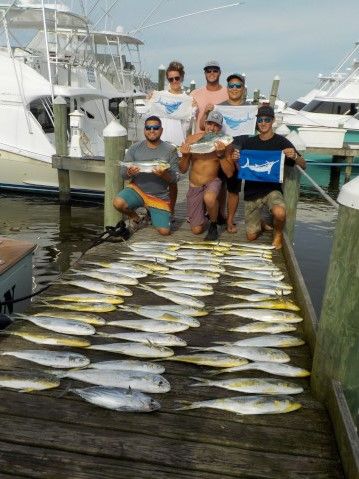 Saturday, September 8, 2018
Offshore from Oregon Inlet
Inshore from Oregon Inlet
Many of the Offshore boats came back today with their limits of Dolphin.  The great thing about it is that many of these same boats also had White Marlin and Sailfish flags flying as they made their way to the docks.  It was a great day for filling your freezer with Mahi; but, we also kept the billfish anglers satisfied!  Nearshore, only one boat was out, but they had a great day catching everything from Spanish and King Mackerel to Bluefish, Albacore and Cobia.  The weather and fishing have both been amazing so we are going to continue to try and ride this wave - we can only hope this streak continues.....Florence who?  Yes we are keeping our eye on her, but it is too soon to make any calls.   Speaking of calls....if you want to get in on the action, give us a call at (252)473-3906 to book your charter today!  You can also find information on all of our charters and book online if you prefer.  We'd love to help you "reel in" the fish of a lifetime!