In the Meat....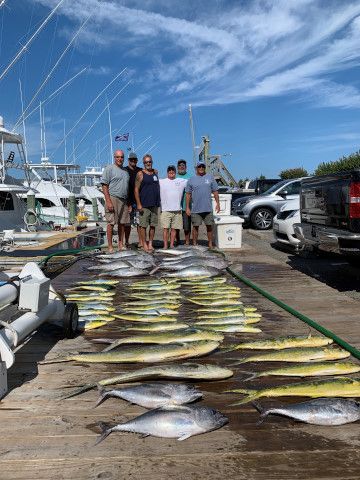 Offshore from Oregon Inlet
Inshore from Oregon Inlet
We were in the meat again today.!. The Offshore Fleet backed to the docks with Limits of Mahi, Blackfin Tuna, Yellowfin Tuna, Wahoo, Mahi, and BigEye today… We also had a Sailfish caught and released… Congrats to Jacob McCarthy, and Kerry Day on their Bigeye Citations today… Way to go Anglers..Nearshore Anglers also had excellent day catching Spanish Mackerel and King Mackerel, Ribbon Fish, False Albacore, and also released some nice Red Drum on both trips.!. to be good eatin' tonight.!.If you don't want to spend a whole day fishing but want to get out on the water and have some fun, we have crabbing, shrimping, and cruising boats available as well! Beat the heat, have fun and catch dinner at the same time! We still have availability for Inshore, Nearshore and Offshore Charters in the upcoming weeks. Book online, call our booking desk at 252-473-3906 or visit us at the Ships Store.