Time for Awards!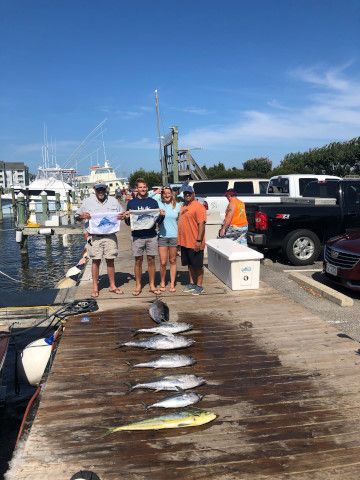 Offshore from Oregon Inlet
Inshore from Oregon Inlet
It is the final day of the Carolina Boat Builders Tournament here at Pirate's Cove Marina. Our Offshore crew fishing the tournament had a good day with A Salt Weapon reporting a Blue Marlin release, Waste Knot reporting two White Marlin releases, and others reporting catches of Yellowfin Tuna and Mahi Mahi!
The rest of our Offshore Fleet also had a great day of fishing with catches of Yellowfin Tuna, Blackfin Tuna, Mahi Mahi, a Sailfish release and a Blue Marlin release! The Nearshore crew returned to the docks with Tuna, Spanish Mackerel, and a ton of Bluefish!
Don't wait to book! Come see us in the Ship's Store, give us a call 252-473-3906, or visit us online at www.fishpiratescove.com to book your trip today! We are always looking to put together Make-Up trips, follow the link to sign up! https://www.fishpiratescove.com/makeup-charters/