Tuna's Are Not Gone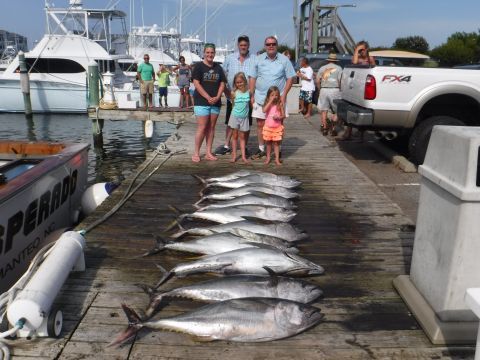 Offshore from Oregon Inlet
Inshore from Oregon Inlet
What a fun day! After a few crazy weather days we had an awesome day of fishing! Our offshore fleet came in with a great catch of Yellowfin Tuna, Blackfin Tuna, Sea Bass, and Tilefish! Great day of fishing and we had a handful of young anglers today catching their first Tunas! Way to go yall! We like to start our anglers young, they are never too young to get addicted to the incredible adventure of offshore fishing!
We had an awesome catch brought in a great catch of Spanish Mackerel, and King Mackerel! They are some fun fish to fight and they couldn't get enough of them today! Great catches and happy anglers!
Give us a call at (252) 473-3906 or visit us online at www.fishpiratescove.com to read up on our boats, captains, check availability, and even book your next trip!