Variety Hour at Pirate's Cove!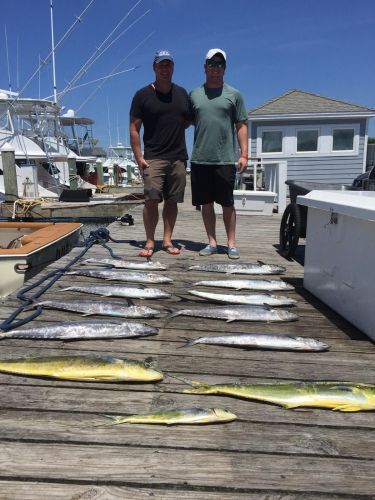 Offshore from Oregon Inlet
Inshore from Oregon Inlet
Today was a great day at Pirate's Cove with an awesome variety of catches.  The crowd on the Inlet boat had a fun morning and the Nearshore fleet came home with Citation Red Drum (releases!), King Mackerel, Dolphin (Caught just a mile offshore!), Spanish Mackerel and Bluefish.  Offshore we had 6 Blue Marlin releases, 1 White Marlin released, Dolphin to go around, Yellowfin Tuna and a citation Wahoo weighing in at 49 pounds.  Great catches everyone!
32nd Annual Pirate's Cove Billfish Tournament T-shirts are now in stock!  Check out the online gift shop (www.fishpiratescove.com/gift_shop) or visit us in the Ship's Store to get yours today!
Visit the booking desk, www.fishpiratescove.com/charters or call 252-473-3906/1-800-367-4728 to book your next fishing trip!  Get it while the gettin's hot!