Fishing Has Fired Off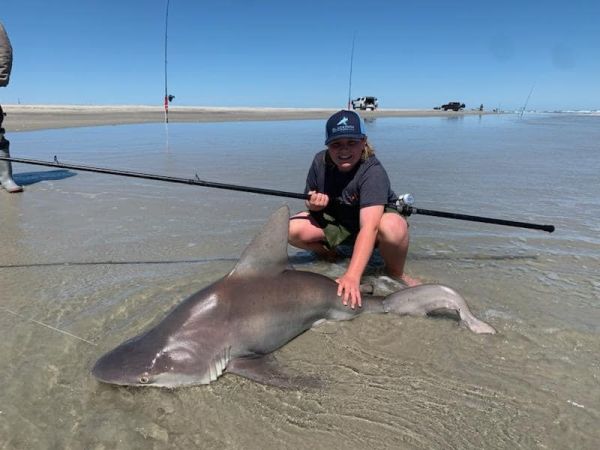 Inshore from Oregon Inlet
Corolla to Nags Head Surf
Corolla to Nags Head Sound
Inshore from Hatteras Inlet
Hatteras Surf
Hatteras Sound
Inshore from Ocracoke Inlet
Ocracoke Surf
Ocracoke Sound
We have been getting flooded with photos from the weekend and today! Fishing has really fired off with this warm weather we have been having. Lots of Puppy Drum from Ocracoke to Nags Head with some of the better reports coming from the Point, Rodanthe, and Oregon Inlet. The Peake Fishing crew stopped by yesterday and picked up some fresh Mullet and a couple of new rods before hitting the beach and crushing the Puppy Drum!
 
Some more monster Trout are being caught on the sound side! Lawrence Benner @twitch_carolina sent us a picture of a couple of fish he and his son caught on @Adam's Custom Baits topwaters! We now stock a full assortment of Adam's Custom Baits, everything from topwaters to suspending twitch baits! Justin from up at the Kittyhawk Store sent us a picture of a 31-inch 7lb 14oz Gator they weighed in today. The fish was caught by Chris Kazmarek of Maryland, who was fishing with Mikey Sabadic on a guided Kayak trip!
 
Offshore fishing is beginning to heat up as well, with reports of Yellowfin beginning to show up as well as plenty of Giant Bluefin still around!
 
We would like to let everyone know we now have Big Rock Tournament tees in stock! The 65th annual spring collection is now available. While the tournament might not take place until June, come by and get your shirt before they're all gone. We anticipate these to be a hot seller with a one of a kind design by @LarryRackleyArt.
 
If you want us to share your photos or feature them on our fishing report, you can tag us on Instagram @twsbaitandtackle or send your photos to via email to:
info@twstackle.com
@pennfishing @xtratuf @yeti @marshwearclothing @Grundéns @hukgear @pelagicgear @salty_crew @costasunglasses