Daily Fishing Report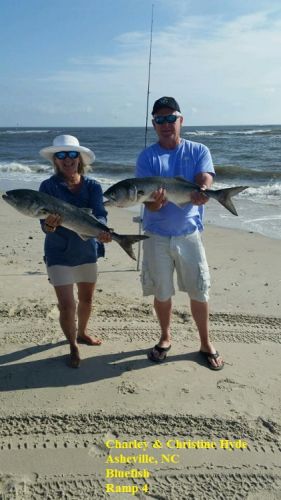 Offshore from Oregon Inlet
Corolla to Nags Head Piers
Corolla to Nags Head Surf
Corolla to Nags Head Sound
Send all questions and pictures to info@twstackle.com
In Summary:
Fishing Report:
Bluefish are still biting on the south beaches but not so much on this side of the bridge. The bite was good at Pea Island yesterday and a few Bluefish caught north of Oregon Inlet. There were big Sharks and Red Drum at the point. Nice size Sea Mullet scattered and a couple Pompano.
News Bulletin. 8:30 am. Bluefish at ramp 4 this morning. Picture.
The anglers fishing the little bridge are catching nice Trout, Drum, Stripers, Flounder and keeper Black Drum bottom fishing with shrimp.
Avalon: Blues and Trout.
Nags Head: Blues and Sea Mullet.
Jennette's: Sea Mullet, Puffers and San Perch.
Outer Banks: Croakers, Mullet and Blow Toads.
The inshore boats caught Shark, Bluefish, Flounder and Drum.
The Fleet had another good day catching big Yellowfin and lots of them. Also Gaffer Dolphin were caught, not heard of so much in April.
The winds are SW at 15 and the water is 55 degrees. Sunny, windy, small swells.