Daily Fishing Report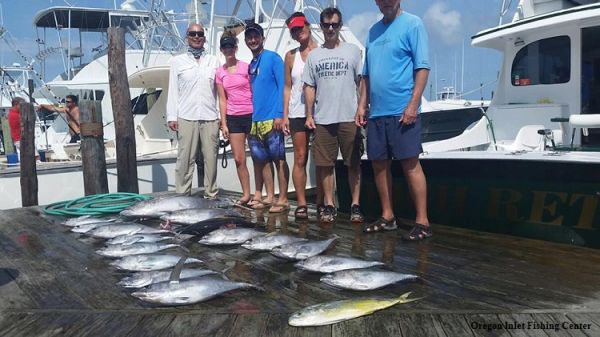 Wednesday, September 6, 2017
Offshore from Oregon Inlet
Inshore from Oregon Inlet
Corolla to Nags Head Piers
Corolla to Nags Head Surf
Corolla to Nags Head Sound
Send all questions and pictures to info@twstackle.com
In Summary:
Surf Fishing Report:
There were a few Puppy Drum, Sea Mullet and small Pompano caught along the beaches.
Often pompano are caught just off a few feet of the drop-off close to the beach where they are waiting for the sand fleas to be swept into their mouths by receding waves. They are fun to catch, because they are hard fighting fish and they feed anytime of the day.
The winds are S at 13 and the water temp is 75 degrees. Cloudy, expecting rain, chocolate water, choppy Ocean, windy.
Sound Fishing Report:
The Little Bridge on the Nags Head/Manteo causeway reported small Puppy Drum, undersize Trout, small Sheepshead and some Croakers.
Pier Fishing Report:
Avalon: Slow.
Nags Head: Small Trout
Jennette's: Black Drum
Outer Banks: Slow
Inshore Boats/nearshore Report:
Inshore anglers decked Puppy Drum, a few Shark, some Spanish and outstanding Trout catches. Nearshore boaters also had good action catching Spanish, Bluefish, Puppy Drum and Trout.
Offshore Boats Report:
The blue water fleet had fair numbers of Yellowfin, Blackfin, Mahi and a few Wahoo. There were a few White Marlin releases.