Daily Fishing Report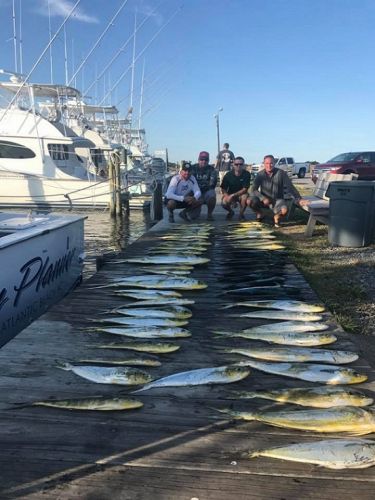 Friday, September 22, 2017
Offshore from Oregon Inlet
Inshore from Oregon Inlet
Corolla to Nags Head Piers
Corolla to Nags Head Surf
Corolla to Nags Head Sound
Send all questions and pictures to info@twstackle.com
In Summary:
Surf Fishing Report:
A few small Puppy Drum and Black Drum. The Ocean is still rough from the storms we have offshore and will remain so for a few more days.   
The winds are NW at 6 and the water temp is 75 degrees. Sunny, calm winds, big clean swells.
Sound Fishing Report:
The Little Bridge on the Nags Head/Manteo causeway reported fair Trout fishing with a few keepers, some Drum, Croakers and Stripers.
Pier Fishing Report:
Avalon: Puppy Drum and a good Spot bite.
Nags Head: Flounder.
Jennette's: No contact.
Outer Banks: Speckle Trout, Black Drum, Croakers, Sea Mullet and a good run of spot.
Inshore Boats/nearshore Report:
Near shore anglers caught Spanish and Drum. Inshore caught Speckle Trout, Drum, and Spanish.
Offshore Boats Report:
The fleet made it out yesterday after a bit of a dry spell. It was a good meat fish day with boats limiting out with Dolphin. There were some Blackfin, big Wahoo and Barracuda also reported. Also White Marlin releases.
.