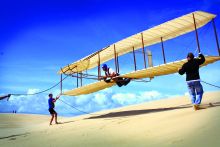 Before the age of 24, Kitty Hawk Kites co-founder John Harris never intended to pursue a career in recreational aviation, but he remembers the pivotal moment that sent him in that direction.
Living in Winston-Salem, N.C., after college in 1973, John saw a photograph in the Winston-Salem Journal of a man flying an early prototype of the hang glider. "The moment I saw that picture, that was it," he says. "I couldn't sleep or think about anything else."
He went immediately to the library to track down the man in the photo. He turned out to be a sailmaker in Australia who was making hang gliders for his friends based on Francis and Gertrude Rogallo's invention of the flexible wing. The man built John a hang glider and shipped it to North Carolina, along with 8mm videos on how to fly it. John watched the videos over and over, intensely studying the takeoffs and landings. Soon after, John, his college friend Ralph Buxton and a few other friends traveled to Jockey's Ridge in Nags Head to learn how to fly it. They ran up and down the dunes strapped into the hang glider until they figured out how to lift off the ground and maneuver the hang glider to change the speed and lift.
"The feeling of flying a hang glider was even better than I expected," John says. "I was surprised how much fun it was. I knew this was really something."
The joy of those first leaps on Jockey's Ridge inspired John and Ralph, who had been trying to figure out how to start an engineering business together, to open a hang gliding school in Nags Head. They leased a garage at the former Nags Head Casino, which was right across the street from Jockey's Ridge, and chose the name Kitty Hawk Kites to honor the location of the Wright brothers' first flights.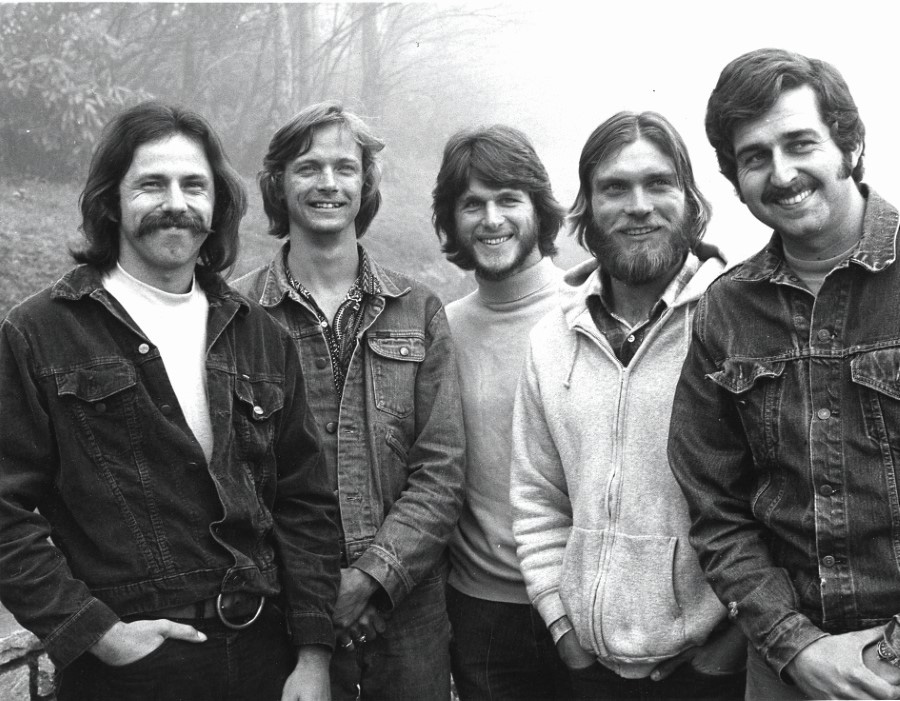 This being the early days of the sport, customers were in short supply, but it didn't take long to draw them in. The dunes at Jockey's Ridge were taller then, which made hang gliding visible to all passersby.
And then John did something that forever garnered his respect in the hang gliding world and propelled the public's interest in the sport many-fold: In July 1974 he was the first person to hang glide off North Carolina's Grandfather Mountain.
Jockey's Ridge proved to be a stellar training site, with plenty of wind and open space, deep sand for soft landings and an abundance of ridges that make it possible to fly in almost any wind direction. When Jockey's Ridge became a state park the next year, for a while it looked like they wouldn't allow hang gliding as a concession, but in the end they did, and Kitty Hawk Kites has long held a concession agreement to operate in the park. Today Jockey's Ridge is considered the best training ground in the country and is the epicenter of East Coast hang gliding. "Jockey's Ridge State Park has been an excellent partner and great to work with," John says.
Over the last 45 years, Kitty Hawk Kites has grown into the largest hang gliding school in the country. They have taught more than 400,000 students, annually training between 6,000 to 10,000 students between their two locations at Jockey's Ridge and at the Cotton Gin in Currituck County. Kitty Hawk Kites also has a hang gliding school in New Hampshire, where they offer paragliding, power paragliding and tree-top zipline tours. "We teach more people to fly than anybody else in the world," John says.
Another area where Kitty Hawk Kites stands out is in training hang gliding instructors. "We are the largest producers of hang gliding instructors in the world," John says. They have trained more than 1,000 instructors, who then spread out all over the country and world to teach others to fly.
"In the hang gliding community, you're only ever one degree of separation from a Kitty Hawk Kites-trained instructor," says Billy Vaughn, who trained with Kitty Hawk Kites in the 1980s, moved away and is now back with the company.
In Kitty Hawk Kites' early days, John himself was an active instructor. "I always say that instructing is the best job in the company. You get to work with someone who may have never flown or only had a commercial flight. In three hours they are flying and they are so excited. You get so much energy back from the students."
Over the years, Kitty Hawk Kites has branched out way beyond hang gliding. Other flight-related adventures they offer include kiteboarding, paragliding, the 1902 Wright Glider Experience, kite-flying lessons, parasailing and plane tours. They have revolutionized the art and sport of kite-flying, and they teach around 1,000 people to kiteboard every year. They offer dozens upon dozens of other adventures, from surfing and standup paddleboarding to dolphin tours and kayak tours. They operate 28 retail and adventure centers on the East Coast and employ more than 400 staff members, whom they refer to as their "Flight Crew."
Running such a massive business keeps John very busy – ironically, too busy to fly much anymore. Now he works hard so a lot of people can have a lot of fun.
"I'm very grateful, and it's been a lot of fun," he says. "I'm grateful I've found my passion and been able to work within my passion and share something I really love all these years. It's a tremendous blessing. Being able to watch a lesson and see people have a good time or have a great experience in one of our stores ... that's what makes it fun for me."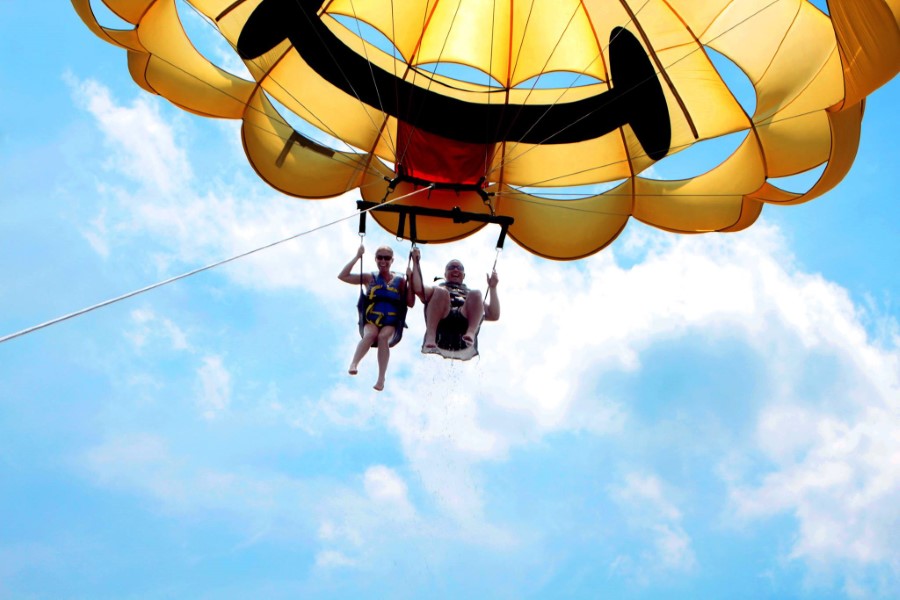 John is quick to point that none of this could have happened without the work of Francis Rogallo and his wife, Gertrude, inventors of the flexible wing. The flexible wing paved the way for hang gliding, paragliding, parafoil kites, kiteboarding, ultralights and more. Francis is known as the father of hang gliding, and he and Gertrude are revered around the world for their invention. 
The Rogallos envisioned many applications for their wing and their overall intention was egalitarian: to give everyone the opportunity to experience flight first hand. They wanted to enable personal, inexpensive flight for everyone, not just the wealthy. Based on the invention, millions of people around the world have been introduced to joys and challenges of flight and aviation. 
The Rogallos lived in Southern Shores after Francis's retirement, and Francis was a frequent visitor and mentor at Kitty Hawk Kites. John remembers being in awe when he came into the newly formed Kitty Hawk Kites in Nags Head in 1974. Francis learned to fly a hang glider at age 62 and continued to fly on Jockey's Ridge until he was 80.
John has never lost sight of the Rogallos' impact on the sport and his ultimate livelihood. Kitty Hawk Kites is very much involved in the Rogallo Foundation, which honors the Rogallos through an annual Hall of Fame ceremony, has commissioned Billy Vaughn to write a book about the Rogallos and is currently raising funds for the creation of a Rogallo Museum. Their annual October event, OBX Brewtag, is one of the main fundraisers for the Rogallo Foundation. Kitty Hawk Kites is also a major contributor to the First Flight Society, First Flight Foundation and too many other charities and organizations to list.
John says the value of all of this – from the Rogallos' vision for personal flight to the creation of Kitty Hawk Kites – has been for recreation, joy and fun.
"Everybody needs more joy in their life," he says. "We've certainly seen hang gliding and kiteboarding and kite flying change people's lives. There is tremendous joy in being outside and interacting with the wind. Not only is it exhilarating, but it also changes your outlook and gives you more confidence. If you can fly, you can do anything."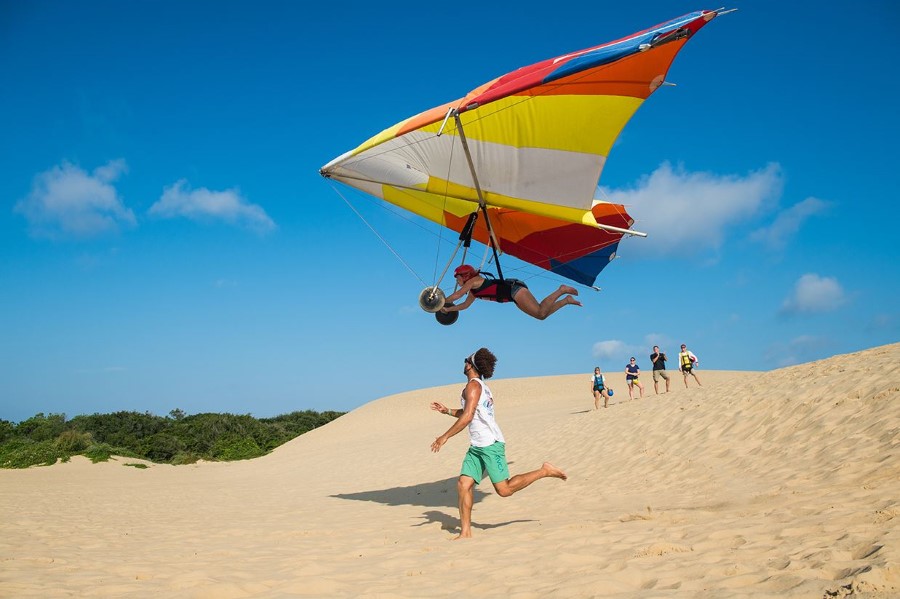 Check out Kitty Hawk Kites' activities:
Dune Hang Gliding Jockey's Ridge State Park, Nags Head
Tandem Hang Gliding The Cotton Gin, Jarvisburg in Currituck County
1902 Wright Glider Experience Jockey's Ridge State Park, Nags Head
Kiteboarding Waves Village Watersports Resort,  Hatteras Island
Biplane Rides, Scenic Air Tours, Introductory Flight Lessons Dare County Regional Airport, Manteo
Parasailing Kitty Hawk Kites in Duck and Manteo
Flyboard and OBX JetPak Kitty Hawk Kites in Manteo
Kite Flying & Kite Building Look for these activities at Kitty Hawk Kites events
Be sure to attend Kitty Hawk Kites' upcoming flight-related festivals:
Wright Kite Festival July 13 & 14
Outer Banks Kite Festival September 7 & 8
OBX Brewtag October 26
Hangin' with Santa & Kites with Lights November 29 & 30

(877) 359-8447