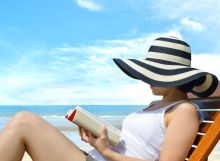 For those who love to read, a cozy, well-stocked, independent bookstore is just about Nirvana. Fortunately for readers, the Outer Banks has seven such bookstores strung at convenient distances from Corolla to Ocracoke. Step inside these local stores and you will meet four owners who have perfected the art of the bookstore.
---
The Island Bookstore » Corolla, Duck & Kitty Hawk
The Island Bookstore has three locations owned by the affable Bill Rickman. With the largest selections of books on the northern beaches, Island Bookstores stock local interest, history, fiction, travel, sports, poetry, humor and children's books.
The Corolla store is in historic Corolla village in a modern two-story building that was inspired by the architectural vernacular and sits on the same footprint as the old village general store. The flagship store in Duck opened more than 20 years ago and is tucked into the delightful Scarborough Faire Shops. The Corolla and Duck stores have large selections in a laid-back vibe as well as author signings in the summer. The Kitty Hawk location is the smallest but it's the most convenient for the central beaches, and its magazine and children's selections are impressive.
Bill started out stocking shelves at the largest bookstore in Chicago and ended up running that family-owned multistore independent chain as it grew into 20 bookstores. With the big-box bookstore boom of the 1990s, the chain was forced to close. But Bill resurrected his passion. "We went where the big box stores didn't — the OBX," he says. He brought his expertise in the book industry with him and enriched the northern beaches. "We've always believed a community that has bookstores thrives culturally, and we find a growing base of customers, both local and visiting, who share that sentiment."
Bill Rickman's Summer Picks:
Giant of the Senate by Al Franken
The Nest by Cynthia D'Aprix Sweeney
A Piece of the World by Christina Baker Kline

1177 Duck Rd., Duck | (252) 261-8981
1130 Corolla Village Rd., Corolla | (252) 453-2292
3712 N. Croatan Hwy., Kitty Hawk | (252) 255-5590
islandbooksobx.com
---
Duck's Cottage & Downtown Books » Duck & Manteo
Despite having different owners, these two are sister stores, linked by book-buyer extraordinaire Jamie Anderson, who is the manager at Duck's Cottage in Duck and the owner of Downtown Books in Manteo.
Jamie says she fell into bookselling "by sheer luck and the seat of my pants" in 2002 when Duck's Cottage owners asked her if she'd like to come work with them. She didn't know about the business but she knew what she loved to read and liked talking to people about what they were reading, so she took the job. In 2011, when Manteo Booksellers closed after Hurricane Irene, Jamie opened Downtown Books. "Turns out you really can turn your passion into a career," she says.

Duck's Cottage is a coffee shop and bookstore housed in one of the oldest buildings in Duck, the original 1921 Powder Ridge Hunt Club. The cottage has built-in ambiance with a porch, fireplace, turtle pond and dedicated clientele. With only 350 square feet for books, the selection has to be carefully chosen, and it works. Downtown Books is in a larger space in downtown Manteo that's been a bookstore since the 1980s. It's known not only for its comfy chairs and foster cats but also for Jamie's choices in children and young adult, spirituality, local and regional, fiction, history and more.
Jamie Anderson's Summer Picks:
Slightly South of Simple by Kristy Woodson Harvey 
Refugee by Alan Gratz
The Beach House Cookbook by Mary Kay Andrews  
1240 Duck Rd., Duck | (252) 261-5510
105 Sir Walter Raleigh St., Manteo | (252) 473-1056
duckscottage.com
---
Buxton Village Books » Buxton
It's difficult for a reader to resist a place like Buxton Village Books in its quaint white cottage with several rooms to explore. Owner Gee Gee Rosell knows that owning such a bookstore is a dream hobby for a lot of readers, but make no mistake: She is quite serious about the bookselling business. The books she selects appeal to a wide range of readers, from Southern literature and new-release fiction to great selections of adventure titles, history, nature guides and hardback bestsellers. She also stocks one room entirely with young adult fiction.
She also stocks a great deal of thought-provoking nonfiction. "Contrary to popular belief, people are not reading only fluff on the beach," she says. "Many of my customers want to read the newest, most cutting-edge nonfiction because on vacation they have time to focus."
Rosell jokes that she has no idea how she became a bookstore owner. Her education is in science and English and she discovered Hatteras Island in the 1970s when she was doing undergraduate work in environmental science. She liked the island and decided to open a bookstore to be able to stay. Thirty-three years later she's still in business, handselling books to a broad customer base. "It's the people behind the scenes who drive the independent business model, not an algorithm," she says. "It's all about what my customers tell me they want."
Gee Gee Rosell's Summer Picks:
Seaspell by Bronwyn Williams
Portsmouth: The Way it Was by Ellen Fulcher Cloud
Murder at Ocracoke by Joe C. Ellis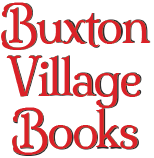 (252) 995-4240
buxtonvillagebooks.com
---
Books to Be Red » Ocracoke Island
Ocracoke is the perfect village for ducking in and out of little shops and discovering treasures along the way. Many a reader has been overjoyed by what they've found inside this adorable tree-shaded cottage on the corner of School Road.
The cottage houses two stores —Books to Be Red and Deepwater Pottery. The book side is small as bookstores go, but it is well-organized and stocked with excellent options in a variety of genres. Owner Leslie Lanier chooses books from the Indiebound list as wells as books she loves and those that others have recommended.
Leslie came to bookselling because of a 1993 blizzard in Tennessee. Everything was closed, and the only book she could get during her Tennessee visit was a mass-market romance novel. When she returned to Ocracoke, she imagined that the island's visitors were having that same experience because there was no bookstore. In 1995 a friend was opening a pottery shop and asked Leslie to join her.
The setting is an 1895 house with 10-foot ceilings and beaded-board walls — another fantasy land for readers. It was a boarding house during World War II, so it's been a place for gatherings for decades and continues to be today.
Leslie Lanier's Summer Picks:
Lilac Girls by Martha Hall Kelly 
Rabbit Cake by Annie Hartnett 
A Gentleman in Moscow by Amor Towles