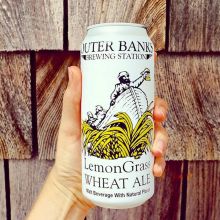 Outer Banks Brewing Station wears a lot of hats – family-friendly restaurant, bar, yard bar, live music venue, nightclub, event venue, caterer, food truck, brewpub. It's been a standout on the Outer Banks restaurant, brewing, nightlife and community scene since 2001, and nothing sticks around that long with moss growing under its feet. From the food to the beer to the live music offerings, this place rolls with the times, always innovating, always setting the bar a little higher, always experimenting and surprising its patrons in the best possible ways.
That's especially true in the brewpub. A brewpub by definition brews in small batches and sells most of its beer in-house, so the brewers have enormous flexibility in what they can brew and offer their customers.
"The whole reason for brewpubs' existence is not doing the same old thing," says Eric Reece, one of owners and brewers. "We can try whatever we want and see what happens. That's the fun part for us, and it's the fun part for the customers."
Enter the perry.
The newest beverage offering from the Outer Banks Brewing Station brewing team, the perry is on tap to quench the thirsts of drinkers of all stripes. Dry, fruity, flavorful, bubbly and refreshing, it's their answer to the popularity of hard seltzer, only it's WAY more complex and interesting.
Perry is cider's underrated cousin, a traditional alcoholic beverage made with fermented pears that dates back to 16th-century England. Head brewer Dave Virgil and Reece began experimenting with the perry in response to their customers' requests for a hard seltzer offering.
When Reece and Virgil tasted commercial seltzers like White Claw and Sercy for comparison, they were seriously underwhelmed.
"We tasted a few," Reece says. "We wanted to like them. The aroma was there, and that was exciting. But it was like a bait and switch. When you taste it, there's nothing there. We were left feeling kind of angry about the false pretenses; they fake your nose out and make you believe that your taste buds are going to get something."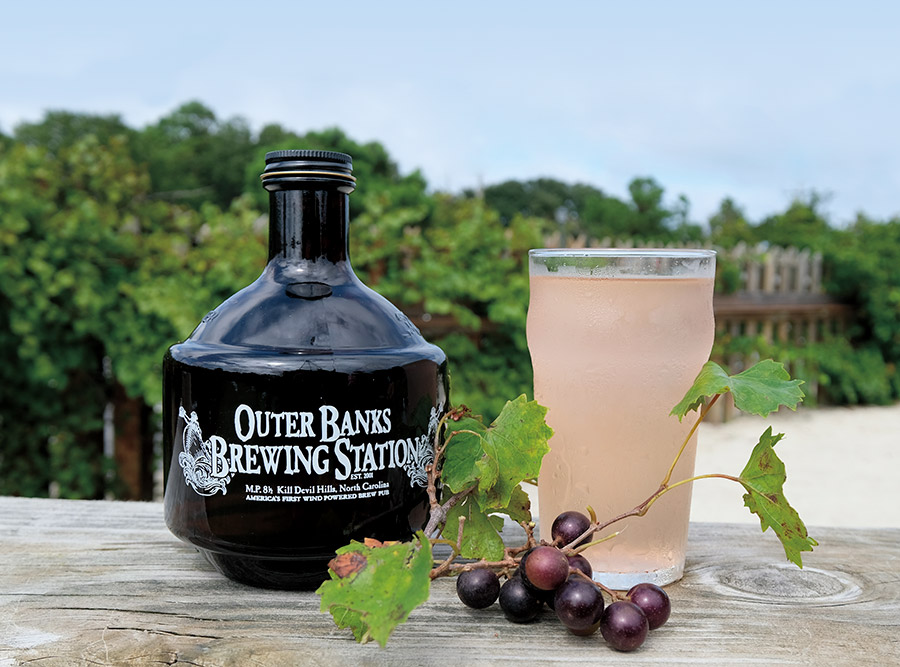 The two brewers knew they could do better with something that would appeal not only to seltzer drinkers but also to their cider and beer lovers who appreciate brewing experimentation and diverse flavors.
Virgil had already been experimenting with historical styles of beer and ciders, and the perry was just another iteration of that. The English created the perry when they wanted something a little different than their traditional hard cider. They imported pears from France and created the perry in a similar fermenting process as cider, but not the sweet kind modern drinkers are used to.
"Americans haven't really tried traditional English ciders," Reece says. "They're dry and unique and individual, not sweet. Perry has that wide range also."
The brewers experimented to learn how the fermentation worked and how to best extract the flavor out of the sugar sources. They learned about carbonation, too, which is trickier with perry and cider because they hold bubbles differently than beer.
In England there are more rules about brewing: cider is made of apples, perry is made of pears, but here in America there are no rules about that. Virgil and Reece realized they could use the perry fermenting style with just about any fruit.
"We can basically ferment with anything," Reece says. "We have accessibility to all the fruits on the planet. We can take cider or white wine yeast and let it eat up whatever sugar you give and let it express that sugar source. The sky is the limit. That's what makes it interesting for us."
The result is a fermented hybrid cider/perry that Reece calls "a seltzer-like thing."
"We don't call it seltzer," he says. "Our is a true fermented beverage with a 4.5 to 5.5% ABV, so it's not meant to crush you."
In the summer of 2020 Outer Banks Brewing Station released its first perry to its customers, a peach-muscadine perry called Nothing Comperries. Unlike the colorless commercial seltzers, Nothing Comperries was a pretty peachy-pink. It had a fruity aroma, a ton of not-too-sweet flavor, refreshing effervescence and a few nice bits of fruit in the glass since it's unfiltered. It was the perfect thirst quencher, and people loved it.
The perry was popular enough to earn a permanent spot on the Brewing Station's tap rotation. Reece and Virgil will continue making small batches with seasonal ingredients, each batch different than the last, and keeping a tap flowing with perry.
"We'll change it with the seasons," Reece says. "We intend to make this with as much seasonal and local fruit as possible. We can bounce this one all over the place." That might mean watermelon in the summer, muscadine in the fall or even sweet potato in the winter.
The ever-rotating perry/cider will be available on tap in house as well as in a limited number of 32-ounce prefilled growlers once or twice a week; check with the pub to find out the flavor and schedule.
The perry is just one example of the Brewing Station's brewing innovation.
Virgil also has been experimenting with historical styles of beer such as a Polish Gratzer. Made with smoked wheat malt and highly carbonated, this style was hugely popular in Poland in the 1600s and was considered the champagne of Poland. The beer disappeared from the planet when Poland went Communist in 1933 but resurfaced in 2010. Reece describes it as super light and crushable with an interesting finish.
He also brewed a Roggen, a German rye beer that was popular in the 15th century, until the German purity law went into effect and Germans could not brew with rye anymore. Reece says its brown, malty and spicy, kind of like a brown ale with a light mouthfeel.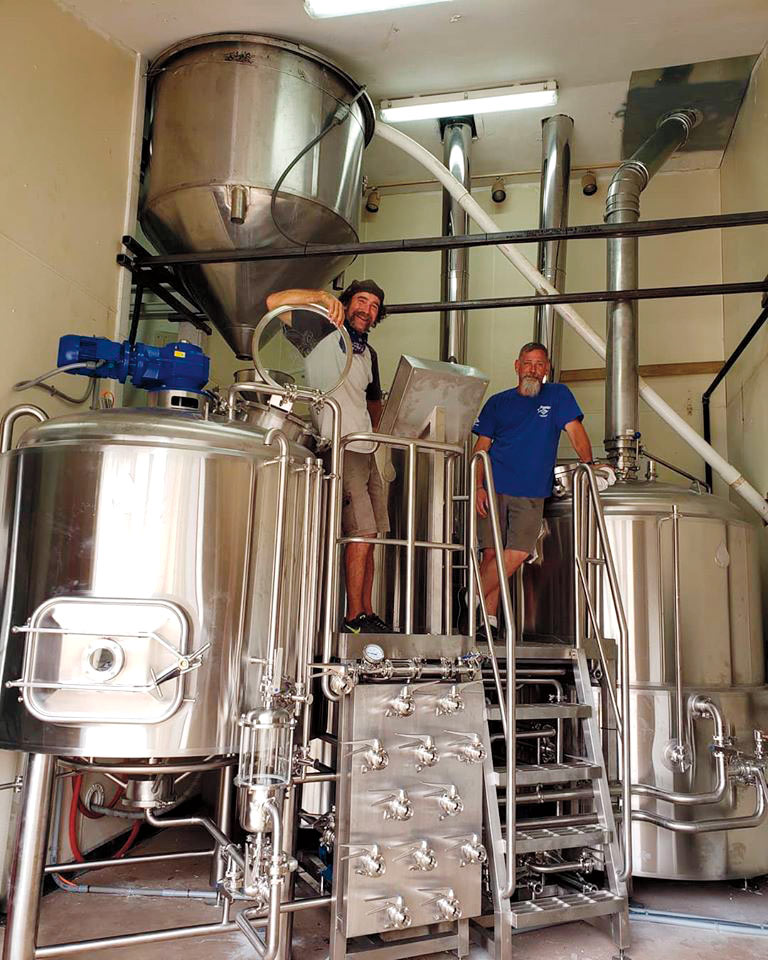 "We are trying to bring historical styles back without harping on it," Reece says.
They're also offering an annual Carolina beer with malt from the only two North Carolina malting companies, Carolina Malting in Charlotte and Epiphany Craft Malt in Durham, and the only hop grower, Papa's Hops, in North Carolina. The Carolina beer, yet to be named, will be available in early October.
A New Brewhouse
The Outer Banks Brewing Station brewers are thrilled about their "sexy new brewhouse." In May 2020 they brought in a new Deutsche Beverage 10 barrel (310 gallon) system to replace their old 17 barrel system that they bought used when they first opened.
Downsizing in barrels gives them more flexibility in brewing styles and flavors of beer.
"At one point this summer we had 11 beers on tap, which is definitely our record," Reece says.
This means drinkers can expect to see more creative offerings like perries and historical beers among the perennial customer favorites like Lemongrass Wheat, Olsch and Hugh Hefeweizen.
Socially Distant Brewery Tours
The Brewing Station Brewery Tours are held on Wednesdays from 11 a.m. to 12 p.m. Up to 20 people age 21 and older can gather on the mezzanine at the Brewing Station, where tour guide Eric Reece will show a video of the brewery and offer up ingredients for tasting and smelling. A Q&A session is followed with a tasting of four 5-ounce samples of beer. Cost is $10. Sign up in advance online.
---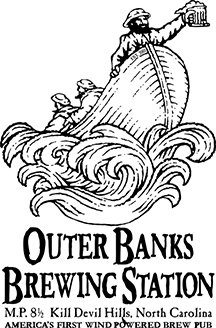 (252) 449-2739
obbrewing.com
600 S. Croatan Highway, Kill Devil Hills