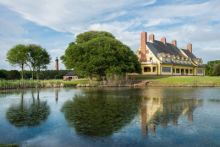 Do you know that old adage about history repeating itself? Well, Whalehead, in Historic Corolla Village, has it down pat. They repeat history many times a day, from lots of different angles, through various and sundry lenses and all with a tip of the hat to entertainment and learning. They even make some history in the process.
You see, it seems the folks at Whalehead have discovered a way to prove Einstein's Theory of Relativity. How? By simultaneously linking the past, the glory days of the Roaring '20s at the mansion and in the village of Corolla, with current-day activities. In one summer day in 2014, you can see almost 100 years into the past to the lives of flappers, bootleggers, ghosts, Pooh bear, Louis Comfort Tiffany, tipplers, butlers, boaters and more. It's fantastical!
No matter where you are in history - whether you're 2 or 92 - Whalehead's staff has created a program or activity that teaches, thrills, entertains, inspires and helps you put the historic house and the people it attracted into perspective. All-told, Whalehead offers 16 different programs during the high season!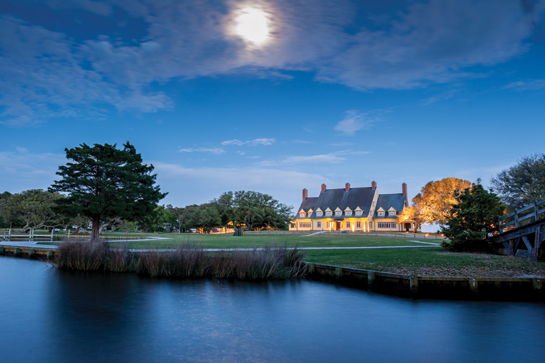 Many people who feel they know the Outer Banks and its history well will be humbled - but happily so! - by what they learn in these programs. For such a relatively small geographic area, isn't it sort of amazing how much significant history was made on these islands? Colonization of the New World and powered flight are two such important events that happened here that they seem to have magically set a challenge to these islands and people to keep it going. And, certainly, Whalehead holds its place in that challenge.
This magnificent structure made history, at least locally, when it was completed in 1926, and many of the programs Whalehead offers center around those architectural and engineering details and the history they made. The popular Nuts and Bolts Tour and the Legacy Tour both allow you to see through walls and, indeed, time to understand the mansion from its fundamental structure to the vast grounds to the ornamental furnishings. You begin to know the Knights, who constructed the house, through their style and choices. A new program for 2014, Behind the Velvet Ropes, is Whalehead's own version of Downton Abbey where the many people - and personalities - who served at the mansion, both within the house and in the local community, are made real through story and facts.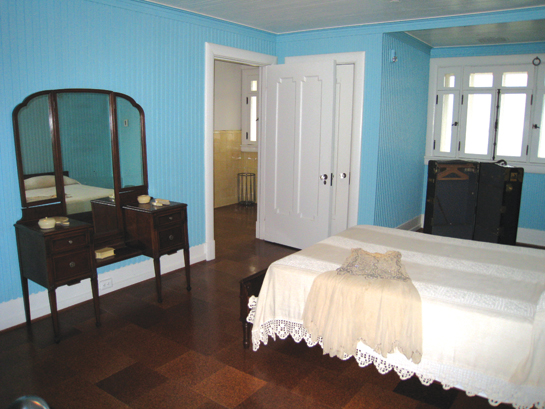 Other tours examine a different kind of historic figure, perhaps those who are stuck in time...ghosts! Moonlight, Lore and Legends Ghost Tour, held appropriately after the sun has set and dark is creeping in, will send tingles up your spine with eerie tales of scary events that have happened in Corolla. If you're easily frightened, perhaps The Daylight Ghost Tour, which keeps it all a little lighter, is your best choice.
Whalehead's youngest visitors have so many creative and fun programs to choose from! They read stories with Winnie the Pooh (who, by the way, is the same age as Whalehead!), make kaleidoscopes or mosaic tiles to learn the artistry of Louis Comfort Tiffany, become CSI detectives solving mysteries of the mansion, enjoy a new program where they create sunlight photo art and have their own tour that speaks their language and holds their attention. As with history itself, it's in the details where you find the magic. So, let's delve a little deeper into several more Whalehead programs, some brand new for 2014.
Boatology 100 delves into Whalehead's extensive collection of native watercraft, telling stories of the men who built and captained them and the role the boats played in the culture and commerce of Currituck County and the surrounding waters. These craft were the pickup trucks of their day - just as prevalent, just as necessary. Building on the shoulders of many before him, and in conjunction with efforts at Coastal Studies Institute on Roanoke Island, Whalehead's director, Ray Meiggs, realized that so many of these historic boats were all but rotting away in their obscurity and in the process losing a tangible and often beautiful link to the past. He has made it a priority to gather as many of these hand-crafted and graceful vessels as possible from around the area, and now Whalehead's collection of restored and yet to be restored boats numbers in excess of 30.
The Tippling at Twilight Tour might be the most fun you have all summer, and it's your chance to play around with time travel. When you arrive at Whalehead, you walk into the Roaring '20s and a day in the life at the mansion. Costumed interpreters interact with you from a first-person perspective as if they're a guest or worker, helping you immerse yourself in the food, clothing, pastimes, books, sports legends and other cultural persona of the era. Afterward, you tipple! What does that mean? It's means turning up a glass or two, and in this case of wine at the tasting on the porch. Speaking of tippling, did you know that bootlegging was a major source of income for many Outer Bankers during Prohibition? Local lore has it that there was a pipeline from this area right up to Norfolk then on to our nation's capital. Since that supposedly "dry" period in our nation's history (1920-1933) coincided with Whalehead's early years, we can imagine that the very important guests who visited might have partaken in a little bit of that "licker," as locals called it. Interestingly, many of the locals who made this licker were teetotalers. No tippling for them!
If you understand what a Frogsdodder is, you know more than the vast majority of even the people who live on the Outer Banks. In Frogsdodder Family Adventures, you'll learn the answer to that and so much more. This program is one of the most popular ones offered at Whalehead because it's such a fun family experience. You start off on a walking tour of the old Corolla Village (it's moved! how? why?) then end up at the Currituck Beach Lighthouse where you go on an archeological dig. At the bottom of the pit is something amazing, and in the process of digging you discover how scientist learn through the earth, Maritime Heritage graduate students from East Carolina University lead the expeditions, and the scientists at Coastal Studies Institute helped develop this super fun and educational adventure. For a complete list of the many programs offered at Whalehead, go to www.visitwhalehead.com.
Do you remember that we mentioned at the very beginning that Whalehead makes history too? How do they do it - other than the time travel we've already pointed out? Well, whenever kids end one of the educational programs at Whalehead and beg their parents to bring them back for more tomorrow...in our book that's history!

1100 Club Road | Corolla, NC
(252) 453-9040 | visitwhalehead.com