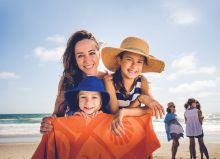 A guide to the family-friendly and kid-friendly activities in Corolla and the Currituck Outer Banks.
Corolla and the Currituck beaches are known as one of the top family-friendly vacation destinations on the East Coast, and it's not only because of the beautiful beaches. A wide variety of things to see and do attracts all ages to the northernmost Outer Banks.

For a truly successful family vacation, you need to consider everyone's interests. Adults might be satisfied with lounging under an umbrella, playing golf and eating seafood day in and day out, but eventually the kids are going to crave activities of their own. Even the thrill of building sandcastles and playing in the waves will wane after a couple of days, so you've got to be on your toes to ensure the kids will have fun too. Here's our guide to the best kid-friendly things to do in Corolla and on the Currituck mainland – and don't be surprised if you find yourself enjoying them too.
Climb
For a rewarding challenge, nothing beats climbing Currituck Beach Lighthouse. Ascending the 220 steps to the top brings you to an outdoor platform that's 162 feet in the air. Up there with the wind in your hair, you'll see the ocean, the sound and rooftops for days.

If you want to involve your whole body in a more challenging climbing adventure, you've got to visit Corolla Adventure Park. It's a giant jungle gym with 66 obstacles high above the ground and eight ziplines for zipping back and forth between the obstacles and the center tower. There's something for every comfort level, plus they have axe throwing and a snack bar. You'll find it in Corolla, north of the lighthouse.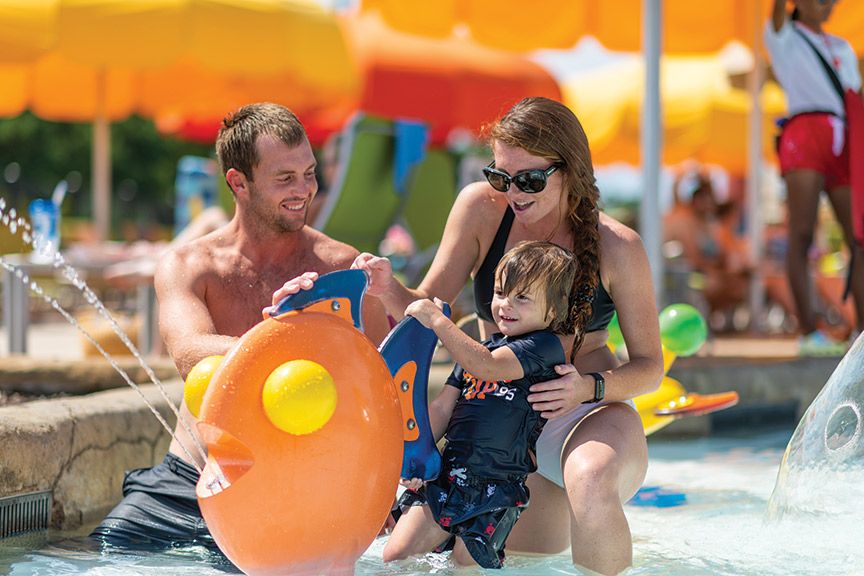 Slide
For an entire day of wet and wild fun, H2OBX Waterpark is always a crowd-pleasing destination. The littlest ones have their own slides and play area, and the older kids love the big-thrill slides and Flow Rider surf simulator. With an abundance of safety personnel and lifeguards on site, you'll feel safe letting the older kids have a little freedom, then you can all meet up in the lazy river or under a private cabana. Food, drink and plenty of shade mean you can easily spend a day here. The park is on the mainland, about 40 minutes from Corolla. You'll pass it on the way in and out of town if you arrive from the north, so consider stopping there for an exciting water escape with the family.
Fly
Ramp up the beach-day fun with kite flying. If it's been a while since you flew a kite, you're going to be amazed at the creative options on the market these days. From simple single-line kites to multi-line high-tech fliers, kite-flying has gotten way more exciting. Flying Smiles Kites and Kitty Hawk Kites sell kites in Corolla, and they'll be sure to match your purchase to your skill level so your experience is fun, not frustrating.
For older kids who want a rush of adrenaline, parasailing is the perfect adventure. Several parasailing outfitters in the area provide the spine-tingling lift you need to soar over the sound for a view that rivals that of the lighthouse.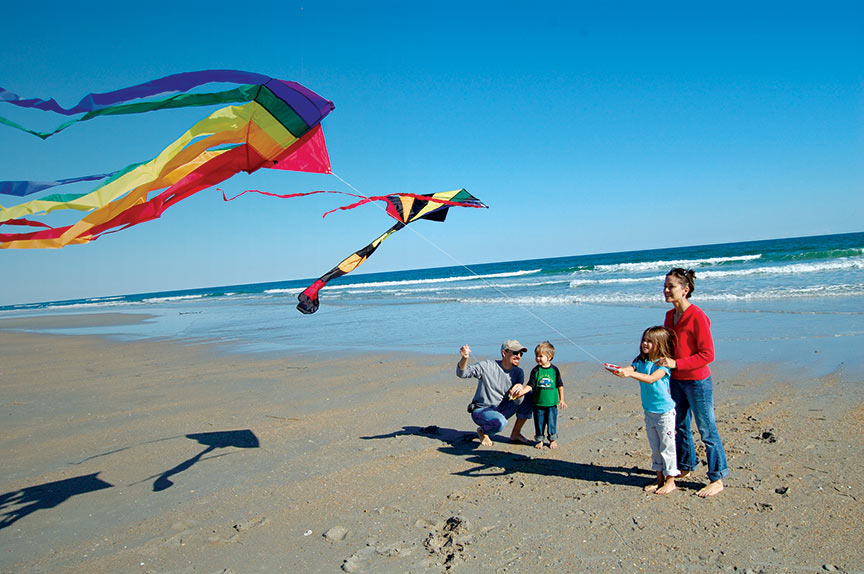 Catch
Kids love catching critters! Crabbing is fun at the boat basin at Historic Corolla Park. You'll need a string with some kind of handle (a piece of wood works), a chicken neck, a dip net and a bucket. Tie the chicken neck to the string, dangle it in the water and wait for a crab to nibble on it. While it nibbles, scoop it up to look at then release, or eat if it's big enough (must be 5" across the carapace). Fishing in the ocean surf or from a boat in Currituck Sound is also fun. Ask at the local tackle shops about renting or purchasing rods, reels and bait or about fishing charters.

Ghost crabbing is an easy catch-and-release game you can play on the beach at night. Walk along the beach with flashlights, and in your beam you'll see white crabs scurrying around on the sand. They're easy to catch with a dip net or bucket. Please do not harm these critters, and be sure to release them after you catch them.

Explore
A wild horse tour is a great way to spend an afternoon. The local tour companies drive a variety of cool vehicle styles, and kids love loading in, riding right on the beach and over the dunes and seeing the Corolla Spanish mustangs in the wild. 

The Outer Banks Center for Wildlife Education, near the lighthouse in Historic Corolla Park, is a great place for kids to learn about the local environment as well as coastal North Carolina's wildlife, natural history and heritage. The center offers great programs in non-COVID times (at this writing programs had not been planned yet for 2021). Behind the museum is a nature trail and boardwalk. 

New in Historic Corolla Park in July is the Currituck Maritime Museum. It will house historic boats, artifacts and displays and will share stories of some of the local legends who have navigated the region's waterways through the years.
Ride
Most people come to the beach to get wet! Watersports activities for kids include surfing, bodyboarding and skimboarding. You can get the equipment you need at local watersports outfitters. If you need lessons, ask at the surf shops or contact a local surf school. For older kids, or younger kids with an adult, nothing beats the thrill of Jet Skiing or paddling your own kayak on the sound. 

Play
Mini-golf is a fun way to while away an afternoon or evening. Corolla Adventure Golf, Pirates Island and The Grass Course, all in Corolla, offer putt-putt experiences for all ages. Corolla Raceway has bumper cars and go-karts along with video games and other family fun.

Each Wednesday afternoon from 4:15 to 7 p.m., the Corolla Cornhole Tournament gives you a chance to compete with other families in cornhole. It's held at Historic Corolla Park, and they have the bags and boards; you just need to register in advance and pay $20 per team to compete. Call (252) 453-9040 to register.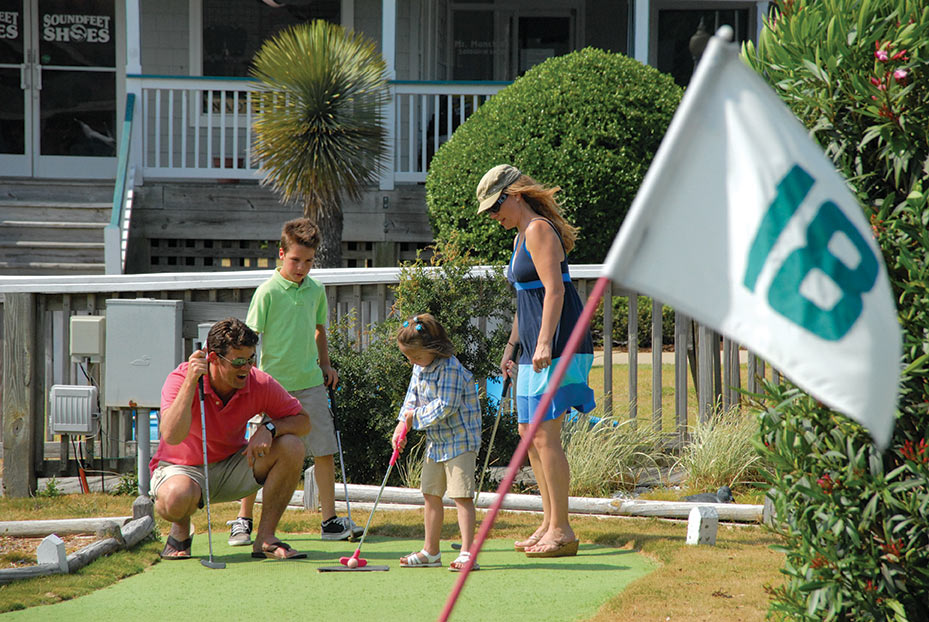 Eat 
Every kid will tell you that no vacation is complete without tasty treats. From fresh-made doughnuts and fudge to ice cream and froyo and so much more, there is something to satisfy every sweet tooth in Corolla.
 
For more ideas on traveling in Currituck County, go to visitcurrituck.com.