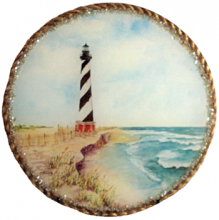 A delicate ribbon of sand arching elegantly into the sea, Hatteras Island is a visual paradise. From the Atlantic's soft sapphires to the amethyst hues of sunset over the Pamlico, Hatteras inspires. So it's no wonder that the island has become a bit of a mecca for artists, gallery owners and shoppers. Fifteen galleries dot Hatteras, and artists own approximately 90 percent of these. Visitors can chat directly with artists about their own work, and owners are deeply familiar with details of other, often local, artists' pieces personally chosen for display in their galleries.
As a group, Hatteras galleries are characterized by high quality art and a variety of styles, medias and prices. Like a family gathered around the dinner table, each gallery's voice is unique while contributing to the whole. The galleries have an approachable, relaxed vibe, which makes the art shopping experience a very personal interaction. Galleries and their owners twine into their clientele's vacation memories; customers return year after year to see what's new or just to catch up. And while T-shirts and OBX beer koozies have their place as souvenirs, Hatteras galleries provide visitors the opportunity for one-of-a-kind personal buys or gift purchases that are authentically Hatteras.
Pea Island Art Gallery
For a virtual gallery hop, let's start in Salvo, where Pea Island Art Gallery perches on the very south end of town. Originally from Kansas, artist-owner Kim Robertson fell in love with Hatteras 27 years ago, but it took another 17 years to make a permanent move. "It's passionate," she says about the island. "It's wild; it's visually just a stunning, stunning place." Kim and her mother, a painter whose work is featured in the gallery, ran a shop in Wilmington before Kim hit the art show circuit with her mixed media photography. She then opened a seasonal "pop-up" shop in Avon, which led to her current gallery. Kim built the gallery to resemble the 1874 Chicamacomico Life-Saving Station. It has a bright, salty, happy vibe with loads of jewelry, wood, pottery and more. One hundred thirty-seven local and regional artists are represented, and all work is consigned from artists Kim personally knows. "This little island is the most art-friendly, cooperative group of folks I've ever met," Kim says. Part of the proceeds from gallery sales benefits Pea Island Wildlife Refuge and Chicamacomico Life-Saving Station.
27766 N.C. Highway 12 | Salvo | (252) 987-2879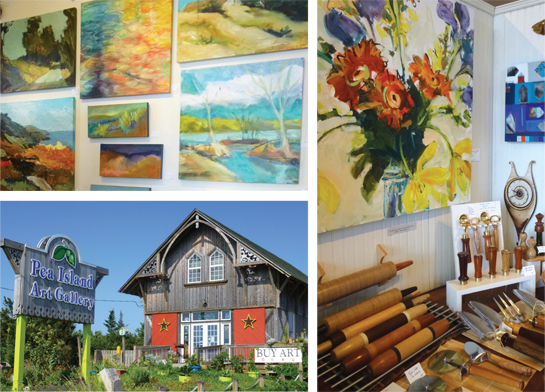 ---
Studio 12
Traveling south to Avon, you'll meet Gary and Carolyn Schena of Studio 12. Married on the beach in Avon 10 years ago, they opened their gallery one week later. Gary left a career as a CPA on Wall Street while Carolyn, who has a degree in art and a Master's in Environmental Education, had been working in Washington, D.C. They were looking for a change, for peace, and that's what they bring to those who come into their shop. A contemporary ceramic studio, Studio 12 began as a place for people to come in and make art, but later expanded their gallery offerings. About 60 percent of the art featured is the Schena's, with functional wheel-turned pottery from Gary and Carolyn's ceramic tiles, glass fusion bowls, fine silver and clay jewelry and landscapes reflecting her naturalist background. Another 20 artists in the gallery are mainly from the Outer Banks and North Carolina. Studio 12 offers classes in pottery, mosaics and glass fusion. Families often come in to paint pottery and take a break from the beach. "Parents tell us that as soon as they're crossing Bonner Bridge the kids are asking 'when are we going to Studio 12?' because they've had so much fun making art with us in the past," Carolyn says. She says the kids begging to come back are those they'd met as infants when their parents brought them in to capture their prints on a ceramic plate or cup. Studio 12 has been recognized by the Dare County Arts Council and was chosen to design an ornament for the White House Christmas Tree Lighting Ceremony.
40534 N.C. Highway 12 | Avon | (252) 995-7899
---
Kinnakeet Clay - Studio & Showroom
Hatteras history runs deep in the veins of Kinnakeet Clay. Turn off the beaten path of Highway 12 in Avon to visit the shop of fourth generation Hatteras artist Antoinette Gaskins Mattingly. A "salt-crusted, beach cottage shop of art and fine crafts," Kinnakeet Clay has a working pottery studio so you can almost always catch someone working. "There's something magical about watching someone make pottery," Antoinette says. "It's mesmerizing." With a variety of classes and artists in residence, Kinnakeet Clay is a working artistic community housed on land that's been in her family for generations. The building was formerly The Gaskins Gallery, run by Antoinette's mother and grandmother. Trained as a potter, Antoinette raised her family while traveling on weekends for art shows, but as her kids grew older she decided to get off the road and open a shop. The gallery features artists Antoinette met on the art show circuit. "We like everyone whose work we carry. As humans, we like them. We don't bring anything in that doesn't excite us." When looking for items, Antoinette says she's drawn to colors, "pieces that make you think of the ocean or flowers or bright pops of color in nature." Her own pottery tends toward clean lines and crisp, bright translucent colors. You'll want to explore all 2,000 square feet of the newly relocated Kinnakeet Clay. Give them a call for GPS coordinates, and enjoy a peek at the lesser-seen, historic side of town along the way.
40462 North End Road | Avon | (252) 995-0101
---
Sandy Bay
Moving south to Hatteras Village, if you can't find artist-owner Linda Hilton at Sandy Bay Gallery, chances are she's on the water. Originally from Virginia, a love of surfing brought her to Hatteras, where she married a local man and raised a family. Linda worked at the Island Breeze newspaper for several years before transitioning her love of art into Sandy Bay. "The opportunity was there, so I took a leap of faith," she says. And that leap paid off. In Sandy Bay you'll find Linda's sea-inspired jewelry (think pearls, swirls, and sterling) along with lots of other high-end, handcrafted items. Linda downsized after several hurricanes, so her space is small, only 11 feet wide per county property restrictions, but it's bright and airy. In the heart of Hatteras Village, Sandy Bay is full of local, regional and nationally known artists doing handcrafted work in art glass, pottery, jewelry, paintings and woodwork. Once you visit Sandy Bay you'll want to come back, and Linda says she personally knows the vast majority of her clientele. "They're nature lovers," she says. And nature and the sea resonate through the gallery in everything from life-sized glass stingrays to delicate, translucent jewelry. Love of nature, water and art unite those who shop at Sandy Bay.
57544 N.C. Highway 12 | Hatteras Village | (252) 986-1338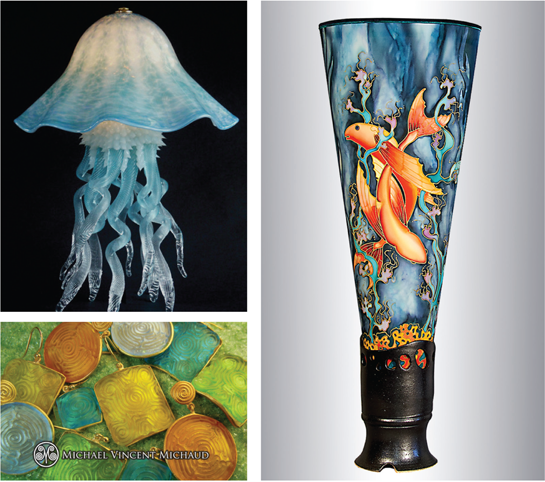 ---
Blue Pelican Gallery
A few miles down the road in a shingled Hatteras home roosts Blue Pelican Gallery. Artist-owner and lifelong Hatteras resident Jenn Johnson graduated with a degree in journalism then returned to Hatteras where she worked for a realty company until 1996, eventually becoming editor of their property catalog and creative director of their website. "The majority of my photography training was taking pictures of the 400-500 houses in Midgett Realty's rental program," Jenn says. "I was constantly looking for a different angle and stretching myself to generate creative new ideas." Jenn eventually devoted herself to photography full-time then opened Blue Pelican Gallery. Her photography and artwork is featured on everything from cutting boards to coasters, cards, magnets and glass sun catchers, all of which reflect her love of the island. "I like watching and capturing water, cloud patterns and even wind as it subtly changes grass, trees and sand," Jenn says. Lots of other local artists are featured, too, and you'll find surf art, prints, tiles, pottery, ornaments, stained glass, hand-carved birds and music, as well as a yarn room. Their exclusive Dune Jewelry and Beachsand Snowflakes are both made from Hatteras sand, so you can literally take a piece of the island home.
57762 N.C. Highway 12 | Hatteras Village | (252) 986-2244
bluepelicangallery.com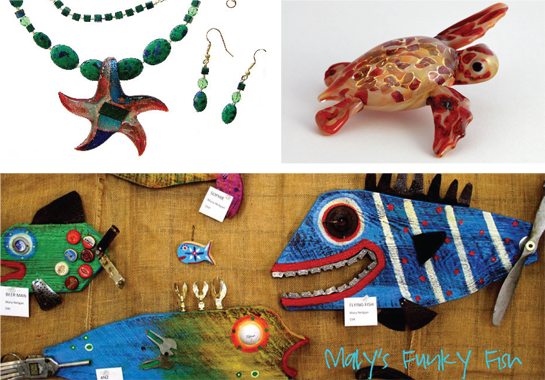 ---
Seaworthy Gallery
Seaworthy Gallery is the last stop on our gallery tour and, at six years old, it's the newest kid on the block. Artist-owner Carole Nunnally and gallery director Janet Hill collaborate to offer an unexpected and whimsical experience, together choosing artists to bring in which results in a fun, eclectic presentation. From pottery to large metal fish sculptures to lazy Susans emblazoned with Carole's art to tons of handcrafted jewelry, Seaworthy expands to feature more regional North Carolina and Virginia artists. Ninety-nine percent of work in the gallery is handcrafted. "When you receive a handcrafted gift, you know it'll be quality," Janet says. "It's so appreciative; somebody really put their heart and soul into what they're making." Janet says customers become friends, returning yearly to visit. Carole and Janet place special orders for clients and think of them when shopping. "I'll see an artist and think, 'so-and-so would love that; we have to get that,'" Janet says. "It takes two. It takes somebody to appreciate what the artists do to make this work."
58401 N.C. Highway 12 | Hatteras Village | (252) 986-6510
seaworthygallery.com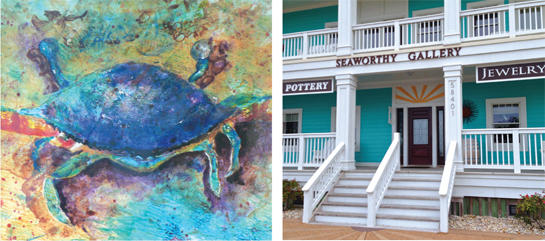 ---
And it's this two-way relationship in which customers become friends that defines and characterizes Hatteras Island galleries more than anything else. Artists, owners and shoppers become part of one another's lives, forming an authentic connection based on mutual respect and a love of art, nature and history. Maybe that's part of the magic of art, the connection formed when a piece crafted by one hand finds a place of resonance in another's heart. Maybe it's this that transcends a mere shopping experience into something more.