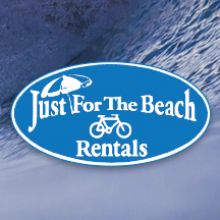 Two wheels on the pavement, that constant coastal breeze at your back and the scent of the nearby ocean —

there's no denying that cycling the Outer Banks is a thrill.
Locals and visitors who choose to see Corolla by bike are especially captivated by the scenic paths that meander alongside the town's historic attractions and the stunning Currituck Sound. And with nearly as many bike racks as there are parking spaces at local shopping plazas and eateries, cycling is quickly becoming the preferred method of transportation for touring this friendly northern town.
Whether you're looking for a local guide to show you the best trails or just hoping to meet up with some other lovers of the sport, signing up for a group ride with Just for the Beach is a great way to see the area. At Just for the Beach, they live and breathe bikes with an entire fleet of beach cruisers and road bikes that outnumbers their stacks of brightly colored kayaks, surfboards, canvas beach chairs and just about every beach essential you can think of. They've got kids' bikes, tandem bikes, cargo trailers, baby seats and even baskets to accent your ride. You can get your bike by the day or the week, at the shop in town or hand-delivered to your beach house (and picked up too!).
Of course, you're welcome to bring your own bicycle when you sign on for one of their mid-week group rides. The fun-loving cycling company has all sorts of group rides planned throughout the high season that can be tailored to cyclists' ages and fitness levels. And regardless of where you point your handlebars, a group ride is sure to showcase some spectacular landscapes from high dunes to maritime forests to grassy flats all positioned between the panoramic Currituck Sound and the Atlantic.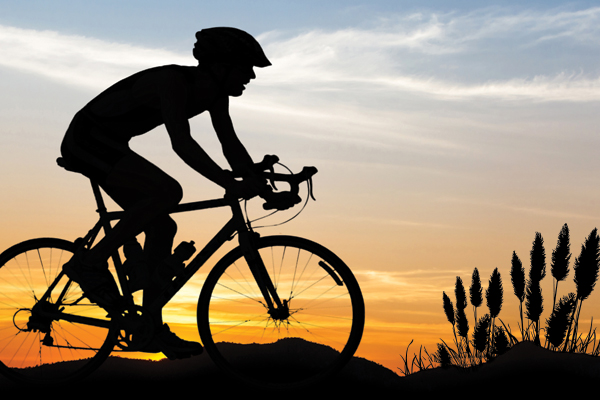 Just for the Beach owner, James Eaton, says, "There are plenty of places for really good rides to be had. And the scenery — we're biking along the marsh and we're looking at the sound and the ocean."
Cyclists will have even more access to the town of Corolla beginning mid-May of this year when the 3-mile-long extension to the existing bike path along Highway 12 is completed. The path will continue south from Monteray Plaza and Timbuck II to the oceanside communities of Buck Island, Crown Point and Ocean Sands. Many visitors to the Outer Banks assume that cycling along the main roads amidst the heavy summer traffic is the only option for extended rides, but there are miles and miles of tucked away streets and trails in addition to the soon-to-be completed bike path along Highway 12.
"You can get a 60-mile ride in from Corolla and never be off a bike path or on the main road," Eaton says. "There is plenty of riding to be had for families or cyclists who want to get out there and go fast."
Just for the Beach has long been a mecca for renting bicycles on the Outer Banks with two locations in Corolla and Kill Devil Hills and flexible deliveries from Corolla to Nags Head. They carry essential gear for the biking enthusiast and perform bike repair. Since Eaton purchased the business in spring of 2015, he has only been adding to the area's cycling opportunities by supporting community biking events like the Outer Banks Triathlon and offering road bikes for rent at the Corolla store in addition to beach cruisers. And in a cycling-loving town like Corolla, Eaton expects he will need every bike ready to go when the summer heat rolls in.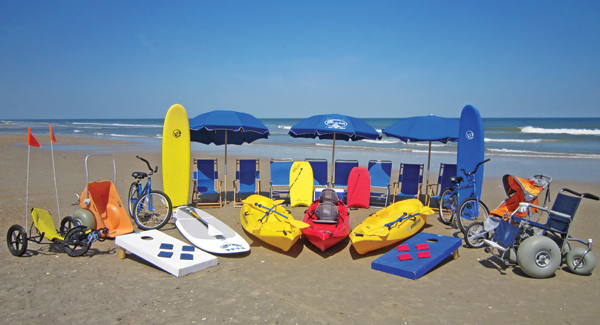 "We've got 700 and some bikes not including the road bikes," he said. "In the middle of summer, they'll all be gone. Every single one will be sold out."
For that reason, Eaton recommends not waiting until the last minute to reserve your wheels. Although the stores close up for a few months each winter, phone and internet reservations are up and running year-round. And planning ahead of time goes for your beach and rental home essentials too.
Just for the Beach has it all from bed and bath linens to baby gear and water sports equipment. They will even set up your beach chairs and umbrellas each morning on that perfect plot of sand so you can spend less time hauling your stuff to the shore and more time standing with your toes in the Atlantic ... or better yet, leisurely riding into town on your beach cruiser.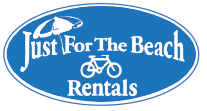 2 LOCATIONS
1006 S. Virginia Dare Trail, MP 9, Kill Devil Hills
501 Old Stony Road, Ocean Club Centre, Corolla