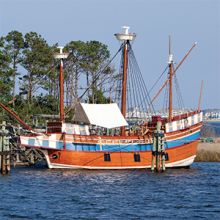 While we all know that Roanoke Island Festival Park is one of the Outer Banks' most stellar attraction sites, what you might not know is how much the Park has changed since they first opened their doors in 1998...or, even more importantly, how much they've continued to evolve in just the past few years. Though they've never wavered from their primary focus on bringing Outer Banks' history to life through educational programs that are both fun and interactive, they've made it their ongoing priority to expand on those programs in ways that are substantially enhancing visitors' experiences at the Park.
As part of the Park's larger plan to continually offer new features, their most recent and ambitious project includes a complete renovation of their indoor Adventure Museum. Once inside you'll still find the same high level of attention to displays that shed light on more than 400 years of our region's history, but you'll also notice an impressive number of new and redesigned exhibits that encourage visitors to try more hands-on activities. As you make your way through all the historical developments and traditions that have shaped coastal North Carolina over the years - from the early 16th-century Age of Exploration to the rise of the more tourism-based economy we enjoy today - you now have the chance to immerse yourself more fully in the particular feel of each era in different ways. Examples include touch screen quizzes and CSI-styled computer programs that allow you to test out your knowledge and investigate theories that surround the fate of the Lost Colony. Some of the other creative activities also feature opportunities to dress up in 16th-century, pirate or Civil War attire, test your strength at pulling cargo on and off ships with an array of ropes and experience what it's like to hunker down in a sink box duck blind while birds soar overhead. No matter where you look there's something that's sure to interest and inspire visitors of all ages.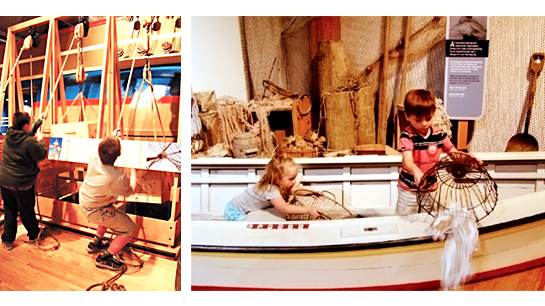 Perhaps unsurprisingly, having fun at the Park doesn't end inside! With more than 25 acres to explore, Festival Park has transformed what was once known as the overgrown Ice Plant Island into the sculptured Park grounds, complete with a gorgeous soundside pavilion that's a complete work of art in its own right where events such as concerts and weddings abound. Spring and summer are, of course, the best times of year to watch the flowers bloom all over the Park in a riot of vibrant colors, but even during fall and winter you can meander along the marsh-side boardwalks that line the site in order to take in the quiet tranquility that all the native plants and trees provide. There's even a fun fossil pit directly in front of the main building where kids (yes, that includes you kids at heart!) can get lost for hours in search of bits of fossilized coral and sharks' teeth of all sizes.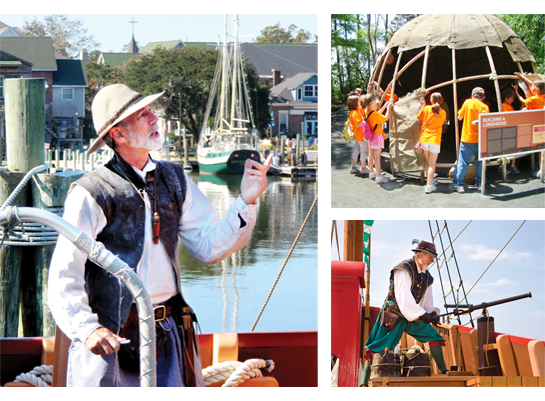 From there, though, your outdoor experience at Festival Park has only just begun. Once you've passed the gate that leads to the area behind the main Park building, you'll find that a whole other world awaits you! First up is the American Indian Town, where you can explore coastal Algonquian culture and history through a variety of different lenses and activities. In the longhouse exhibit, visitors are able to help complete a traditional Native American home, while a number of work shelters invite visitors to try their hands at projects such as mat weaving, net mending, tanning and farming techniques. Exhibits on canoes and a replica of a ceremonial dance circle are other popular spots that help illuminate the daily lives of Native Americans during the time they were first encountering English explorers in the late 16th century.
As you continue down the wooded path (and find yourself moving slightly forward in the historical past), the farthest stop will drop you right in the midst of Festival Park's Settlement Site. Once there, you'll be fully immersed in a setting that's styled after one of the first English military encampments established in North America. Featuring costumed historic interpreters such as blacksmiths (who love to demonstrate how they fashion their iron wares) and mercenary soldiers (who will regale you with tales of their dashing exploits), you'll get to experience firsthand what daily life was like for the adventurers who took almost unimaginable risks in order to build some of the first permanent colonies in the New World.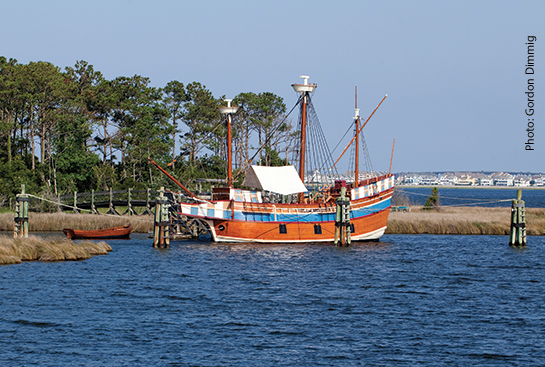 Of course if you branch off toward Shallowbag Bay in between visiting the Settlement Site and the American Indian Town, you'll once again find yourself in new territory...this time directly on the water in the Elizabeth II, a representative 16th-century sailing vessel that's closely modeled on one of the ships that embarked on the 1585 voyage sponsored by Sir Walter Raleigh. Onboard the Elizabeth II, which has called its present location home since being constructed on the island and launched in 1983, you'll have the opportunity to interact with costumed 16th-century sailors who can answer any questions you might have about the Roanoke Voyages that occurred between the years of 1584 and 1587 - or, for that matter, any other historical inquiries about that time period that strike your fancy. But prepare to be put to work if you're planning to be insubordinate! As an honorary mate, you could find yourself in charge of swabbing the deck, raising the ship's anchor or being tasked with the job of searching for surprises in the barrels stowed below deck. Just be sure to mind your manners and you probably won't have to walk the plank!
Wherever your main interests lie - with swashbuckling pirates or resourceful American Indians, or learning how to map sea currents while figuring out the intricacies of navigational tools like an old sea dog - your journey surely begins at Roanoke Island Festival Park. So stop by and take a step back into the past...where adventure and excitement await you at every turn.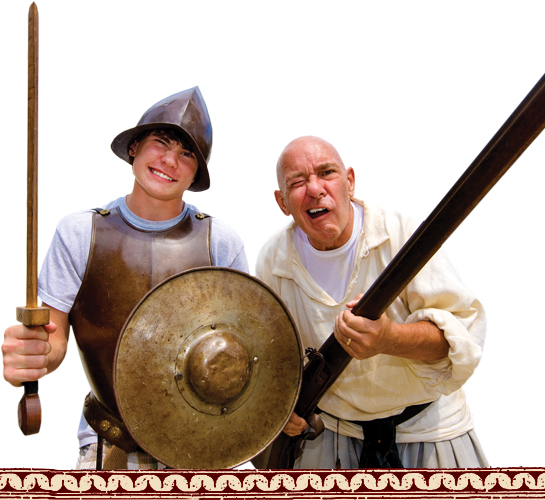 ---

1 Festival Park • Manteo, NC 27954
(252) 475-1500 • RoanokeIsland.com