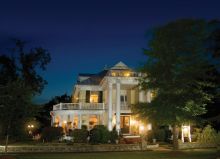 Walking up to the Granville Queen Inn in downtown Edenton for the first time might feel a bit intimidating. The stately Neo-Classical Revival home complete with two-story portico, paired Tuscan columns and wraparound porch suggests a grandiosity and magnificence not often found in this part of northeastern North Carolina.

But when owner and innkeeper Robert Beasley opens the great double front doors, his warm smile, kind eyes and welcoming handshake immediately put guests at ease. He likes to personally greet his guests and show them around the grand 1907 house that he bought in 2015.

In fact, as fine and elegant as the house is, it's Robert who steals the show. As of this writing, guests of Granville Queen Inn have ranked the inn as the number one bed and breakfast inn in Edenton and on the North Carolina coast on TripAdvisor, and practically every one of the hundreds of reviews mentions Robert's graciousness and hospitality.

Growing up in Edenton Robert never imagined that he would one day own and run one of the town's finest inns. He left the area to go to college and afterward moved to the Raleigh-Durham area where he met his wife, Eula, who was in pharmacy school. In 1985 they moved to the Washington, D.C., area. Robert worked for a trade association and Eula as a pharmacist, and they raised their two children.

But something different was tugging at Robert's heartstrings. When the Beasleys traveled to Edenton to visit Robert's family members, they would stay in the refined Lords Proprietor's Inn. It was then that Robert began to dream of one day running his own inn. With that dream in mind he began collecting tableware, artworks, furnishings and antiques and saving them for that possible future.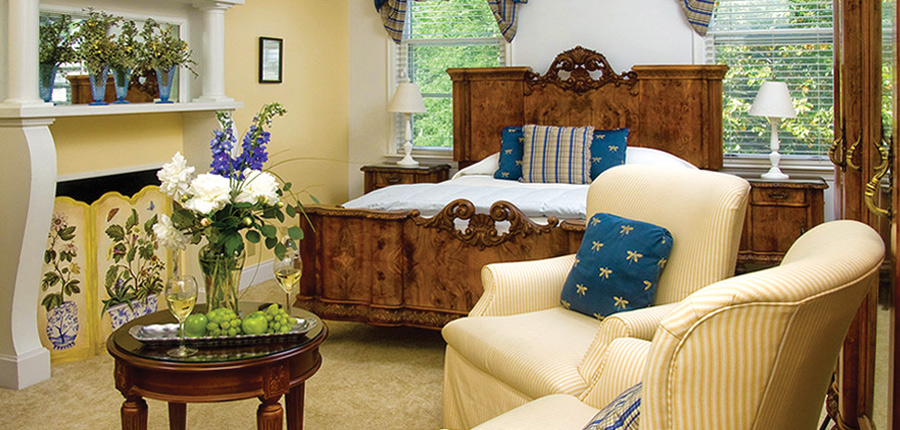 There was only one problem: Eula loved her pharmacy career and was not particularly interested in running an inn. In 2014, however, Robert convinced her to attend a seminar on innkeeping. There they learned that the ideal situation would be one in which one partner runs the inn and the other partner works elsewhere. After that, Eula was sold.

"She agreed to help me accomplish my dream," Robert says.

The Beasleys looked in several other areas for an inn to buy but couldn't find a good location until Eula suggested Edenton. "Why not your hometown?" she asked. They both knew that Edenton's waterfront setting and rich history are the perfect setting for attracting guests, and Robert had long admired the beautiful Henry M.S. Cason house that was being run as the Granville Queen Inn and happened to be for sale.

The Beasleys are the fourth owners of the inn. Dr. Henry Cason and his wife, Alice, had the house built in 1907, and family lore states that Alice drew the plans with builder Frank Fred Muth. The house remained in the family until 1969. In 1989 it was renovated as a bed and breakfast inn and named The Granville Queen.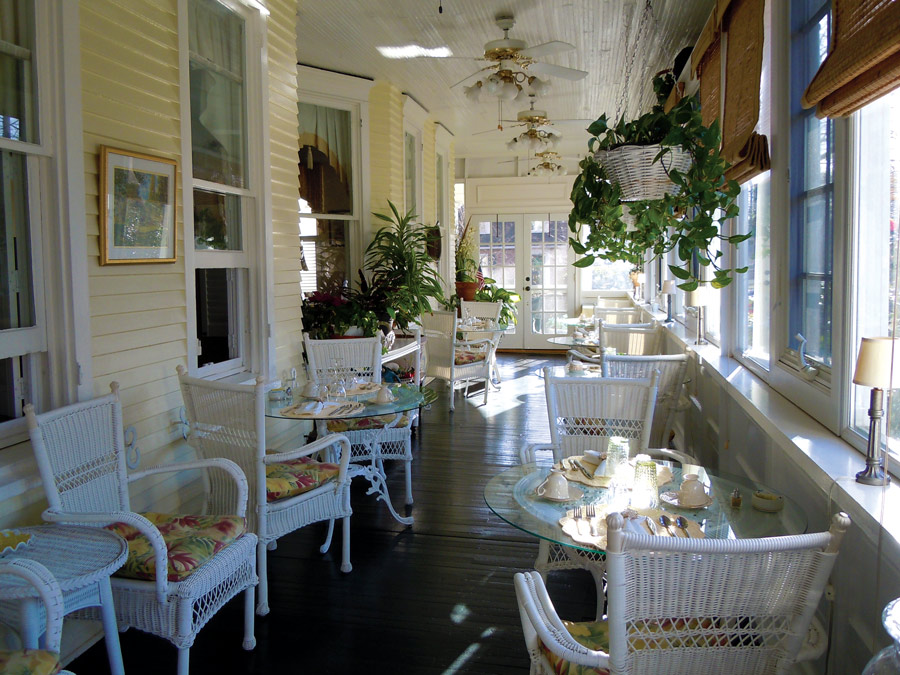 After acquiring the inn in June of 2015, the Beasleys undertook several major projects to restore and update the house. They live onsite, but it is Robert who runs the inn, while Eula works as a hospital pharmacy manager. "She's an eternal guest," Robert says, but she does help out as well.

Robert's goal was to offer luxurious accommodations and a gourmet breakfast in a peaceful and restorative atmosphere among fine and elegant furnishings. As someone who enjoys a quiet life himself, he doesn't host events or house parties, and the inn does not allow children younger than 12.

"I provide the original bed and breakfast experience where you come to relax and have peace and quiet and escape from the hustle and bustle of life," Robert says.

He is clearly in his element, always wearing a contented smile, and his talents align well with the innkeeping life. First off, he has quite the gift for interior design and added his own touches to this grand lady. The common areas are formal yet comfortable, and there are many points of interest, from beautiful artwork to the intricate coffered ceiling in the parlor to the massive dining room chandelier that was salvaged from the local theater.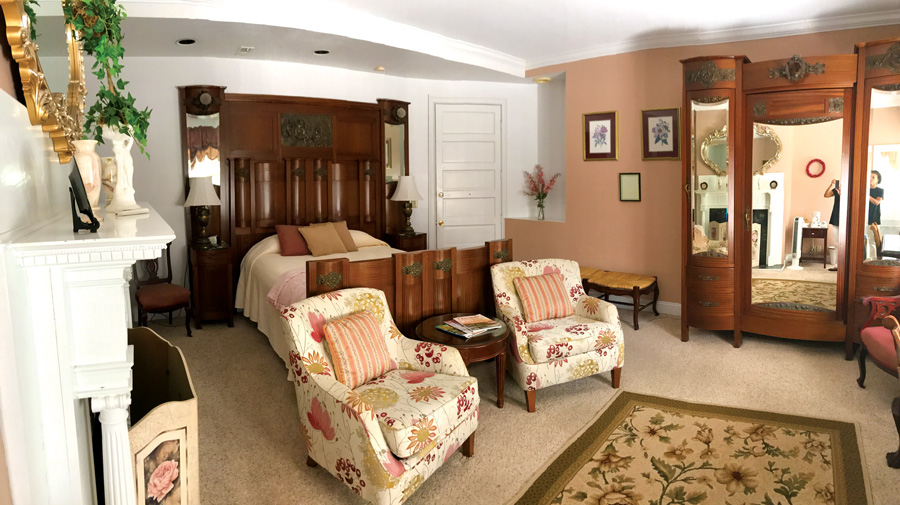 He has several sets of fine china that he changes for the season, and his breakfast tables are formally set with tablecloths, china, silver and elegant stemware.

Each of the seven guest rooms is furnished with period antiques, including a complete antique bedroom set, comfortable seating and soothing colors. All four rooms on the second floor have balconies and all three on the third floor have window seats. Each guestroom has a private bath, some with a large soaking tub. The guestroom colors are soft, and the bedding is plush, and even with traditional high ceilings they feel intimate.

"I wanted a feeling of coziness in the inn," Robert says.

He's also quite the cook. Every morning he prepares a three-course breakfast with fresh fruit and yogurt, a main entrée and a sweet ending. "I try to make something unique, something you would not cook for yourself at home," he says.

Robert also maintains the inn's extensive flowering gardens. And, of course, he has a knack for interacting with guests, who say he is a gracious and attentive but noninvasive host.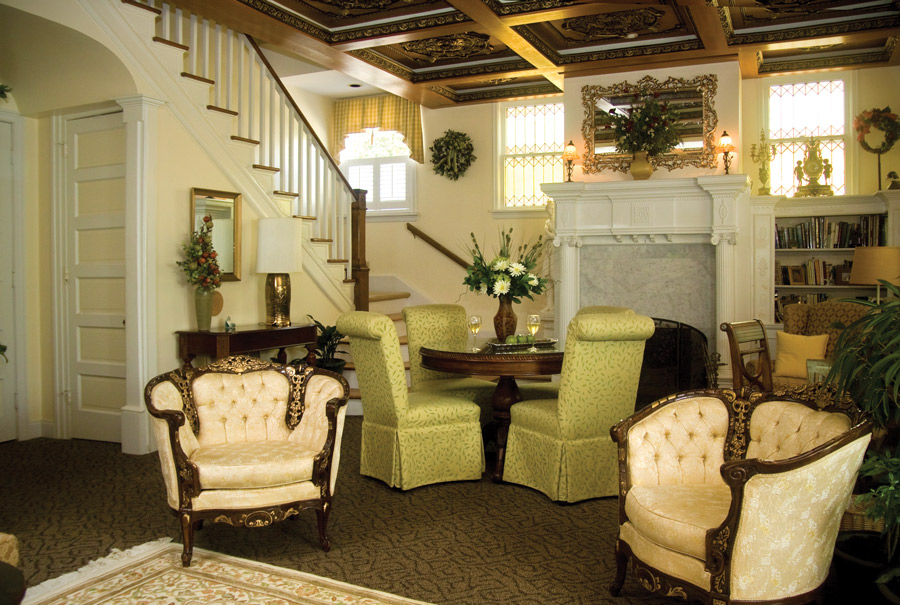 "It makes me happy when people tell me I make their stay memorable," he says. "That gives me some encouragement that I'm doing something worthwhile."

Helping guests discover the historic town of Edenton makes Robert happy too. He is proud of Edenton's wealth of history, and all of the town's sites of interest are within walking distance of the inn, as is the waterfront.

In the end, Robert's innkeeping dream became a reality.

"After 41 years I returned to my hometown to rediscover and share with our guests the wonders of our historical town," he says.

Now that's a happy ending.
---
(252) 482-5296 | 108 S. Granville Street, Edenton | granvillequeen.com