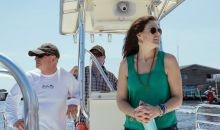 Picture yourself on the shores of the Outer Banks (even if you're here already). Sweeping visions of sea and sound are likely first to enter your mind, followed by memories in your favorite oceanfront family retreat. But what else do you see?
For some, it's the Colonial Spanish Mustangs of Corolla, magnificent and wild as they canter among the sand dunes and maritime forests of their sanctuary. Others envision a sunset sailboat cruise, a child on a surfboard catching a first wave or maybe even their own daring descent from 2,000 feet beneath the wings of a tandem hang glider.
If you can dream it, Kitty Hawk Kites probably has it. For more than 40 years, the adventure outfitter has been providing visitors with the quintessential Outer Banks experience – no matter which one it is for you. 
It all began with owner John Harris and a hang gliding flight on the sand dunes of Jockey's Ridge. Harris' own passion for flight inspired him to teach others, and that passion grew into a legacy that remains unrivaled today in terms of the number of recreational activities offered through Kitty Hawk Kites (more than 25), the breadth of the retail experience and the one-of-a-kind annual events that have entire families coming out to fly a kite, eat watermelon or watch kegs strapped to flying machines take to the air.
Simply put, there's nothing quite like Kitty Hawk Kites, and this summer, visitors can expect even more from the Outer Banks' leading adventure company.
Experience More Adventure
By land, air or sea, your adventure awaits at Kitty Hawk Kites. The Outer Banks wasn't meant to solely be explored from the shore, especially when you consider our fascinating history of flight and piracy. Whether you opt for a parasailing excursion high above the sound, a dolphin tour with your family or a classic dune hang gliding lesson over Jockey's Ridge, you can see the Outer Banks like never before.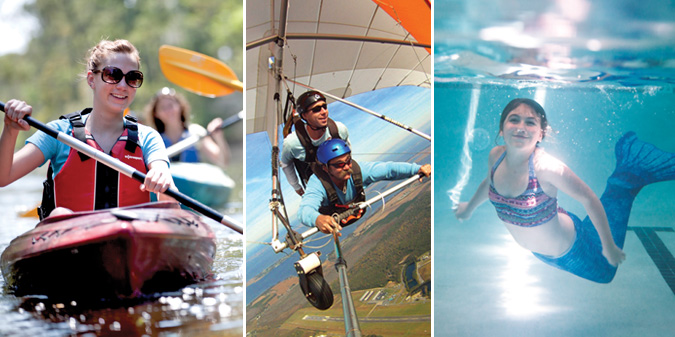 The activities at Kitty Hawk Kites span from Corolla to Hatteras, and there are a few new additions this summer that you won't find anywhere else on the beach. Children who have always dreamed of life under the sea can sign up for mermaid swim school where they will don mermaid tails and learn to swim just like mermaids with an experienced pool instructor. Above the water's surface, adults and children alike will enjoy the new soundside boat cruises including a sunset trip on a beautifully restored 1967 vintage motor yacht, an eco-tour of the Pine Island Audubon Sanctuary and a tour of Sanctuary Vineyards from the water – the first excursion of its kind
Recreational Sales and Reservations Manager Luke Baer says, "Even though we started with hang gliding lessons in the '70s, we quickly realized that the Outer Banks offered so much more recreational opportunity than simply flying off the dunes at Jockey's Ridge. We average about three to four new services each year."
Wondering what to expect for your adventure? You'll find that most employees at Kitty Hawk Kites can give you a firsthand account. The adventure outfitter offers more recreational benefits to its staff than any other company on the Outer Banks, so most of the employees have actually taken hang gliding lessons and participated in kayak tours, kiteboarding lessons and more.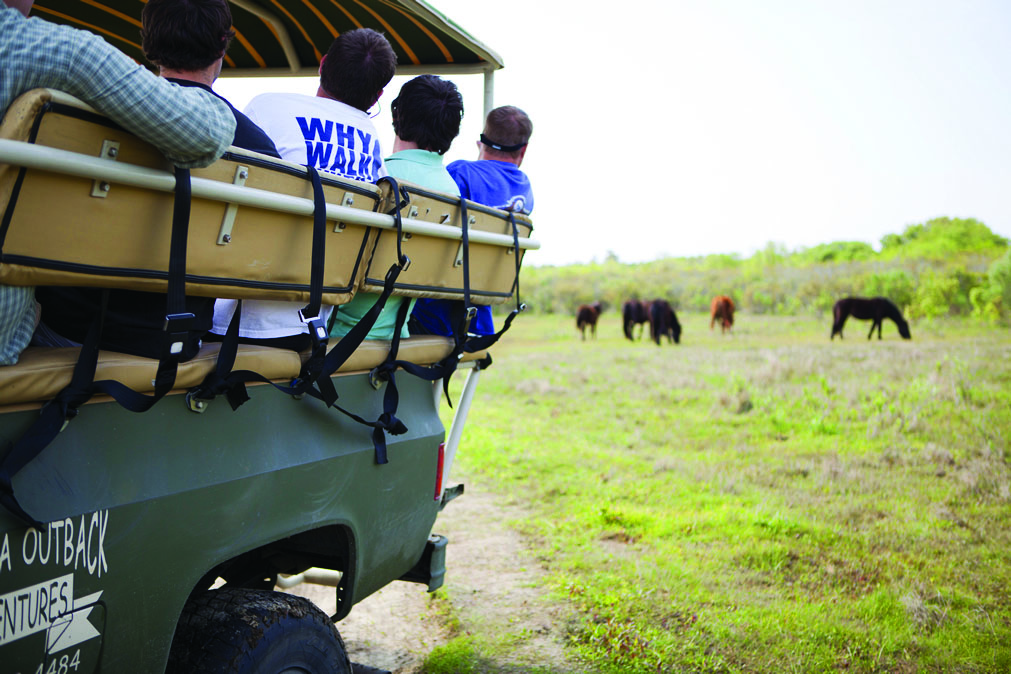 The adventurous staff is known for going above and beyond what is required both in their daily lives and on the job. Baer was actually invited to a wedding rehearsal dinner after he helped visitor Ben Sandstrom and his (future) wife Comanche Weaver with a proposal during a Cessna plane tour. Baer and another employee dug an enormous sign into the sand on the beach that read, "Will you marry me?" Weaver didn't know the sign was for her at first ("Honey, look!"), but once she realized, she agreed to marry Sandstrom on the Outer Banks the following year.
"We love Luke (Baer)," said Sandstrom. "He was really a special part of the engagement, and when we were married at the Sanderling, he set up outdoor adventures that anybody who wanted to could do like horse tours in Corolla and fishing on the beach. Every time we come back down we try to get in touch with him."
Experience More Shopping
Of course, many visitors return to Kitty Hawk Kites each year for the incredible shopping. When you enter the main store in Nags Head, you will likely be overwhelmed in the best way. Set between ocean and sand dunes, the retail store is bedecked in colorful kites and wind spinners, and a myriad of children's toys, pirate gear, Outer Banks clothing, gifts and toy demos greet you around every corner. You'll even find a rock climbing wall!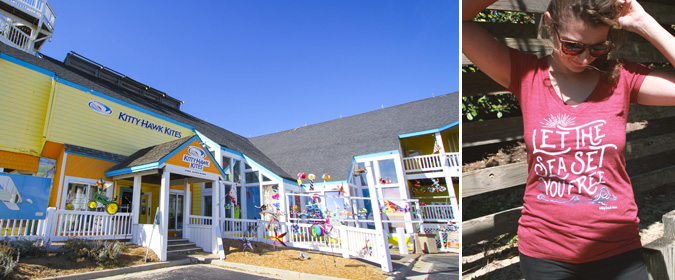 The multitude of interesting treasures hiding in nooks and hanging from the ceiling is characteristic of all of the Kitty Hawk Kites retail stores located on the Outer Banks and now in several other states too. A portion of each store is dedicated to outdoor recreation (after all, you'll need the right gear for your next adventure), and this summer, Yeti coolers and equipment will be joining the wide-ranging selection along with new KEEN, Teva, Sanuk and OluKai footwear.
For two entirely different shopping experiences, be sure to check out Harris' other ventures, Kitty Hawk Surf Co. and Life Is Good. The surf shop carries water sports equipment and surf clothing, while Life Is Good celebrates the simple things with clothing and accessories embodying the message in the store's name.
Experience More Events
When it comes to annual festivals, kite demonstrations and family-friendly competitions, you can expect everything to be larger than life at Kitty Hawk Kites. Their events are some of the biggest and most anticipated on the Outer Banks – from long-standing traditions such as the Hang Gliding Spectacular and the Rogallo Kite Festival to brand new celebrations such as Light Up the Night, a glowing event coming up in July that will see standup paddleboards, skateboards, Frisbees and more outfitted with lights. Best of all, Kitty Hawk Kites events are free to attend.

When asked what she loves about the annual kite festivals, Event Coordinator Janet Chesson says, "The kites are like no other, but it's not just a show for people to sit back and watch. We always encourage people to bring kites and fly with us."
The Outer Banks Watermelon Festival will also be back this August to celebrate all things watermelon in a carnival-themed fundraiser complete with watermelon eating competitions, seed spitting and lots of quirky watermelon games. And in the fall, one of the most unique events ever to take place on the Outer Banks will return when kegs of beer take to the skies. Last year's inaugural Outer Banks Brewtäg saw kegs attached to handmade flying machines launched into the air to fly (or fall) in a celebration of North Carolina Beer, the Outer Banks and, of course, flight.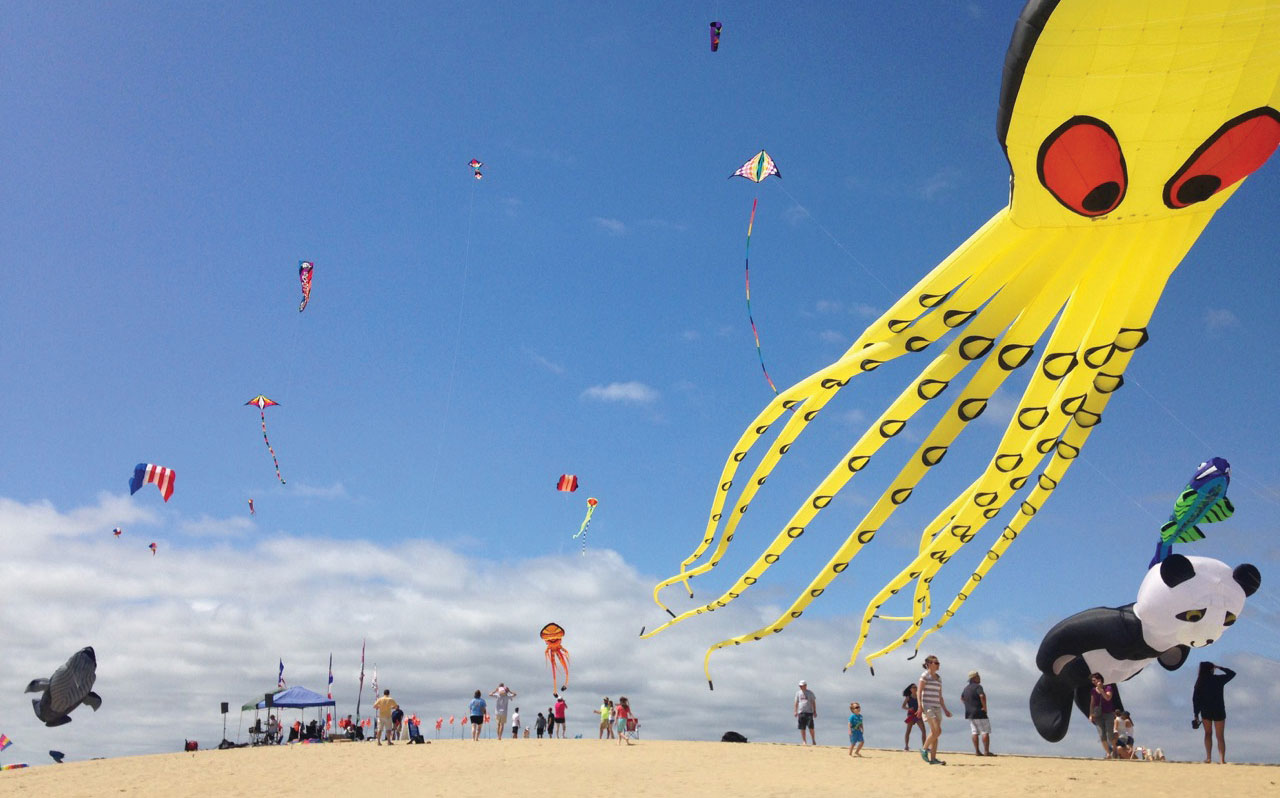 "We are more than just a jet skiing company or a kayaking company," says Baer. "We offer more adventure activities than any other organization on the Outer Banks, more diversity of product in our stores and incredible events. We are all of these things."
From festivals to shopping to adventures by air, land and sea, come experience more of the Outer Banks with Kitty Hawk Kites this summer.
-------------------------------------------------
Want to get active?
How about trying out every single adventure that Kitty Hawk Kites offers on the Outer Banks!
Hang Gliding | Kiteboarding | Parasailing | Kayak Tours | Aero Adventures
Standup Paddleboarding | Dolphin Tours | 1902 Wright Glider Experience
Jet Ski Rentals & Tours | Surf Lessons | Sailing Cruises | Wild Horse Tours
Outer Banks Segway Tours | Wakeboarding, Water-Skiing & Tubing
Paragliding | JetPak Adventure | The Lost Colony | Fishing Tours | Sightseeing Tours

(877) 359-8447