If you're looking for that small-town, local feel north of the Oregon Inlet, nowhere does it better than charming Manteo. And as every smalltown fantasy needs, the time-honored, family-style diner is a must. You know the kind – one where everyone knows your name, you have your regular booth and good food is as consistent as the welcoming hospitality. These signatures have been Darrell's specialty for the past 60 years.
As the second-oldest, family-run restaurant on the Outer Banks, this Manteo mainstay walks the fine line of balancing nostalgia with innovation. Folks who visit only once a decade can still order their favorite seafood dinner from the menu and sit in the same, low-back vinyl booth as their last visit. For the regulars, Darrell's piques their curiosity with the steady stream of new additions, and that – plus a love for the restaurant – keeps them coming back to check out what's new.
Its age doesn't mean that the Darrell's you see off U.S. Highway 64 is the same place that was established back in 1960. It opened as the Polar Bear Drive-In by its original owners, Dora and Darrell Daniels. During the summer months, people lined up outside of the walk-up window to order soft-serve ice cream, milkshakes and hotdogs. For the Daniels' children, Allen and Ruth, the Polar Bear was a fixture of their childhood. Allen remembers sneaking naps under the counter during summer nights, waiting for The Lost Colony performances to end and release its hungry audience into the evening.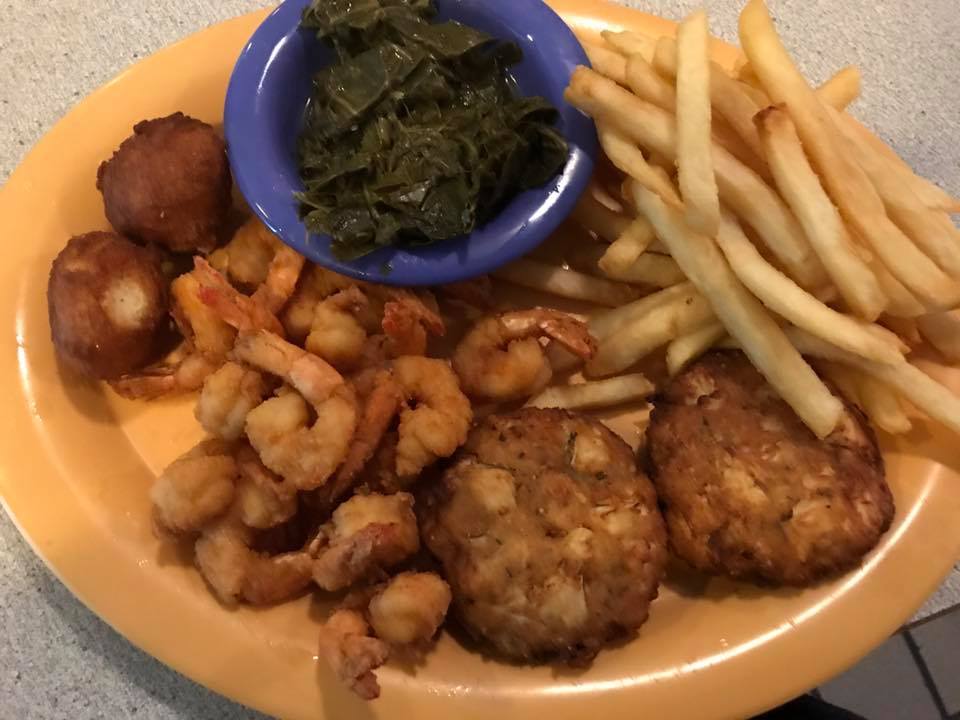 The family saw the Polar Bear through hurricanes, flooding and personal hardships over the years, but that didn't stop them from expanding their offerings and trying new things. Allen's increased involvement in the early '70s took the Polar Bear to new heights. When he and Darrell, for example, started making fresh donuts and wood-fired barbecue, they introduced what has become the eatery's signature offerings.
Not long after that, the family renovated the Polar Bear. They expanded the kitchen and added the original dining room that's still seen today on the restaurant's left side. This time when the doors reopened, it was as Darrell's Restaurant, a family-style diner that served up Outer Banks-style seafood classics. Within a few years, the restaurant garnered a loyal following not just in Manteo, but also with Wanchese boat builders, fishermen and people on the beach.
Allen and his wife, Lorna, were leaders within the family's business. When Dora and Darrell grew ready to retire in the '80s, the young couple became the restaurant's new owners. Under their ambition and drive to keep doing something new – be it menu items, ingredients or renovations – business surged. It's this ambition and drive that still carries the restaurant forward today.
Their innovation inspired many of Darrell's most popular features, such as their breakfast. When folks began having multiple lunch and dinner options around the island, Darrell's took the opportunity to satisfy the dearth in early-morning options. The addition of breakfast service received a hearty welcome from early morning fishermen and people heading to work.
Even now, with several other breakfast spots on the island, groups of young and older customers maintain a tradition of starting the morning at Darrell's. Regulars arrive for their daily sausage biscuit or stack of pancakes, breakfast clubs gather weekly around long tables, and folks conduct business in quiet back corners, a mug of coffee beside their laptop.
Another development was the additional dining room on the restaurant's right side. The length of many people's relationship with Darrell's is often gauged by which dining room they choose to sit in. The newer room is much larger than the original. Parties nestle into the highback wooden booths made by Amish craftsmen, and the walls feature plaques of sport fish.
"Many of the longtime locals don't like sitting over here," Lorna confides. They prefer the layout of the original dining room, where the booths' shorter seatbacks encourage conversation to flow between the tables. The folks who gather here share stories over plates of barbecue, popcorn fried shrimp and homemade 14-layer chocolate cake. Occasionally, even visitors join in the fun.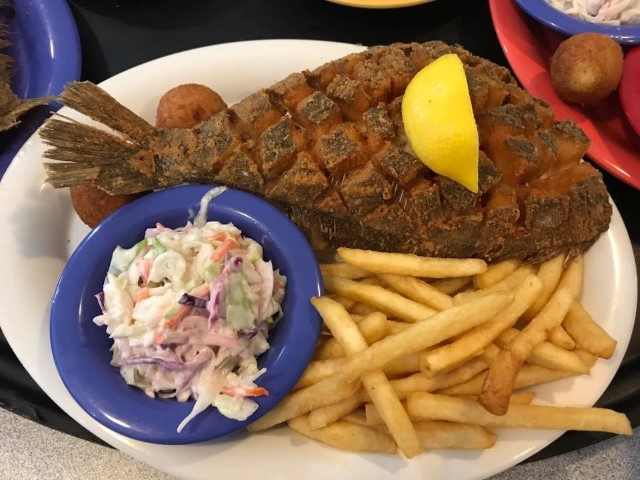 While summer is definitely the height of their season, Lorna credits the loyal base of locals for keeping the business going year round. "We try to take care of the community," she says. It shows, too, from their budget-friendly prices to their practice of keeping traditional recipes alive amidst a world of ever-evolving palates.
They make a point of always having daily lunch specials with options less than $10. It's a trend reflected in their menu too. Nothing threatens to break the bank, and items such as chicken and shrimp baskets, soups, sandwiches and salads are enjoyed within single-digit price points.
Darrell's is also known for enabling older locals to satisfy hankerings for their childhood favorites with specialty dishes such as Hatteras clam chowder, famous fried oysters, wood-fired barbecue and more that showcase classic Outer Banks fare. And the rotating daily specials keep regulars coming on the designated days for chicken pot pie, hamburger steak or the legendary boiled drum (a dish made in the early days of fishing villages), noted for drawing in a regular crew of old-timers every Monday, some of whom even make the pilgrimage in from as far as Hatteras.
But in keeping with Darrell's mission of trying new things and moving ahead with modern tastes and dining styles, their expanded menu now includes appetizers such as chicken wings and buffalo fried shrimp and entrees like fish tacos and salads topped with fresh seafood – items perfect for a light lunch or enticing a seafood-suspicious eater out of their shell. The practice of pairing the past with progress grounds their business model. Similar to how Allen and Lorna came into the restaurant through the family ties, their children, Ali and Tanner, and his wife, Kim, each maintain active roles in the business. Tanner stays behind the scenes for the most part, working on the restaurant's operation and brainstorming the latest developments, such as Darrell's extensive take-out menu and family-style packages. Ali, on the other hand, is a known presence in the front of the house.

"When she does happen to take a day off, everyone always asks, 'Where's Ali? Where is she?!'" Lorna laughs. "I have to say, 'Don't worry, she'll be right back here tomorrow.'"
The loyalty between Darrell's and their customers goes both ways. Even while constantly implementing fresh ways to satisfy their customers, the familiarity Darrell's cultivates feels and tastes like coming home, and after 60 years, it still keeps people visiting and coming back. Meal after meal. Year after year.
---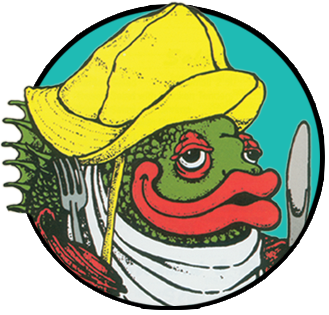 (252) 473-5366
darrellsseafood.com
521 U.S. Highway 64 | Manteo