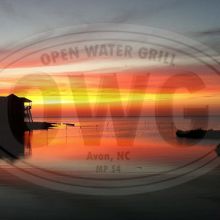 In its seven years on Hatteras Island, Open Water Grill has made a name for itself for serving inventive food with some of the most spectacular waterfront views on the island. A closer look at the process their chefs and managers use for menu development reveals a depth of passion, innovation and respect for their ingredients that's, quite frankly, kind of awesome. They pull from the best flavors the world has to offer, stitching things together to form a coherent menu with an Outer Banks flair. Additionally, Open Water Grill recently debuted a second location in the village of Hatteras. The soundfront views that made the original Avon spot such a stunner are abundant; the Hatteras location features wall-to-wall windows overlooking the Hatteras Landing marina, Coast Guard base, ferry station, marshes and of course the open waters of the Pamlico Sound that lend this popular restaurant its name. Travel with us to get the scoop on the behind-the-scenes action at Open Water Grill, and then call for a reservation so you can taste the amazingness for yourself.
Travel is often a stimulus for creative inspiration: New spaces and places can spark ideas that transcend the everyday. Open Water Grill's General Manager, Martin Shaffer, is a great proponent of this theory, using the off-season to travel and encouraging his team of chefs to explore the offerings of the culinary world as well. "Our chefs travelled to great food locations," Martin says. Oregon, Washington, D.C., Colorado and Tennessee were just a few of the spots the Open Water Grill team experienced this off-season, and each place offered its own particular flavor of inspiration.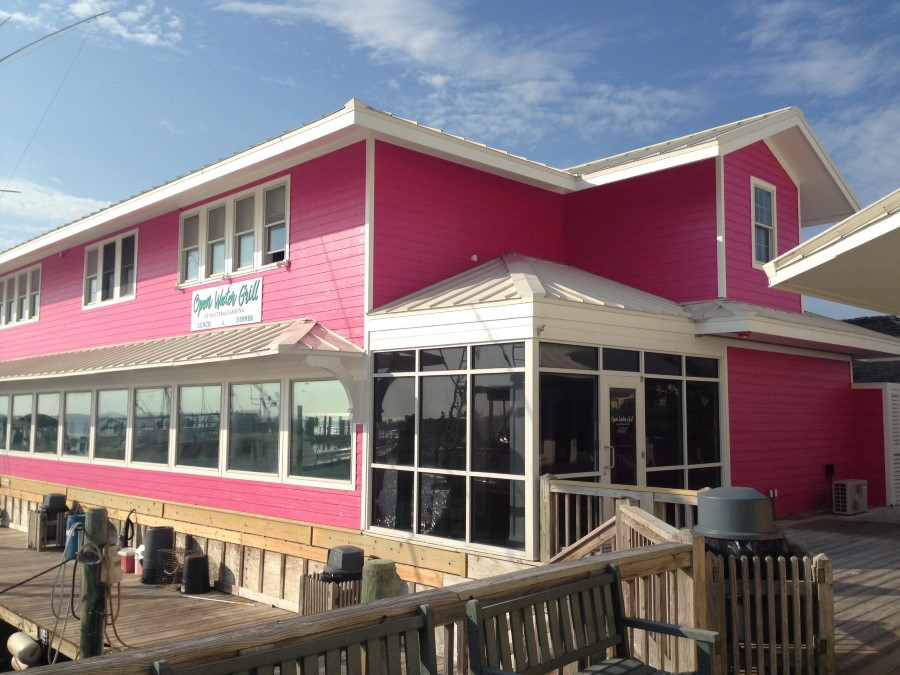 In Portland, Oregon, Martin and his chefs spent days eating at food trucks that served amazing food out of tiny kitchens. "It reminded us that a few ingredients can go a long way. It inspired us to write a menu with less stuff and more flavor," Martin says. This inspiration is especially evident in OWG's daily lunch menu. While many restaurants offer a burger so big you have to use math to determine how to eat it, the simplicity married with high quality at Open Water Grill sets the giant burger lunches there apart. Whether serving burritos that require a fork and a knife, signature flat bread pizza or a prime rib sandwich, they firmly feel that you'll notice the flavors and the attention paid to the ingredients' quality.

Washington, D.C., a food-lovers mecca, prompted the team to fall in love with the endless twists and turns food can make in an international city. "We took our menu and decided to stay loyal to the food and playful with the recipes. Combining the best of what the world has to offer is who we are as a country and as a restaurant," Martin says. Whether it's Open Water Grill's Thai chili chicken stir-fry, their fish tacos with kale slaw and chimichurri cream sauce or their duck leg confit seasoned in the tradition of Gascony, the flavors of different parts of the world consistently inspire. Their international flair also extends to OWG's signature cocktail menu, in-season wine offerings and extensive beer list.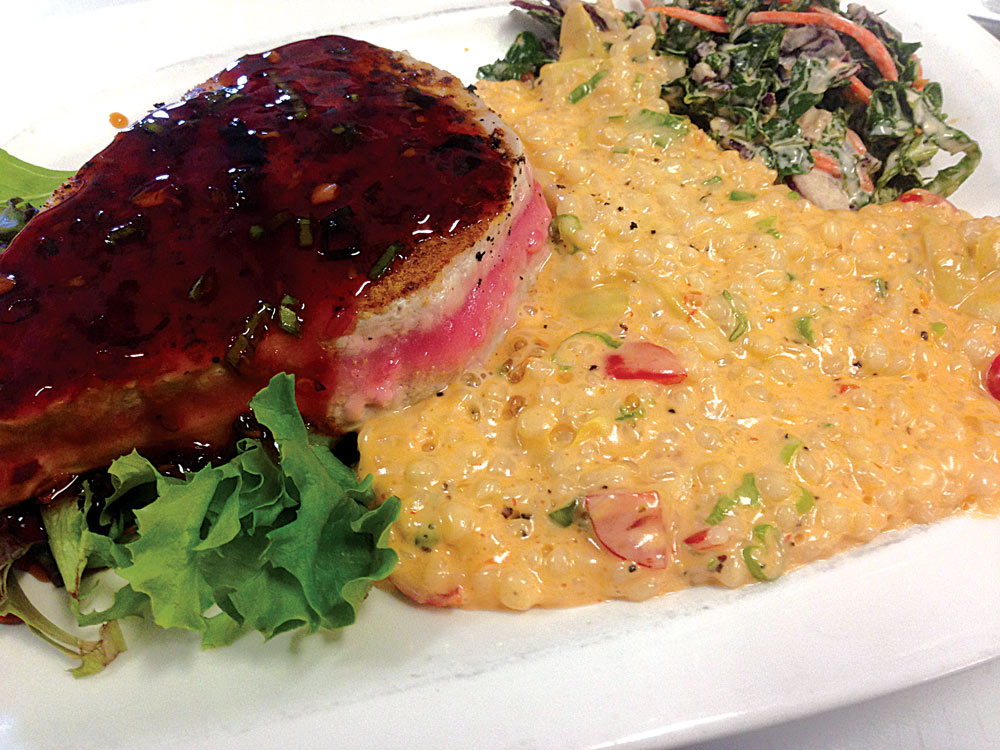 Continuing their travels, the mountains of Colorado provided an unexpected inspiration in the form of shepherd's pie at a local Irish pub. "When I got back I made my own, but I used fish and shrimp and I had an instant favorite," Martin says. This handmade dish warms the heart and delights the palate. The next day, Martin found he had mashed potatoes, seafood and cheese left. Inspiration struck again. "I hand rolled them, tossed them in panko and flash fried them. The crispy outside and creamy center with a sweet flavor of shrimp was amazing." Whether eaten with dip or no dip, these tasty, creative little bites are sure to become an instant OWG classic.
Tennessee, a state known for its excellent BBQ, surprised the Open Water Grill team with a twist of its own. Instead of inspiration in the form of ribs and rubs, they got prosciutto-wrapped asparagus. "Chef and I looked at each other and we ran to the store," Martin says. This thinly sliced flavor-packed meat was the perfect solution to a problem they'd been having with bacon-wrapped scallops – the bacon always seemed to want to protect the scallop instead of melting into one. Prosciutto, however, turned the dish into two parts frailty and all flavor, the ingredients working together to seek perfection.

A unifying concept of Open Water Grill's international menu is surf and turf. The proximity of fresh, local, Outer Banks seafood has always been a focus for OWG, and they found a flavorful turf companion in an unexpected form: homemade sausage. "We have sausage all over this menu, and we're proud of it," Martin says. This "turf" packs the dishes with flavor while allowing local seafood to steal all the solos. "When we set out we were putting five shrimp next to a steak or adding a lobster tail here and there. What we ended up with was a love of sausage," Martin says. Handmade sausage turns up in a variety of places on their menu – see if you can find all the spots when you're there for lunch or dinner!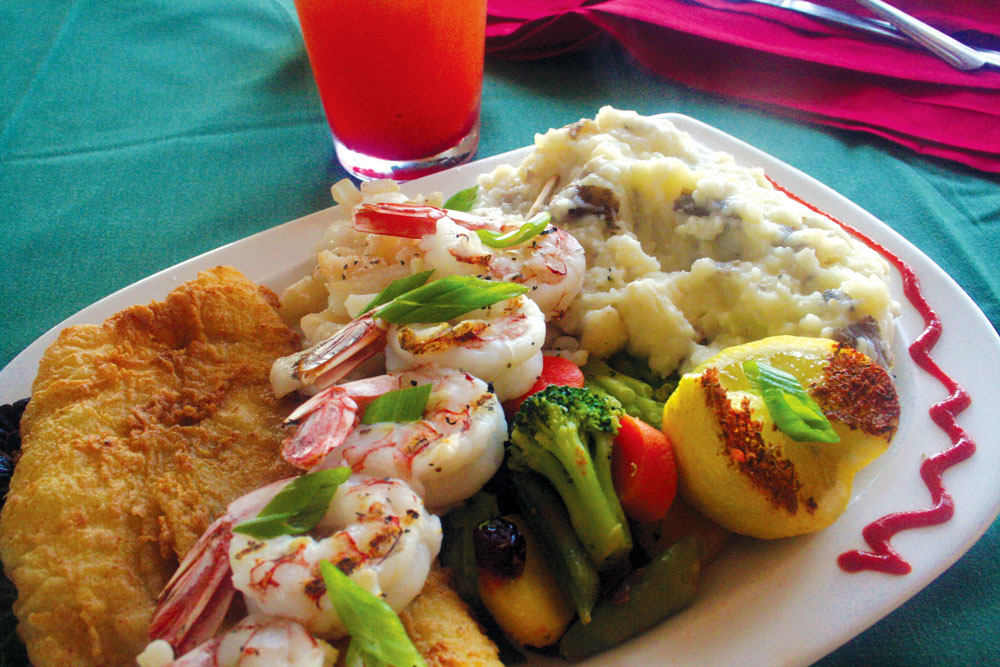 With the flavors of Open Water Grill's menu springing from the team's travels, it's clear that the only thing to rival the Avon and Hatteras restaurants' waterfront views is the flavorful inspirations of their food. Try for a sunset meal for a sensory experience like no other, full of color, motion, light, aromas and flavor. Both the Avon and Hatteras locations offer open outside seating with views that happily stay put in your memory. But whether you dine inside or out, for lunch or dinner, in Avon or Hatteras, the care and passion Open Water Grill's team puts into their menu is sure to delight and inspire.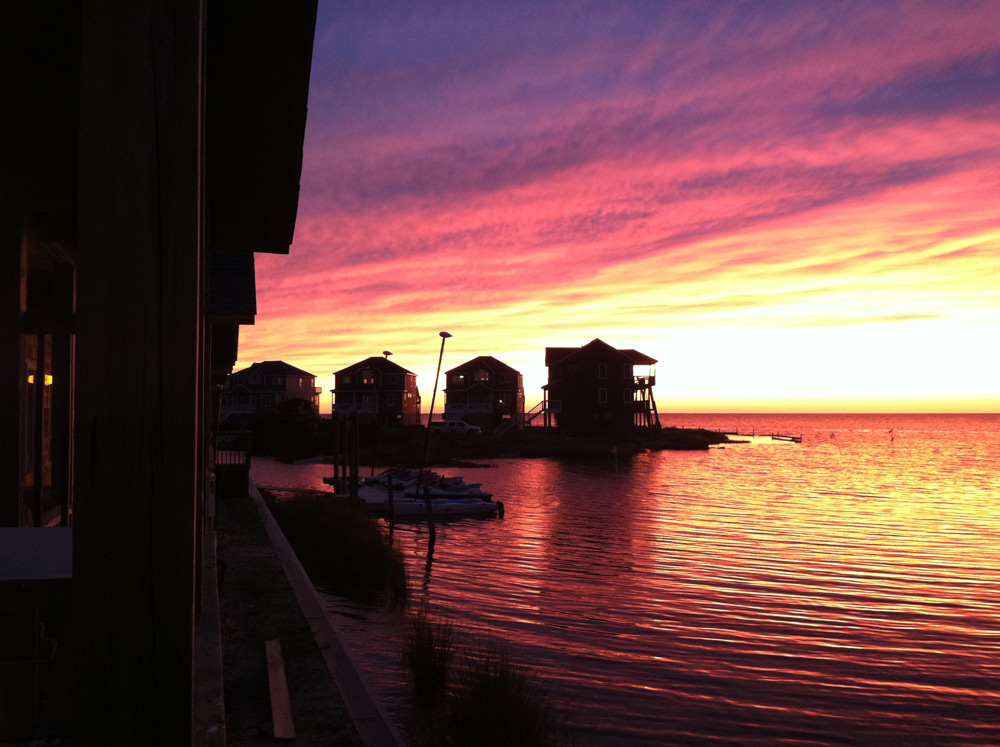 ---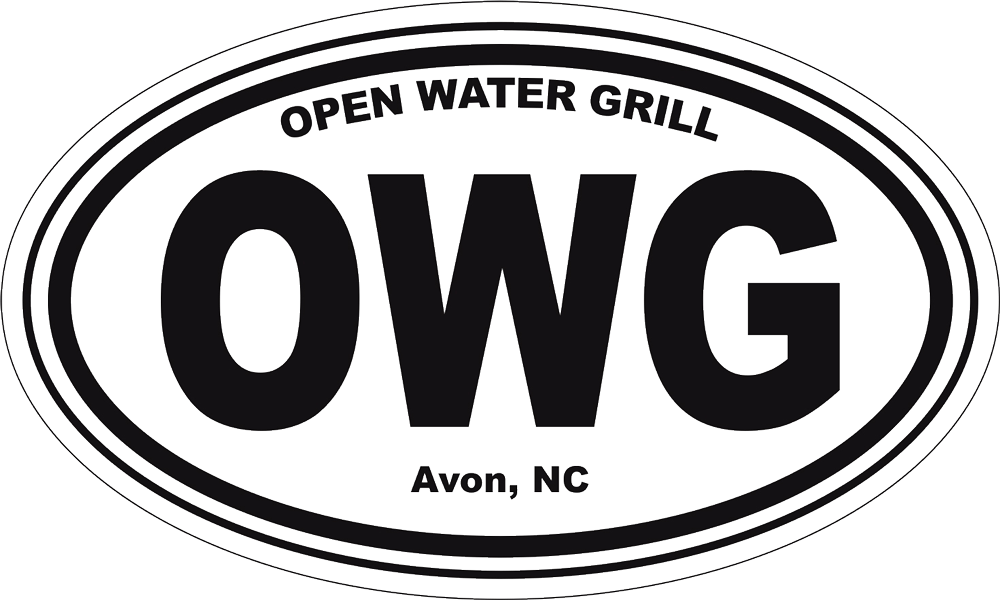 (252) 505-0159
openwatergrill.com
39450 N.C. Hwy 12
Avon, NC 27915

owghatteraslanding.com
58848 Marina Way
Hatteras, NC 27943
---