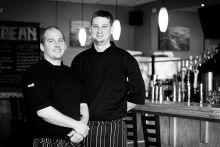 "We only have a few orders left of the Baja Chicken and Waffles, so grab them quick!" Our server Sam knows us well and understands that this dish is a Must Get for many of us at my table - as, clearly, it is for a lot of the people here. "It's been a busy night." It was late on this blustery April evening, and as I looked around I saw an abundance of familiar faces -- locals. This is unusual for this time of year, but this is not your usual place. This is Bad Bean Baja Grill.
Tucked into the corner of the Seagate North Shopping Center in Kill Devil Hills, Bad Bean Baja Grill has been steadily gaining a loyal following for more than five years by consistently turning out fresh, innovative and delicious food.
Baja California conjures thoughts of Pacific seafood, tequila, tortillas, cold cerveza, hot chilies, sun-kissed produce and bodies and surf. Walking into Bad Bean I immediately think Cantina. There are cool tile floors, plenty of wooden tables, chairs and booths to slide into and an enormous bar that is completely full of people on this night. The walls are covered with local artwork depicting bright bold ocean waves. As I study the menu, with tapas and small plates being this Friday's feature, comparisons to a Cantina slip away.

What sets Bad Bean Baja Grill apart from any other Mexican restaurant on the Outer Banks and almost every other restaurant, period, is the level of education, experience, preparation and proficiency that is communicated through every dish offered here. The owner, Rob Robinson, graduated with honors from Johnson & Wales and went on to hone his skills in some of the most reputable kitchens in the country including Michael Minas Aqua in downtown San Francisco and the French Laundry in Napa Valley. Matt Payne, the chef de Cuisine at Bad Bean Baja Grill, received his culinary degree from the Culinary Institute of America and met Robinson when he interned at The Sanderling where Robinson was Chef de Cuisine at the Left Bank winning awards and accolades for his cooking. Together, they work closely as a team bringing their individual creativity and passion.
"This is a kitchen that loves to cook." Payne is talking about Bad Bean's approach to food. "We have a staff that enjoys cooking and fully supports our concept."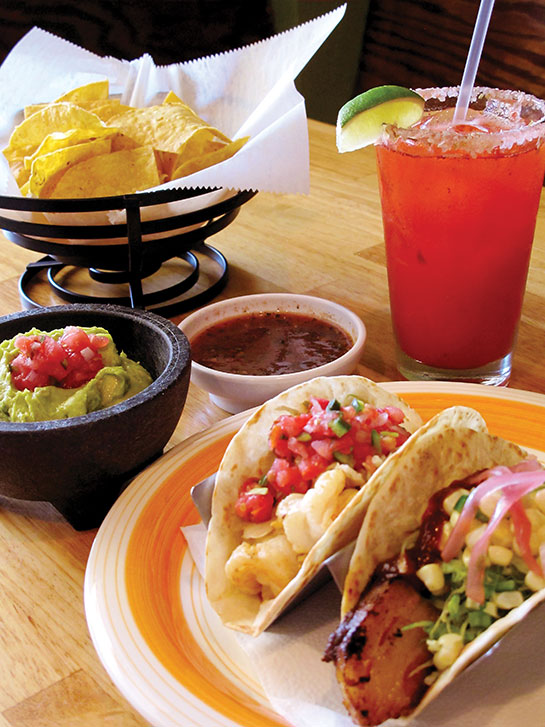 The concept, Payne explains, is cooking his food with the ingredients available. That means fresh local and regional. That means chicken and waffles, but with a Baja twist. The waffle is a Serrano pepper sweet potato waffle and the panko fried chicken breast on top is covered in chipotle maple syrup. Pork belly plays a huge role here. Made in house, it is tucked into perfectly flaky empanadas with a roasted red pepper syrup and also layered in tacos with jicama slaw, pickled red onion and housemade BBQ sauce. St. Louis Ribs are ancho-coffee glazed, local sweet potatoes are transformed into a perfectly pureed silky, smoky bisque drizzled with chili oil giving it just the right amount of hot. Heaven.
The amazing thing is that the duo's consistent creativity and passion are translated in such a casual way. Even though the food at Bad Bean could go toe to toe with any fine dining establishment on the beach -- we are, after all, on the beach. Visitors and locals alike feel comfortable coming here for dinner or to grab lunch or a craft beverage day after day after working or playing in the sun and surf.
The menu offers plenty of options for everyone. Fish tacos, burritos and quesadillas as well as salads (my favorite is the green chili Caesar) homemade soups made every day and grilled meats and fish are some of the many choices. A variety of salsas made in house complement everything. Fresh juices infuse imaginative margaritas and cocktails. "Good food doesn't have to be pretentious," Payne remarks.
So true...as I look around my table at the happy faces of my friends while I sip on the most delicious cucumber-infused margarita I have ever had...so true.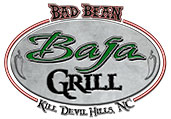 3105 N. Croatan Highway,
Seagate North Shopping Center
MP 5, Kill Devil Hills
(252) 261-1300