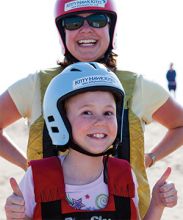 What is The Kite Culture?
Well, different people might have different answers to that question. We thought it would be fun to give you some insight and reflection from a few of the good people who have helped make Kitty Hawk Kites the huge success that it is today.
Jonny Thompson: Master Pilot
"I was doing carpentry work for John and he wanted me to take it out in trade rather than pay me," Jonny Thompson said. The year was 1974 and John Harris was starting something new, a hang gliding school at Jockey's Ridge in Nags Head. The following year, the same year the ancient dune system became Jockey's Ridge State Park, Jonny had his first hang gliding lesson. That was it.
"I started flying every day I could," Jonny recalled. He flew and worked for Kitty Hawk Kites for three years before taking another job (that paid) to raise a family. By the early '90s, Kitty Hawk Kites took hang gliding to a new level by towing an instructor and student up, in tandem, with a plane. By then, Jonny had plenty of experience. He earned his tow-pilot rating in 1994 and worked on-call for tandem flights. Today, Johnny Thompson is a master pilot and the manager of Kitty Hawk Kites Flight Park. "I became a competition tow pilot - by that I mean towing for all the United States competitions including three world championships," Jonny said. But there's so much more to it than the competition.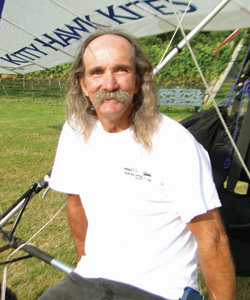 "When hang gliding, we're not thinking about it, it's kind of being in the moment, feeling the atmosphere - which is invisible - and responding to it without thinking. It's very tactile. It's muscle memory, almost automatic."
Jonny Thompson works at Quest Air in Florida in the winter and Kitty Hawk Kites in the summer.
"I was an education major, and for me, the thing that keeps me coming back to Kitty Hawk Kites is getting to meet and help the younger generation get into the sport. I keep coming back, I get to work with 10 to 15 of the newest, brightest young people in the sport, and at Quest Air, I get to mentor a lot of the new competition pilots. I also get to work with a lot of the new tow pilots."
"It's really pretty here. And, I don't know of any other occupation where you can spend 20 minutes with someone and give them an experience that changes their lives." Kitty Hawk Kites has two flight locations across the Wright Memorial Bridge on the mainland, at the Currituck County Airport and in Jarvisburg at the Cotton Gin and Sanctuary Vineyards.
"We do almost all training and solo pilot flights at the airport," Jonny said, "and introductory tandem flights and hang gliding at the Cotton Gin. It's closer and breathtakingly beautiful flying over the vineyards and the sound."
Andy Torrington: Master Hang Glider, Instructor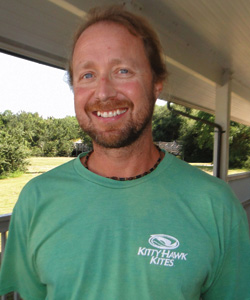 "There's an affiliation with the people you get that fly hang gliders that's difficult to put into words," Andy Torrington, the Hang Gliding School assistant manager said. "There's a thing that unifies everyone, there's a desire to be together, but not because of adrenaline. It's an extremely enjoyable sensation when you feel it, and once it's clicked on, you really can't turn it off."
Andy learned to fly here, but after a few years he went off in search of his future and found himself camping at Tory Pines in California. "
"One morning I climbed out of my tent and felt the wind. It was coastal and blowing in through the cliffs, and there was a very, very thick solid lift band." Andy spent the rest of the day trying to find someone to help him locate some gear but couldn't find anyone. Then he went up to Santa Barbara where he found Western Hang Gliding. He knocked on the door and went in. The fellow was busy.
"I told him I wanted to rent a glider, that I was 'Jonesin' to fly, that I couldn't sleep and needed some air time. Reluctantly, he rented one to me. When he saw me fly he offered me a job," Andy recalled. He later taught at Mission Soaring and enjoyed playing some music (he's also a mandolin player) in San Francisco, Santa Cruz and Monterey. "After a couple of years I got to missing the East Coast. There is something about the Outer Banks. That warm water, the dolphin and family." So Andy decided to come back to teach hang gliding and play music here. "I called John and he told me to come on back. That was 1997." Andy's been here ever since, and in 2011 he claimed the United States Hang Gliding and Paragliding Instructor of the Year Award.
"John Harris has always been really, really good about trying to create opportunities for people. That mission statement of Kitty Hawk Kites - teaching the world to fly - well, when the kiteboarding thing started, I told John I wanted to help work on the manual to create standards for Professional Air Sports Association (PASA), a nonprofit. Chris Moore and I put a lot of time into it, whittled it down and finally came up with the certification process for schools to qualify for insurance. "For me personally, I don't know why John cares so much about me, but he has always really tried to put so much thought into helping. The one good thing that John has always recognized is that there are key people, and you have to allow these people to make a difference. He's the reason I'm here."
Chris Moore: Master Kiteboarder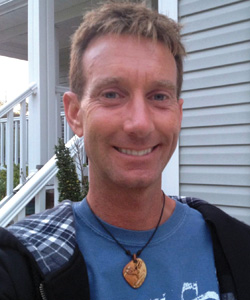 Chris Moore, an expert power kite flyer and experienced retailer with seven stores to his credit, has been with Kitty Hawk Kites for almost 15 years. He runs the Kiteboarding Center in Rodanthe on Hatteras Island. He's traveled the world, winning countless awards along the way, including Sportkite USA National Champion twice.
He started kiteboarding in early 2000 when he moved to the Outer Banks to pursue a full-time career in kiteboarding. He developed a teaching method that was adopted by PASA and has become the official certification system in place today to certify both sport participants and instructors across the nation.
"Kiteboarding was known then as a 'kite on the water.' No one was doing it anywhere on the Outer Banks," Chris said. "I came to meet John - wind and water - wow! I pitched the idea to John, scratched out ideas on a napkin, numbers and everything." "Adventure kiting," as Chris likes to call it, attracts an upbeat crowd. There's a commonality, a community of people that look out for each other."
There's a social aspect too. Conditions are not always great, so people end up hanging around the launch areas. It's a techy sport. They get to know each other and like to talk about new gear.
Although kiteboarding attracts a lot of young people, Chris enjoys the mix of people who like the sport. He says a lot of families enjoy it, and he thought it was really cool when he saw three generations out there. And he says the wide-open National Seashore means kiteboarders can do a 20-mile trip with access to put in and out. "In Florida you'd be landing on the beach in front of some high-rise hotel," Chris laughs.
"What I like is that John has allowed my entrepreneurial spirit to breathe. He's allowed me to create things without being overly harnessed," Chris said of his job. "The daily challenges, solving problems, figuring out ways to adapt and overcome - I like the free-spirited culture. It's not for everybody, but the people who work here for a while thrive in it."
Luke Baer: Master Reservations Manager
So how does our visiting adventure population figure out what and where they want to experience? Enter Luke Baer, an Outer Banks native who studied philosophy at Kenyon, graduated and traveled the world living and working in Colorado, Hawaii and Australia. A soccer coach in Honolulu, he thrived on youth development and character building. "I really thought soccer would be my thing," Luke said. But in 2009, while home with his family for the first time in eight years, he decided to stay. After a chance meeting with John Harris, he called him the next day.
"John doesn't interview people so much for a specific position," Luke realized. "He has so many positions, he wants to get the right fit." With no job offer at that time, Luke went to work coaching in Georgia for a while, and when home again some months later he was offered a position in Reservations at Kitty Hawk Kites. He's now the manager. "We've always got something on the burner - I'm in a good position for myself. I enjoy the pace, it keeps me motivated, and even in off-season when we reduce our staff, there is so much prep work for the coming season."
Of late the company has partnered with other Outer Banks businesses that offer genuine Outer Banks adventure experiences. With KHK's sophisticated reservations system already in place, it was a natural to provide their services, including payment collection, and bring customers to these other related companies. In short, Kitty Hawk Kites has become a one-stop shop for scheduling adventures. From kayak eco-tours to surf lessons and standup paddleboarding, there is always something new and fun to experience. Jay Mankedick, who started Kitty Hawk Aerotours in the 70s, is now offering a boat cruise from Duck to the Cotton Gin and Sanctuary Vineyards on the mainland for a tour and wine tasting.
"I love the activities and what we're able to provide for our customers," Luke added. "We give them an uplifting experience that they will take with them and remember for the rest of their lives, an escape from the rituals or routine of life."
But for Luke Baer, the reality of life at the Kitty Hawk Kites Call Center is 20 phone calls a day in November swelling to 350 calls daily at the height of the summer season. "This week last year was the busiest week ever," Luke smiled." We're riding ahead of that this year, firing on all cylinders, and that's just people calling in, it's not counting walk-in reservations within the stores."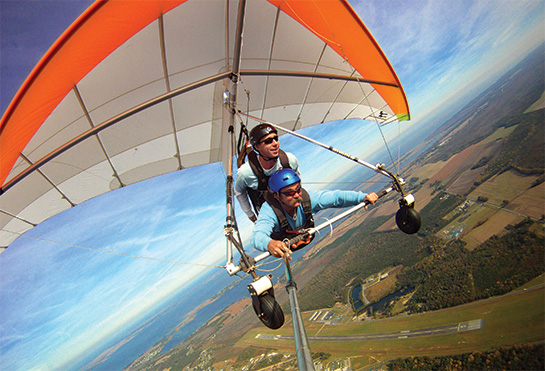 Want to get active?
How about trying out every single adventure that Kitty Hawk Kites offers on the Outer Banks!
Hang Gliding | Kiteboarding | Parasailing | Kayak Tours | Aero Adventures
Standup Paddleboarding | Dolphin Tours | 1902 Wright Glider Experience
Jet Ski Rentals & Tours | Surf Lessons | Sailing Cruises | Wild Horse Tours
Outer Banks Segway Tours | Wakeboarding, Water-Skiing & Tubing
Paragliding | JetPak Adventure | The Lost Colony | Fishing Tours | Sightseeing Tours

(877) 359-8447