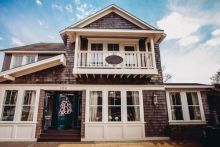 Hi Mom! John and I are in Manteo working on the wedding and getting to know the town a little better. I'm sorry you couldn't come this time, but we'll make another trip before the big day. John is fishing, so I have the day to myself to explore downtown. I can tell you, though, that our instincts were right about this place. Everyone is super friendly, and the wedding guests will love the vibe here.
I know you had reservations about booking our wedding venue sight unseen, but we definitely made the right choice with 108 Budleigh. You can tell it is a family-owned business by the stories they share as they guide you through the property. Today when I was there, Susan was giving me the background of each hand-selected antique, while Malcolm reminisced about the renovation that turned the old Duchess of Dare diner into the amazing Outer Banks events venue it is today.
After going through 108 Budleigh and really thinking through the reception, I have to say that it's more than we even hoped for. The venue is breathtaking! The decor is so beautiful but it's subtle, so any colors and decorations we choose will be perfect. I really love those stained-glass windows overlooking the staircase and am envisioning a lot of wedding pics there. Plus, those two adjacent ballrooms on the first floor are even bigger than I thought. There are bars on both floors and the upstairs balcony is perfect for the cocktail hour. We won't have any problem if all 150 guests come. There's also a bridal suite that we can use to get dressed in. You can quit worrying about being rushed because the building is ours for the entire day. After I met with Malcolm and Susan, I decided to search around town for some special treats for the guest, gifts for the wedding party and some added decorations for the table.
My first stop was at Lynn Atkins Framing. Our photographer said that it will take a few weeks to get our wedding pictures, but since we're coming back in a couple of months and can pick them up, we will choose a few for framing and have him drop them off to Lynn to do her magic. Lynn custom-makes the frames, so I chose the style I wanted and she will take it from there. Lynn is hilarious. It was like being in a comedy show for 30 minutes. She asked me where I went to college, and when I said Wake Forest she laughed and said that it was a good thing I didn't say Duke or she might not have worked with me! (She's a rabid Carolina fan!) But, she was kidding (I think!). She also makes these incredible fountain pens and actually turns the wood herself. I bought one to use for our guest book signatures.
After Lynn's, I started my search for gifts for some of the wedding guests. I want something that will remind them of our special day on the Outer Banks, and His Shells by Brenda had exactly what I had in mind. What could be better than shell art?
Each nautical shell art creation in this shop is designed and handmade by the owner, Brenda Hall. They range from whimsical to elegant. She has tabletop creations, mirrors, boxes, wreaths and other things, so finding gifts was easy. Brenda also sells handmade sea glass jewelry pieces. The necklaces that I bought are going to look gorgeous on my bridesmaids.
She suggested buying loose shells and arranging them on the tables. I thought it was a great idea, so I bought enough for all the tables at 108 Budleigh.
After I left Brenda's, I noticed a sign next door that said Wine. Well, you know for sure that I stopped in there! The real name is Vineyards on the Scuppernong, and it's filled with wines that are from a winery in a little town called Columbia that's about 30 minutes from Manteo. They do tastings, so I figured it might be rude if I didn't say yes! They have a lot of varieties, and I think we should schedule a personal tasting when the family shows up early the week of the wedding. Sound good to you? (Ha! I already know your answer.)
I walked around the corner and discovered a wonderful little coffee shop called Island Perk. This place will be perfect for our guests while they're here for the weekend. Talk about variety! They offer cappuccino, espresso, latte, coffee, fraps, smoothies, lemonade, hot chocolate and teas that pair with their muffins (including vegan- and gluten-free options), cookies, biscotti and bagels. Chris and Teresa Pascoe own the shop and said that fraps, cold brews – aka iced coffee – and nitro coffee are among the most popular drinks. The nitro coffee is infused with nitrogen to make it a creamier drink.
I asked if we could get drinks and some food to take to 108 Budleigh the morning of the wedding while we set up, and he said no problem. He also said that I had picked the best wedding venue around. Said his favorite thing about the building is the outdoor veranda. The sweet smell of jasmine working its way up the latticework leads you to the lady banks roses and café lights – just the romantic feeling we are looking for on our big day!
I took my snack to a bench in the park on the waterfront next to the Roanoke Marshes Lighthouse. Our photos are going to be spectacular with this background. So glad we get to have the outdoor ceremony of our dreams with the added security of 108 Budleigh as a backup ceremony location in the event of rain. Sitting there, I noticed Wanchese Pottery in a cute red-roof building across the street.
Bonnie and Bob Morrill, owners of the studio, are both potters, and their work fills the store. The mother of one of my flower girls just moved into a house in the mountains and loves hand-crafted pottery, so I ended up getting her a really pretty bowl. But it was hard to choose! They also make dinnerware, coffee mugs, pitchers, bird feeders and a variety of other items that are beautiful and functional at the same time.
As you probably remember, John's brother is a chef, so I went back to a store I had passed earlier today because I was sure they'd have something that would be perfect for him. The Gourmet Olive had tons of options! They have specialty foods, different kinds of gourmet vinegars, honey, popcorn, spreads and jams and even practical items such as cutting boards.
And they also have cool handcrafted jewelry, hand-painted wine glasses, Christmas decoration and paintings … and thank you cards! I had totally forgotten to put those on my endless list of wedding Must Dos, but there they were, right in front of me. Check!
Loaded up with my growing collection of bags, I stepped out the door and literally ran into a woman and almost knocked her down. I profusely apologized and asked her to let me buy her a cup of coffee to replace the one I made her spill. As we walked back to Island Perks, I told her about the mission I was on to get ready for my wedding and how I was a little stressed out. And, guess what! She was a massage therapist, and her office was right next door at Sound to Sea Massage! I made an appointment on the spot for tomorrow. Her name is Hannah Cox, and she's been offering therapeutic massage for more than eight years! Can't wait to relax. She also sells CBD and hemp products and essential oils.
Mom, you'll love this. You can choose from a lot of options for massages: 1.5-hour sound trio, hot stone, bamboo, Swedish or ones to work on just hands or feet. I'm going to go ahead and book another appointment for the day before the wedding. Want me to make one for you too?
Right around the corner, this wonderful shop called Nest. Nancy Seitz, the owner, is one of those people you just like right away, and I definitely fell in love with all her gifts, jewelry, clothing and home accessories. Nancy sells things that are tailored to fine living, and her shop has the look of a French Provincial cottage – smells like that too with her scented soaps and sprays. Her clothing offerings are pieces I could wear to the beach or to a bar, and her hats were impossible to pass up (I gave in! Hey, I need one for the honeymoon!).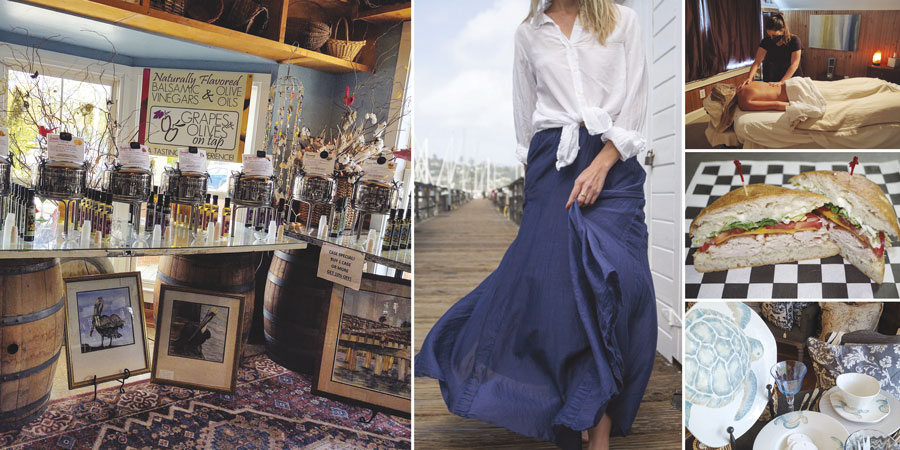 You will really love her store. She has impeccable taste, as you will see from the napkin rings I bought for Aunt Alice, as well as tableware, linens, glasses, candle holders and centerpieces. Nancy was so much fun to talk to that I hated to leave, but there were still more shops I wanted to check out.
The next place I went to was Bloom Boutique. I'll definitely send some of the wedding guests here. The owner, Tory Schollaert, carries a sort of multigenerational inventory, so all the aunts and cousins can shop together. She has shorts, dresses, pants, tops, handbags, hats, beach bags, jewelry and a few gift items such as sea salts, oils and air sprays.
I bought a beach bag and shorts for myself and sea salts and matching earrings for the bridesmaids. I know I shouldn't be buying so much stuff for myself but I just couldn't resist!
All the shopping had me famished, so I headed over to this place called the Hungry Pelican that Tory recommended. Along the way, I ordered online so that I wouldn't have to wait long for my food.
What an awesome deli! They have served more than a half-million sandwiches, and I really get why. There were more than 30 sandwiches to choose from, and everything was very fresh and healthy. That would be right up Dad's alley with all his healthy foods goals. Donny and Carly Hermley, owners of the deli, told me that all salads are made to order from vegetables cut that very day, and all the salad dressings are made from scratch. Donny also told me that they provide trays for parties, so I plan to order a few trays for the bridal party to snack on while we are getting ready.
I went outside to sit at one of their picnic tables to eat, and guess what was right next door? It's Royalty, a full-service salon that's just steps away from 108 Budleigh. The owner, Linda Taylor, has more than 20 years of experience as a master stylist, and the photos she showed me spoke for themselves. I went ahead and booked them on the spot for hair, nails and makeup for the entire bridal party. I cannot wait for my hair and makeup trial when we come back for our engagement photos. Her shop is set up to be a bridal suite, so the background will be perfect for our getting ready pics. Linda was so genuine and took the time to make me feel special and beautiful. I walked away feeling like a true Belle.
I walked a little ways down the sidewalk and found another store that's going to be a favorite with a lot of our guests, especially the kids! It's called Laughing Lollipops, and you can only imagine how my sweet tooth started talking to me! They have every kind of candy you can imagine, as in more than 200 varieties, but they also have ice cream and lots of chocolate! Yes, I bought something here too … cotton candy … you know me and cotton candy!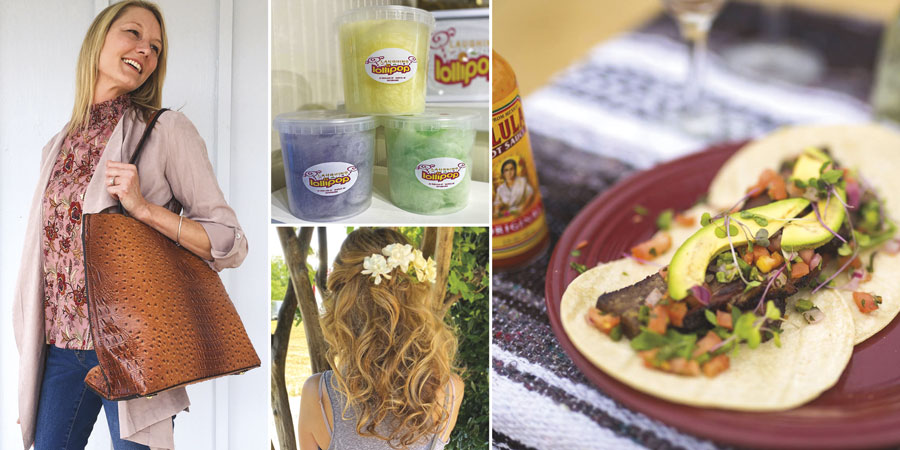 My last stop of the day was a wonderful store called Sam & Winston. I'm so happy it was the last place I visited because it let me end my day on a calm and lovely note. The gifts and other things you'll find in their store further that graceful way of living. I honestly loved every single thing in there, and I know all our guests will too.
The building they're in is big, but it's sectioned off so you feel like you're exploring someone's beautiful home. They carry fine jewelry, home accessories, coffee table books, art and so much more. You just want to wander around, taking it all in, and Sheila and Creecy who own the store were great about letting me do just that. I think I spent more than an hour there, but I also finished up my gift list. I bought these incredible woven baskets that I can't wait to show you and the most perfect earrings for Grandmom. I also found two books that I know John's Mom will love.
After this amazingly full and successful day, I walked over to the boardwalk downtown and found a bench to just sit for a while. Mom, to say this town is perfect for our upcoming wedding would kind of be selling it short. Honestly, every direction I looked, it was so pretty – the view out over the water, the lighthouse, the boats in the harbor, the restored courthouse. Everyone I've talked to has been so friendly. I can't wait for us all to be here.
Ok, I'm going to end this email to you so I have time to catch up with John for our tasting at Ortega'z Southwestern Grill and Wine Bar. We grabbed cocktails and fish tacos last night, and they were so good we just had to compliment the chef. The owners, Marcello and Lisa, came out to offer us an exclusive tasting and wine pairing tonight. They cater weddings and were so accommodating I cannot wait to see what they come up with for our catering menu. Can you believe that they also got married at 108 Budleigh? Things are just lining up perfectly!
See you soon!
Lynn Atkins Custom Framing
105-B Budleigh Street, (252) 473-0043
His Shells by Brenda
Magnolia Market, (252) 473-4000
108 Budleigh 
108 Budleigh Street, (202) 305-7399
Vineyards on the Scuppernong
101-D Budleigh Street, (252) 796-4727
Island Perk
101 Budleigh Street, (252) 423-3565
Wanchese Pottery
107 Fernando Street, (252) 473-2099
The Gourmet Olive
101-C Budleigh Street, (252) 423-3006
Sound to Sea Massage
101 Budleigh Street, (252) 216-5737
Nest
Magnolia Market, (252) 473-5141
Bloom Boutique
101 Sir Walter Raleigh Street, (252) 305-8638
Hungry Pelican
205 Budleigh Street, (252) 473-9303
It's Royalty
205 Budleigh Street, (252) 473-2209
Laughing Lollipops
101 Budleigh Street, (252) 473-2579
Sam & Winston
108 Sir Walter Raleigh Street, (252) 475-9764
Ortega'z Southwestern Grille
201 Sir Walter Raleigh Street, (252) 473-5911