Dear John,
Just want to let you know how much I appreciate having you for a boss. I've been arriving late to work and most days leaving early, but instead of firing me, you gave me time off with instructions to go find my lost passion and reclaim my enthusiasm for life. How wise you are!
You also suggested that I start documenting how I spend my time, so at the end of the day, I can see how much ground I've covered. And that, too, is a great exercise in getting my head back into the game.
Day 1
My first day here began at the Front Porch Café in Manteo. I circled the building twice looking for the drive-thru window but there was none. When I went inside to order my coffee and croissant - which, by the way, was baked fresh right there in the café - I told the barista that they were losing business by not having window service.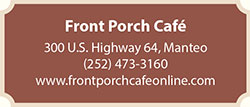 "But that would miss the point," she said with a knowing smile. "You should enjoy your coffee in a quiet comfortable setting with friends around, not trying to balance a cup and drive at the same time." She's absolutely correct. It goes from being a coffee drive-by slurping to a coffee experience.
I'm glad I kept quiet about not knowing anyone, because within 30 minutes I had two new friends! I sat in an upholstered chair near them and they began chatting with me, and before I left they invited me out on their boat. Before leaving I bought a package of El Salvador Finca San Joaquin coffee for you as a thank you gift.
I've been back every day and made even more friends! I'm working my way through the drink menu that also includes teas, wines and other specialty drinks to go with the fresh muffins, bagels and rolls.
Paul Manning, the owner, told me about the other locations in Kill Devil Hills and Nags Head. I've stopped in and really like the atmospheres, but with all the friends I have now in Manteo, it is my favorite. And when I leave, I can still order their fresh-roasted coffee online!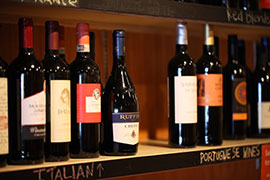 You won't believe what happened after I left the café on the first day. You told me that I needed to find my passion.
It was kismet! There it was in the window of the Nancyware Pottery shop - a Passion Pot!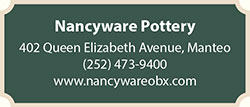 The store has all sorts of different kinds of pottery made right there in the studio. God jars, Christmas ornaments, vases, pie dishes and tile murals are just a few of the works of art that line the shelves.
Nancy Huse, the shop owner and artist who creates all the pottery, said that the Passion Pots are limited editions, numbered and signed in celebration of her 40th year of being a potter. The pots are one of a kind, and some have a special glaze treatment that she hasn't used before. I had to buy one.
She designs and makes a different Christmas ornament each year. This is the 10th year that she has made them, and all are available. I bought the entire collection and had each one personalized on the back because I'm going to give them as gifts to everyone in the office.
I also bought a wedding bowl for George and Lisa, and Nancy is putting their names and wedding date on it. And I couldn't resist a set of mini-teaspoon rests for my grandmother. I left the store with so much that I had to drop if off at the hotel before I could do more shopping.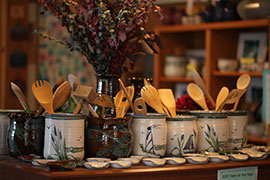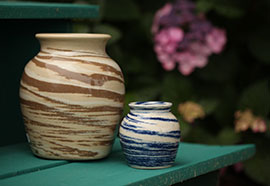 Day 2
Right around the corner from the pottery store is a boutique aptly named Nest. Tucked in the back of the store is a bed made up with Bella Notte linens, and it kept calling to me to curl up and take a nap right there. I guess the owner, Nancy Seitz, could read it on my face
because she laughed and said it happens to folks all the time. My bedroom at home isn't very inviting. In fact, I don't even own a spread, so I bought new linens and pretty accessories to put on my vanity and nightstand. She carries a lot of unusual home accessories. I even found some soap that has a fragrance that is sure to soothe me when I take a leisurely soak in the tub.
Nest also has a fantastic selection of jewelry, clothing with top labels such as CP Shades, handbags, totes and hats. It's easy for me to remember the different kinds of merchandise because I'm almost certain that I bought one of just about everything! You'll see me in my linen shirt and cashmere traveling scarf soon.
I also bought black riding pants that fit like none other I've ever worn and paired them with a flowing white top that looks like it was taken off an angel.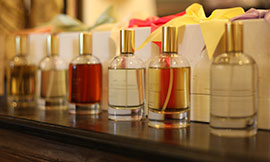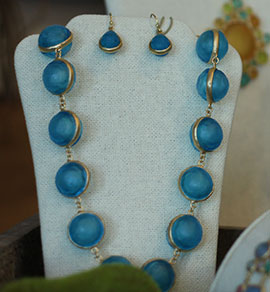 And speaking of angels, Acre Lane, the next store I visited, sells angels and gives the profits to animal charities. Owner Allen Cook said that they started selling the angels at Christmas, and they were such a hit with customers that they now sell them year 'round as a way to help animals.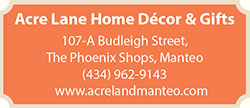 The store is packed with furniture with coastal finishes, traditional hardwood pieces, antiques, top-quality used furniture and lots of fun, interesting things such as pillows, paintings and items commemorating Marshes Light. The home décor accessories are delightful, and I couldn't help wanting to buy more than I could ever fit in my car when I leave.
Lamps of all sorts are everywhere, and none of them are of the ordinary variety. Some were fun; others were more formal. I bought a crystal one for my bedroom that I'm going to spiff up when I get back home - it's perfect with my new linens.
I was so excited when Allen told me that he and Chris Pace, the buyer, also provide home redecorating services. They go in and help the owners decide what they are trying to achieve and then help choose what furniture and accessories stay and what needs to be replaced. Allen and Chris then find the replacement pieces for them and help them put it together. He burst my bubble pretty quickly when he said that they just do it locally, that Pennsylvania is out of their service area. I left with my lamp and headed to my hotel room to unload all my purchases. Maybe I'll send him pictures of what I redesign at home! If I just make it look similar to the design style of his shop, I'll be fine because it will be beautiful.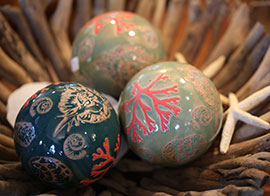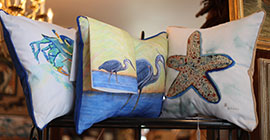 Day 3
Took a walk around town and then headed to Duck Cottage's Downtown Books to see if I could find a book about the area and a mystery to take to the beach.
It sounds a bit snobbish, but I was pleasantly surprised to find such a well-stocked bookstore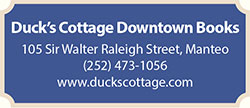 that isn't part of a big chain. Jamie Layton, co-owner along with Paige Griffin, told me that not only do they stock books in the store, but that there also is a website so that customers can order online. Jamie also is the manager and buyer for Duck's Cottage Coffee and Books in Duck that is considered its sister
store although they are independently owned.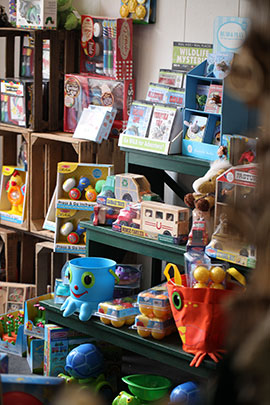 The selection of books about the area was almost overwhelming. I had no idea just how much history there is here! There are books on lighthouses, hunt clubs, the lost colonists, Manteo, the Freedman's Colony, the Wright brothers and the list goes on and on.
I found a cookbook that Mom has been looking for, and I picked up some post cards to send to friends. Finding a beach book was easy because the shelves hold all sorts of titles including best-sellers, nonfiction and classics, and there is a good assortment geared toward young adults.
While I was waiting to check out, I spotted games and puzzles and the cutest plush toys. I had to buy a couple of little things to take back to my nephews. Carrying my lamp, books and toys was going to be a challenge, so I decided it was time to make another trip to my room to drop things off and then find a place to have dinner.
The desk clerk suggested the 1587 restaurant located in the Tranquil House Inn on the waterfront. The restaurant is celebrating its 20th anniversary, and by the time my check came, I knew why it has survived for two decades.
Talk about a fabulous ending to a perfect day!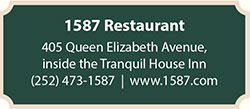 The martini was excellent. Donnie Just, manager of his family-owned eatery, told me that the secret is having mixologists instead of just someone throwing ingredients together. The bartenders are professionals and know how to make the most out of the fully stocked bar and even make their own syrups. And I took advantage of the wine menu that has a great selection.
Dinner wasn't only filling, it was an exciting experience. There is nothing better than local seafood cooked by what obviously is a master chef. The restaurant serves only what is in season, so the choices change throughout the year. I ate shrimp and sautéed vegetables that were so good I was disappointed when my plate was empty. The vegetables were fresh from local farms.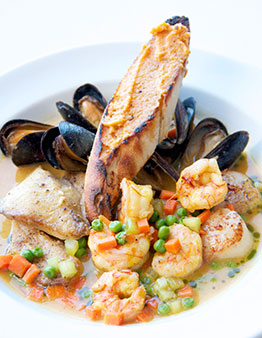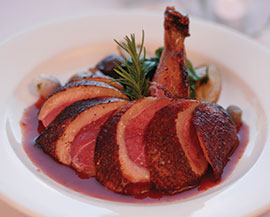 While I ate, I watched kayaks, sail boats and watercraft glide through the water. The view of Elizabeth II was enchanting! The children at the next table were as fascinated as I, and the parents had a tough time getting their attention so they could order from the kids menu. One of the parents had some diet limitations, and I overheard the waiter telling them that was no problem because the chef would prepare something special for them. In my experience, fine restaurants don't always take that kind of personal approach, but 1587 does.
The experience was too perfect to leave, so I stayed a while longer to have dessert and an after-dinner drink.
Day 4
The sky was an awesome shade of blue, there was a gentle breeze and the temperature was mild. My plan was to spend part of the day learning more about the area and then head to the beach to catch some rays.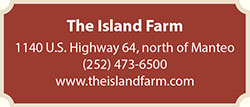 I drove a short distance north of Manteo to Island Farm, a living history site that interprets life on Roanoke Island in the mid-1800s. The farm house was built in about 1850, and the outbuildings were either brought there from other sites and reconstructed or are representative re-creations.
As I exited the Visitor Center, an ox-drawn wooden wagon came by. It was chocked full of children and parents, but they squeezed me in. The wooden wheels don't have shock absorbers, so we bounced up and down while moving forward. I tried to contain myself, but I know I had as much fun as the kids.
I toured the Etheridge homestead built by Adam Etheridge on land farmed by his family since 1757. The oldest period restoration on Roanoke Island, the house was considered a mansion in its day. The rope beds and other 19th-century furniture made me feel like I had come by for a visit and just caught the family out - as if I had somehow walked back into time.
Nearby is the cookhouse where meals were prepared. Did you know that back then they separated the cooking from the main houses because of the fire hazards and heat? A woman dressed in a bonnet, apron and long dress was fixing lunch over a fire in the huge fireplace.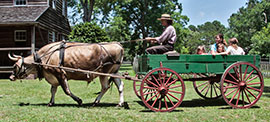 The reconstructed slave cabin, barns, chicken coop and other buildings also are staffed with period-costumed interpreters doing the chores. A kitchen garden, sheep, a cow, an ox and Banker ponies fill out the landscape, and the chickens strutting around made me laugh.
It was almost time for lunch, and I was about to leave when I found out that they were going to demonstrate candle-making and sheer the sheep. I had to stay awhile longer.
I finally made it to the beach in the late afternoon, which was perfect because a lot of beach-goers were heading home to start grilling. I kicked back in my chair and began reading and, hours later, I was startled when I realized that the sun had already set and the day was ending.
Day 5
Oh, I wish Mom and Grandma were with me! We love to do things together, but when clothes shopping we each head to a different store that caters to our own respective ages, sizes and style. Today I found the perfect store for all of us right here on the waterfront!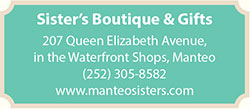 Sister's Boutique & Gifts is a store owned by three generations of women from the same family. How awesome is that? Lacey Gleich, Patty Steinau and Rheanne Bryd own the generational clothing store and obviously understand the particular wants and needs of different age groups.
Lacey showed me a ton of possibilities in nautical and contemporary styles. And they have all our favorite brands. Mom and Grandma always head for Katherine Way designs because they say that they are comfortable and can go from work to meeting friends for dinner. I'm a Judith March fan because I always feel hip and sassy when I wear the flirty dresses and separates.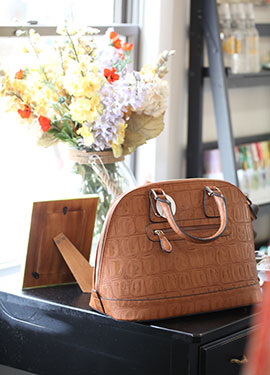 Our tastes all merge when we shop Hatley labels - the nautical looks are my favorites.
There was a dress in the window that caught my eye before I entered the store. It was hanging there waiting for me to buy it. I did.
I found the perfect accessories for the clothes that I bought but decided against shopping for Mom and Grandma. Instead, I want to share the experience of us all shopping together. I'm going to surprise them with a mini-vacation here in the fall. We can shop together and ooh and aah at each other's selections. Can't wait for a return visit.
With bags swinging back and forth, I left the store and walked around window shopping and saying "Hey, how are you?" to folks on the sidewalks. John, it's amazing how friendly everyone is here. Everyone speaks to you - or at least smiles.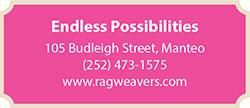 There it was: It was that kismet thing again. Endless Possibilities. Wow, that is exactly what you said to me; you said that if I would focus my efforts, there are endless possibilities! Remember?
There are looms on both sides of the Endless Possibilities store, and two women were weaving scraps of fabrics into rugs, material for purses, pillows and other truly unique, functional and colorful items. Jody Sheehan, the store manager, said that everything in the store is made of recycled fabric. All the profits support Outer Banks Hotline, a nonprofit that provides shelter, housing and counseling for victims of domestic abuse and rape along with a peer counseling line.
Jody introduced me to the two weavers who were creating rugs. One of them is learning the craft so she can staff a similar operation that is opening in the Nags Head Hotline Thrift Store this summer.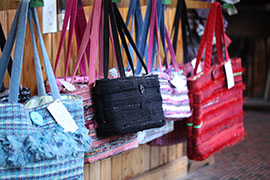 I found a rug that's perfect for my kitchen and a purse that's so colorful it will match anything that I wear. Jody said that the Memory pieces they're now making are becoming very popular. She said that customers bring in old ties, shirts or other favorite items of a deceased loved one, and the weavers can use the fabrics to make a pillow, wall hanging or maybe a rug. What a great way to memorialize a friend and lend hope to someone else's future. I am inspired!
John, I know you hope this little vacation will help me get back on track. I'm sure the test is to see if I will show up on time Monday. But, in all honesty, Monday just isn't going to work for me. I'm thinking Thursday will be better. Whatever day I return to work, I will absolutely be on time. I knew you'd understand!