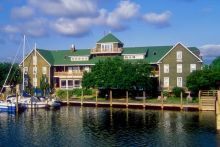 No matter how you sightsee in Manteo's downtown waterfront – walking, driving or boating – you're hard-pressed to not slow your pace and marvel at the Tranquil House Inn. With its sun-kissed porch, cedar-shake exterior and signature green roof, all framed by a white picket fence on the street side, this family-owned business is cared for by a much bigger family than one might suspect at first glance. Donnie Just and his father, Don, have owned the inn and its on-site restaurant, 1587, since 1993. It's the loyal Tranquil House Inn family, though, that Donnie credits for shaping the inn and restaurant into today's popular establishment that attracts people from all corners of the state. Donnie wants to step out of the business's spotlight. He wants you to meet his team. "They care about their product. They care about the inn."
Make Your Reservation: Meet Jackie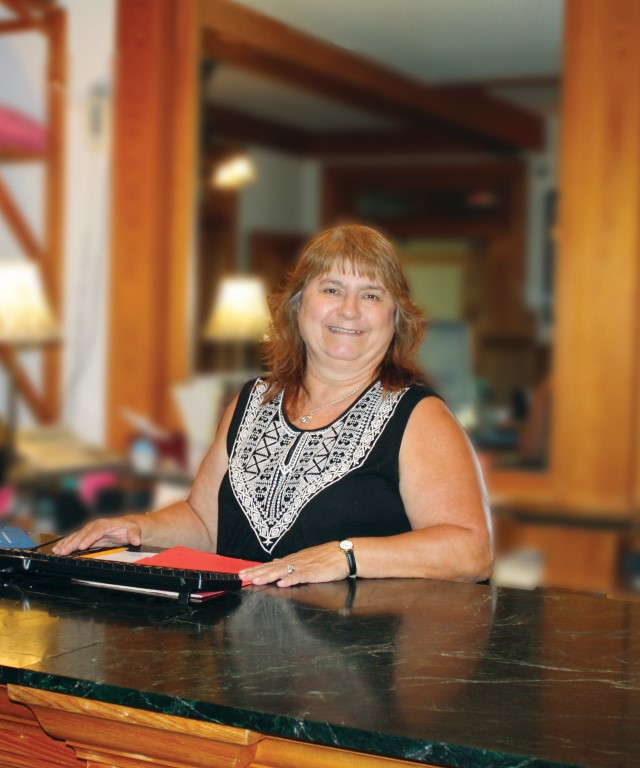 As part of the business since 1991 and the current operations manager, Jackie's connection with 1587 and Tranquil House Inn runs deep. Her voice softens with affection when she talks about her coworkers and the customers she's met over the years. "The Justs are really great people to work for, knowing how much they care about the inn and the restaurant. The way they compliment you and encourage you to do more – you don't find that everywhere." Jackie never shied away from any job at the business, and she's channeled her energy into housekeeping, managing, staffing the front desk, hostessing, bussing tables and catering. With such a range of experience, Jackie observed and helped the development in the inn and the restaurant. 
From changing the inn's aesthetic in 2003 to its current Nantucket style to watching 1587 evolve from an idea into an upscale eatery, Tranquil House Inn's trait that Jackie will never let waiver is its signature touch. "We all do everything we can to make sure people walk out the door feeling like they had a positive experience." 
Arrive for Dinner: Meet Teresa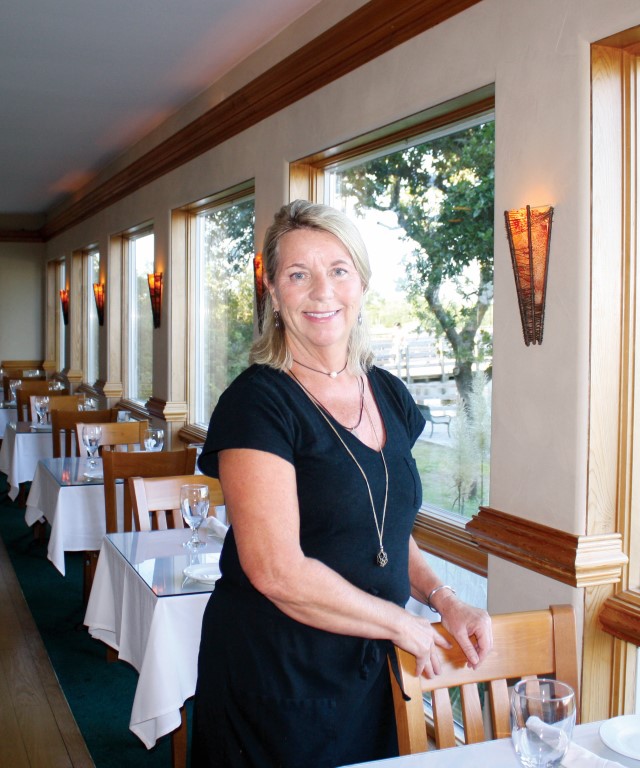 Night after night, Teresa ensures that 1587 restaurant runs smoothly. As head dining room manager, Teresa hires people and trains staff, teaching them how to present themselves and describe dishes. She studied business management and hospitality and loves sharing the art of presentation with 1587's staff. "Gaining knowledge is always key," she says. "It's like throwing a dinner party every night." Her expert eyes survey the prepared dining room, and she smiles. 
Teresa's time working with the Tranquility company is approaching its 24th year – since Donnie's dad bought the inn. Since then she's witnessed the business's growth and evolution, and more importantly, how people grow. As customers and previous staff members return to visit 1587, Teresa keeps up with everyone's lives. "It's like a big family," she says. "It's home, and I love it."
But First, A Drink: Meet Matt
How does a man with no bartending experience create one of the most upscale cocktail bars on the Outer Banks? For Matt, all he needed was being in the right place at the right time and Donnie, his brother, asking "Hey, do you want to take a crack at this?" Matt had always wanted to try bartending but never had a chance. Five years later he and his copper bar continue to impress 1587's new and regular customers.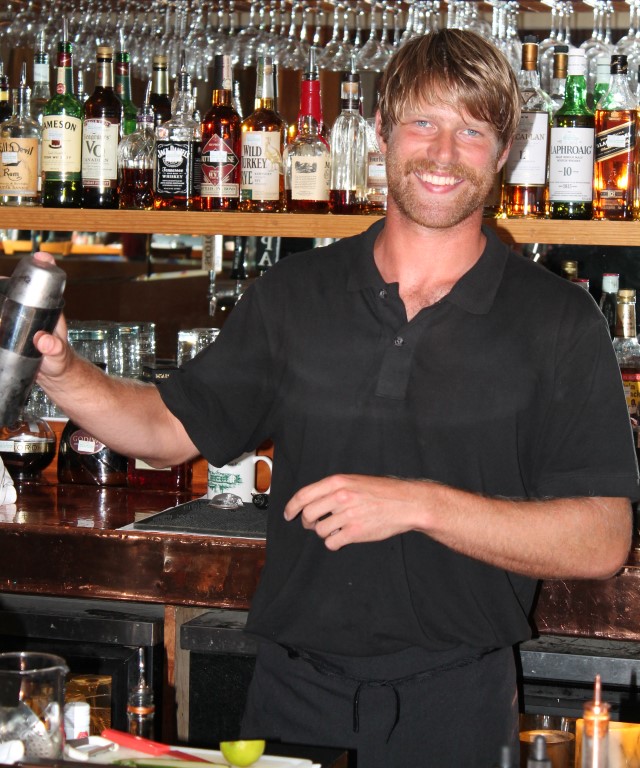 Matt has been a part of 1587 and Tranquil House Inn since he was 11 years old. He spent his summers in the restaurant, washing dishes and bussing tables. While 1587 has always served wine and beer, Manteo's legalization of liquor sales revolutionized the bar scene. Matt, 24 at the time, had a palate for beers but nothing else. Pressed to master the art of wine tasting and liquor mixing (ahem, bartending), he poured over books and recipes. He searched for classic cocktails' origins and perfected them. 
At 1587 today Matt shakes or stirs things up by putting twists on cocktails that everyone knows. His incorporation of as many fresh ingredients as possible into the drinks – whether its fresh herbs from the restaurant's garden or his homemade bitters – and creative interpretations keep the bar exciting. Matt's approach to the job, much like his drinks, is old school. "He doesn't want you to call him a mixologist," says Donnie, "he wants you to call him a bartender." 
Dinner Time: Meet Cody
The fellow who started as 1587's dish dog and pantry cook in 2008 has turned into sous chef of one of the Outer Banks' best fine dining establishments. This position and passion developed relatively quickly for Cody. Eleven years ago Cody was a star athlete at Manteo High School, helping to lead the football team to the final game of the State Championship and looking toward to a football career beyond graduation. A knee injury during his junior year threw Cody's life plan off course. He felt directionless until he met a representative from Johnson & Wales University. "I was in a transitional period, trying to figure out what I was going to do." Cody decided since he liked to eat and liked to cook, culinary school suddenly didn't seem like a bad idea.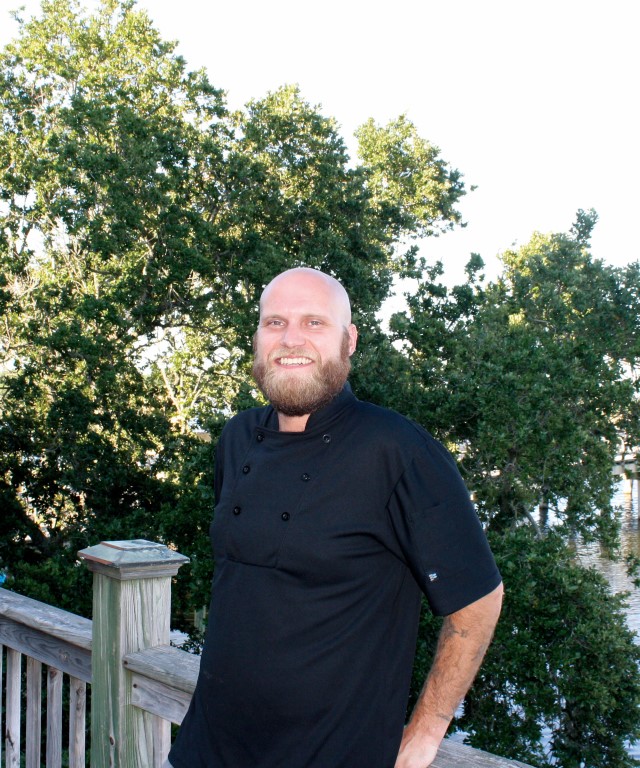 He spent his summers at home working at 1587, and when the position of sous chef opened, he was a ready fit. Nine years with the business in the town where he grew up gives Cody a personal connection with his job. While he gets to meet patrons from all over the region and country, his old teachers – who encouraged his culinary career and helped him achieve scholarships for college – check in regularly. These visits let them sample their student's creations and marvel at his ever-developing talent.
The Chef's Special: Meet Brian
"Brian doesn't like to talk about himself," Donnie warns, but Brian does like to talk about food. And, boy, he knows a lot about it. For the past eight years, he's brought a wealth of knowledge to 1587 as its executive chef. When the restaurant's closed for the season, Brian travels, broadening his culinary expertise with techniques and tastes from around the world. His favorite places include Costa Rica, Panama, Nicaragua and Thailand. 
On his travels, Brian studies recipes from people who've been practicing them for a long time. He seeks out the hole in the wall eateries and street food stands where the dishes are simple and their recipes have been obviously perfected over the years. "The flavor – it's stuff you eat and you're just like wow." Sometimes he'll even join the chefs in the kitchen to learn exactly what they do.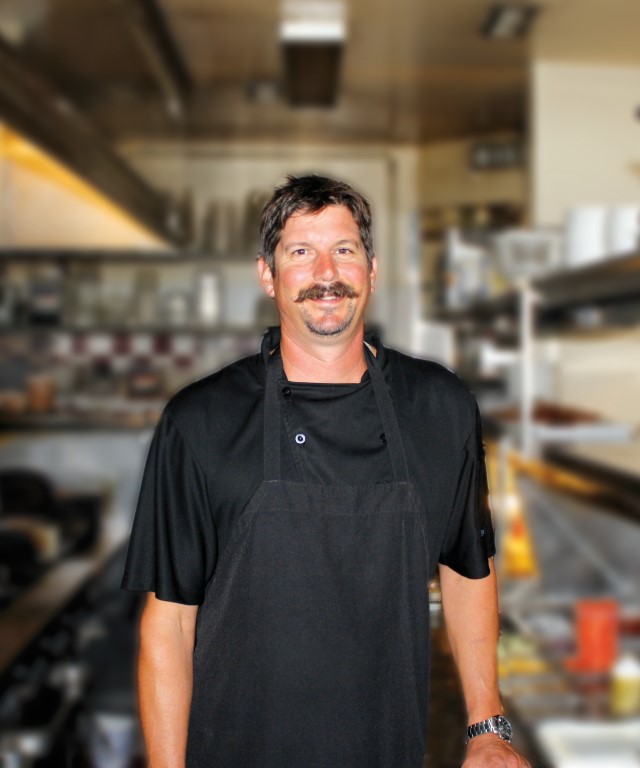 When Brian returns to the Outer Banks for the start of a new season, he sits down with Cody, the sous chef, and Donnie to plan the Spring, Summer and Fall menus. His main focus: keeping it fresh. He gets as many locally sourced ingredients as he can. Working with regional producers and purveyors, Brian follows what's best now and what farmers are planning for the upcoming season. One of 1587's servers gives Brian the inside scoop on what produce is currently in the ground and what he should expect in the following season from her family's farm – one of the restaurant's main suppliers.
The level of care Brian expects from his ingredients goes into each dish prepared in the restaurant. And the difference is perceptible. Through all of his gourmet experience, Brian takes a surprisingly down-to-earth approach to his creations. Instead of concocting new foods, he gives tried and true classics an innovative twist. To him, "If you care about something, it's gonna be good."
---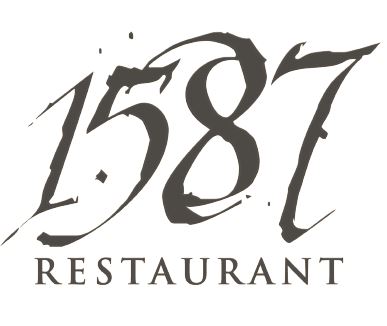 Restaurant Reservation
(252) 473-1587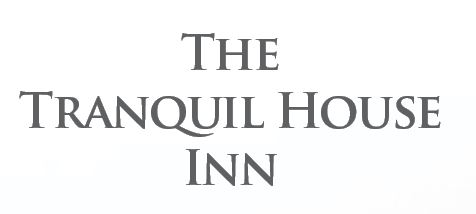 Inn Reservation
(800) 458-7069
405 Queen Elizabeth Avenue • Manteo
---