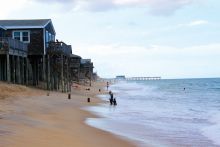 There are a lot of great things to say about life on a barrier island. Here on the Outer Banks it seems as though you could throw a rock (or a seashell) in any direction and hit miles of pristine beaches and sparkling water. It's a tiny strip of paradise that locals love to live on and visitors can't stand the thought of leaving once they're here. So it's no wonder that development on the Outer Banks has exploded in the past 50 years or so. Now this little beach is home to beautiful houses, towering hotels, and fabulous restaurants galore.
There's just one small problem.
Sandy barrier islands, as a rule, don't tend to stay in one place. When left to the mercy of raging winds and surging waves, the sands shift. New inlets form and then vanish again at the whim of passing storms. And the next thing you know, homes that used to be on the ocean's edge now find waves inching closer.
Fortunately, we've found a way to keep that shoreline right where we want it. The process is called beach nourishment. It involves dredging up sand from offshore locations and relocating it to our shorelines, maintaining miles of sunny beaches just waiting for a lounge chair and keeping those oceanfront properties from drifting into the water.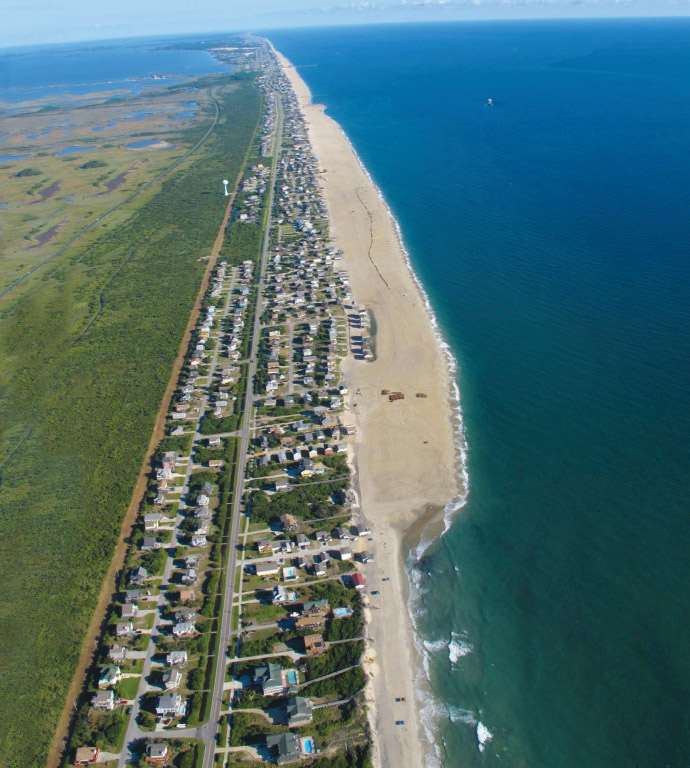 Don Kingston, the Mayor of the Town of Duck, explains it this way. "Over several years, storms have continued to damage and erode our natural shorelines. The beach nourishment projects are a proactive way of protecting properties, utilities and transportation infrastructure impacted by erosion as well as preserving the beach that we all know and love. The nourished beaches will not only provide storm protection, but also a wider beach for the enjoyment of our residents and visitors."
With major impacts from winter storms and hurricanes in the last few years, we're excited that nourishment projects are kicking off this year. Beach nourishment happens during the summer and early fall when the storms are less frequent and conditions are safer for the employees hard at work dredging offshore. If all goes according to schedule, the projects will be occurring in Duck from middle to late May until middle to late July (about 60 days), in Kitty Hawk from mid-June to mid-August (about 60 days) and in Kill Devil Hills from early August to mid-September (around 35-45 days). The northern end of Buxton will be getting 2.9 miles of new and improved shorelines as well, with nourishment scheduled to begin in early summer.
The construction takes place 24/7 on 1,000-foot sections of beach at a time. During that time part of that section might be closed, and you can expect to hear some noise, primarily the sound of backup safety alarms from the trucks and bulldozers, and you might see lights on the beach at night.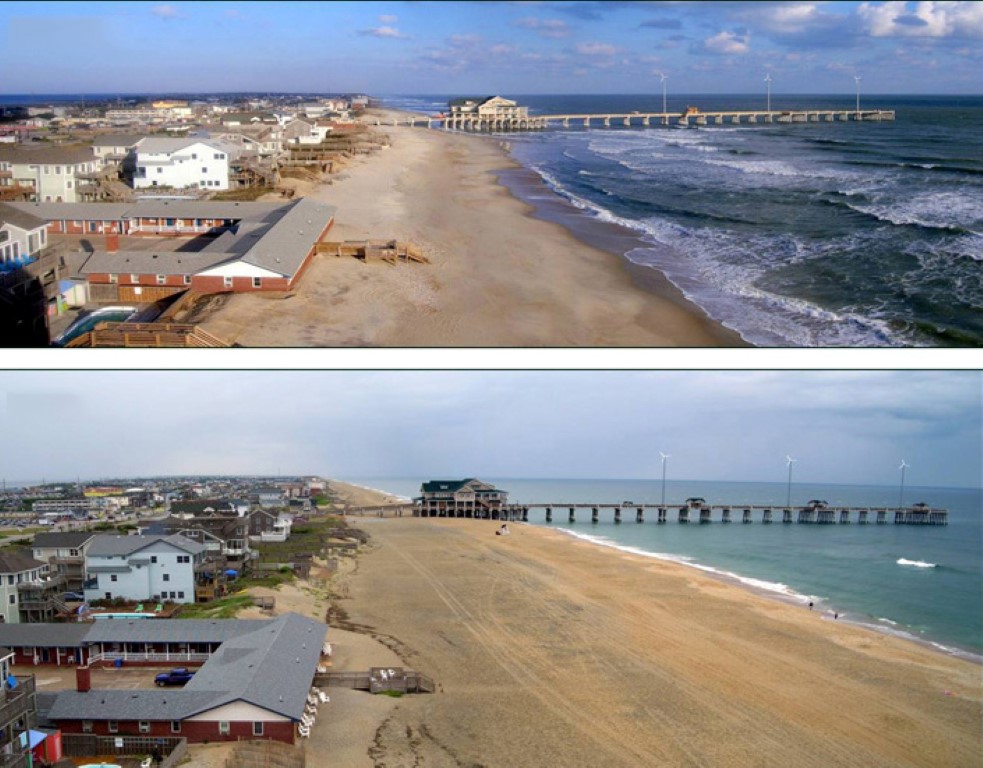 The staff members from the towns of Duck, Kitty Hawk, Kill Devil Hills and Dare County want to make sure this project causes as little problem for your summer vacation as humanly possible. That's why they've set up MoreBeachToLove.com. There, you'll be able to sign up to receive email alerts regarding the different projects, have access to videos, frequently asked questions and important project updates. Once construction begins, users can also interact with the beach nourishment progress map to see exactly where construction is occurring and what has been completed.
We want to make sure our barrier island and all of its beloved shops, restaurants, homes and hotels are safe for years to come, and the beach nourishment contractors and engineers are doing all they can to make sure that happens as quickly, efficiently and as unobtrusively as possible. Check out the website MoreBeachToLove.com where you can access information on each of the four projects, and we promise by this fall there'll be even more beach to love.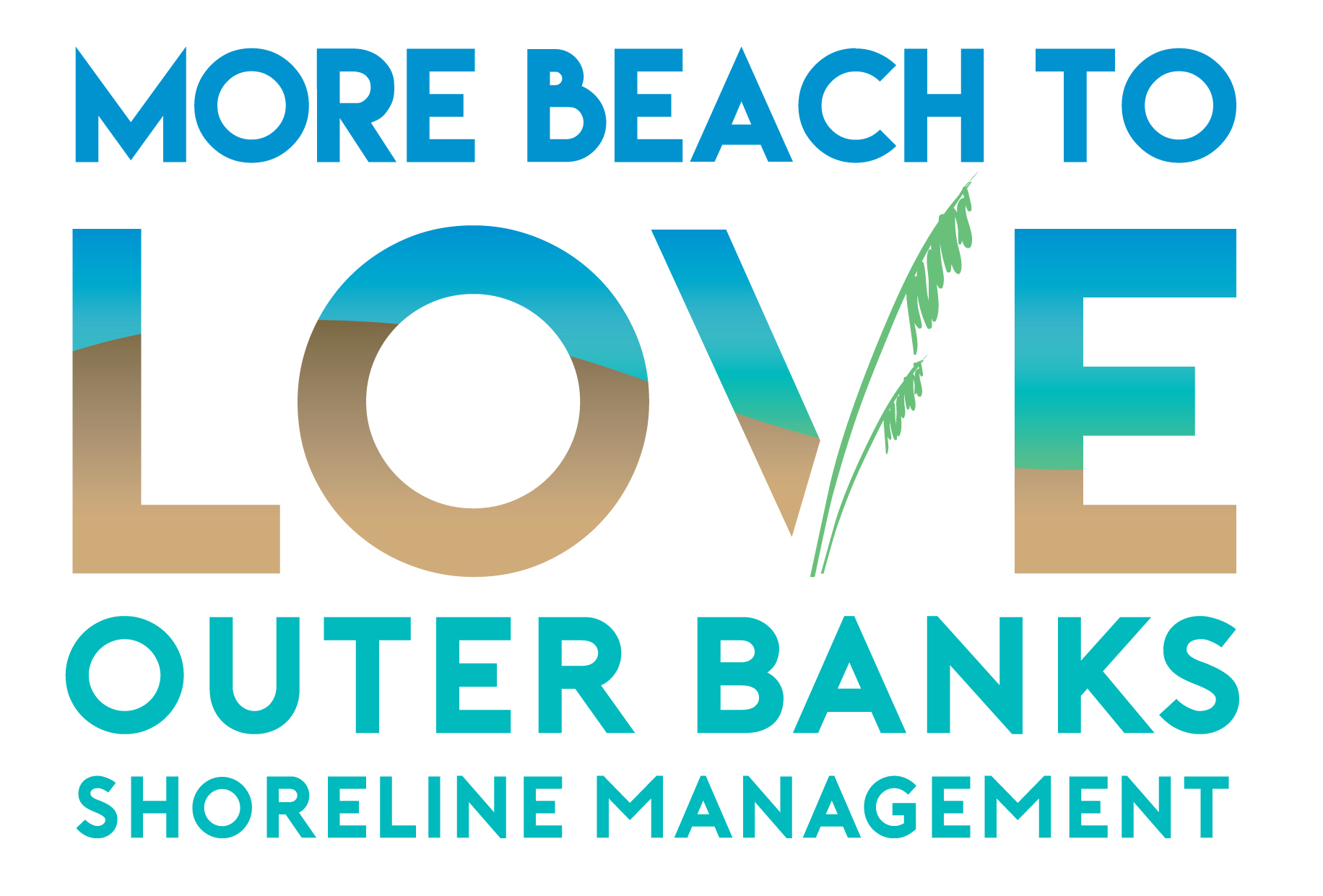 (252) 475-5000 | darenc.com/departments/public-relations/beach-nourishment