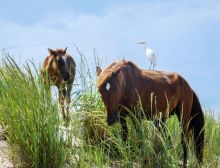 Bouncing over the cattle grate that separates the paved road from the sand road north of Corolla, I have one of those heart-stopping, hashtaggable moments of elation: #LoveWhereILive!
I'm riding shotgun in a 13-passenger, open-air Hummer as part of a Wild Horse Adventure Tour of the northernmost Outer Banks, the beachy wilderness where N.C. Highway 12 is sand and wild horses roam free.
As our driver and guide, Kelly, deftly jostles the Hummer onto the beach, the whiteness of the sand in the sun temporarily stings my eyes, and I smile at the cormorants sitting on the pilings in the ocean, drying their wings in the northeast wind. Kelly guns the gas, propelling the Hummer toward the hard-pack beach that's so smooth it feels like we are flying parallel to the royal blue, white-capped ocean, salty wind in our faces. Kelly expertly avoids the ancient tree stumps and tight flocks of gulls, sandpipers and sanderlings at the surf's edge, all the while telling us about the geologic formation of the Outer Banks over the PA system. 
There is no place on Earth like the four-wheel-drive stretch of beach north of Corolla – North beach, the Corolla residents call it. "It's nothing but houses and horses," Kelly says. And she's right. The main features here are about 800 houses and nearly 100 wild horses, along with an assortment of wildlife such as wild boar, fox, raccoon and birds, set among a landscape of beach, dunes, marsh and scrubby pine and oak forest. No pavement. No stores. No gas stations or restaurants.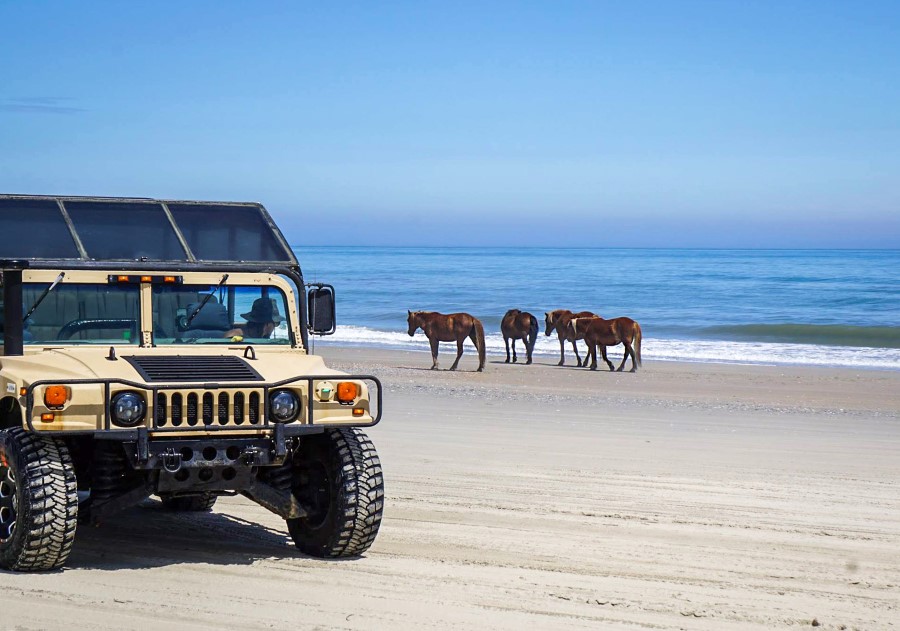 The best part is that I'm being chauffeured, and I'm not in the least bit worried about getting stuck in the sand. All I have to do is sit back and take in the beauty. I've driven in this four-wheel-drive-only stretch of the Outer Banks several times, and it can be stressful to lower your tire pressure and then navigate the tire ruts on the beach without getting stuck. When we pass an Escalade with its tires sunk half-deep in the sand, its occupants digging furiously while they wait for the tow truck, I'm even more appreciative of my passenger status.
Plus, if you don't know what you're doing, it's needle-in-a-haystack challenging to narrow down the 7,500 acres of wild horse territory to find a few of these noble animals.
The Corolla wild horses, which are 100 percent pure-bred Colonial Spanish mustangs, don't stick together as one big pack; they divide themselves into small groups that don't like to interact with each other. A stallion will win one, two or a few mares, and that harem will stick together with their young. Old stallions are often alone, and young stallions form trouble-making bachelor harems in which they can practice their fighting skills.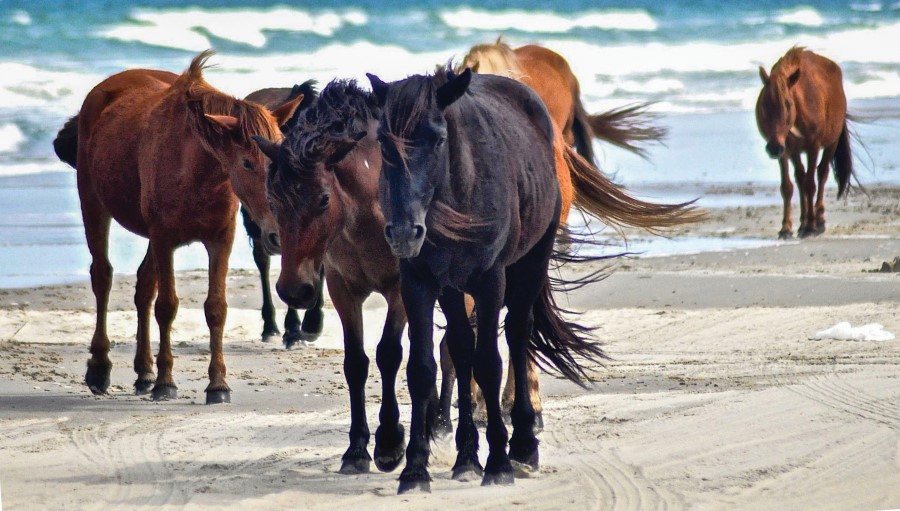 If you want to see these horses, it's so much easier to do so with a horse tour company. The tour guides look for the horses every day. They know their habits and hangouts. At Wild Horse Adventure Tours, the guides are in constant communication with each other. Such is the case on today's tour – Wild Horse Adventure Tours has five tour vehicles out, and Kelly and her fellow guides are texting back and forth about their sightings. They always find the horses – and that is definitely not a guarantee if you're going rogue.   
What I like is that no two wild horse tours are ever the same, even with the same company. I've been on a couple of tours with Wild Horse Adventure Tours, and the sightings, scenery and commentary have been unique each time. The guides aren't reciting a rehearsed script; they're genuinely engaging with their guests. Kelly interjects witty commentary and an inherent wealth of facts and stories based on what our tour is seeing and the questions people are asking.
Less than 30 minutes into our tour, Kelly nails our tour's first horse sighting behind the dunes in Swan Beach, the southern of the two communities in North Beach. And it's a good sighting – two mares and one of the season's foals, the adorably fuzzy chestnut Castano II. They're nibbling dune grasses around the trash cans in someone's yard. It's not the most scenic backdrop for photos, but that doesn't stop everyone on our tour from clicking away on their phones and cameras. Kelly circles around a few times so everyone can get the best view, but, really, in this open-air vehicle with elevated seats, we all have ideal viewing opportunities. 
And then we're off again, exploring the backroads of Swan Beach in search of more horses. Kelly knows exactly which areas are off-limits private property and which areas are fair game for visitors. She knows which sand roads to follow, which thickets have tasty vegetation for horses, which puddle-ponds are too deep to drive through. Like a North Beach Nancy Drew, she spots fresh horse tracks and scat, noting which way the horses were heading and where they stopped. Along the way she's talking and telling stories about the local residents and their unorthodox lifestyle, the wildlife and the horses, and we hardly realize that as we've been searching for horses and marveling at this landscape, we've just gotten a history lesson and an ecology lesson and been schooled on wild horse laws and regulations.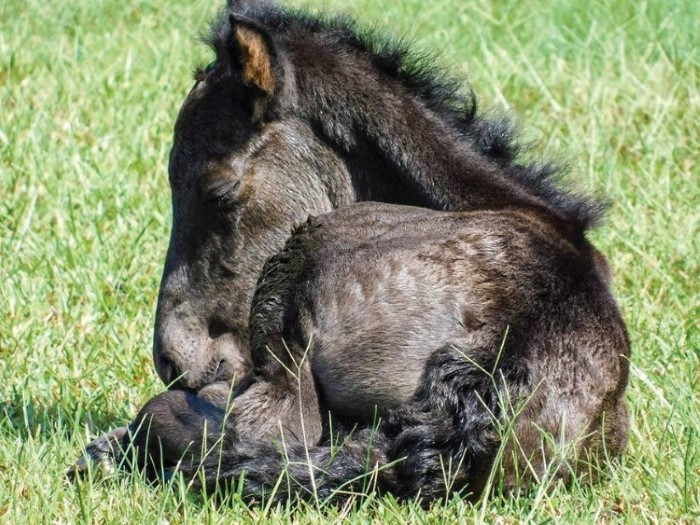 Our next sighting is a doozy – a stallion and three mares perched on a dune with an ocean backdrop, the perfect photo op. Someone has placed a St. Francis statue, patron saint of animals and ecology, atop the dune, and the horses are aptly grazing close to it. Kelly is not surprised when one stallion lifts his head haughtily as we creep by. "He always poses for the paparazzi," she says.
Kelly takes us through the 15-acre Wild Horse Sanctuary in Swan Beach, where Wild Horse Adventure Tours has exclusive rights to view the horses in their natural environment. No other horse-tour company can venture to these lands. But more than that, this is a place where Wild Horse Adventure Tours participates in conservation on the horses' behalf. This company works with and supports Corolla Wild Horse Fund, the nonprofit organization that's responsible for managing and protecting the herd. Wild Horse Adventure Tours also plants enough trees every year to negate the CO2 output of their diesel-powered vehicles.
Lucky for us, a harem is wandering along a sand trail back here. We pause and watch, snap some photos and giggle at the horse that has egret poop on its back. Then Kelly powers the Hummer back over the dune to the beach and heads up to the northernmost community of Carova. On this day, Carova is horse-less, or at least we can't find them. But that doesn't matter. We learn about the U.S. Life-Saving Station at Wash Woods, Carova, about the dunes at Penny's Hill, Swan Beach and about the sand-buried village. Everyone is engaged, asking questions, helping out in the search. Kelly is informative and funny, giving us facts in ways that make us laugh and think, and before we know it, it's time to head back to the Wild Horse Adventure Tour office. We're disappointed that our two-hour tour is over but stoked that it happened and that we saw so many horses.
Back at the Wild Horse Adventure Tours check-in office, dozens of people are spilling out of the Hummers, hugging their guides goodbye and sharing and comparing horse stories and photos with their fellow tour-goers. It might have been an ordinary tour in the life of one of the longest-running horse tour companies on the northern Outer Banks, but for each one of these people, even all of the repeat customers, it has been a remarkable and memorable, one-of-a-kind event.

BOOK YOUR ADVENTURE TODAY!
610 Currituck Clubhouse Drive | Corolla
(252) 489-2020 | wildhorsetour.com