It doesn't take long for the first-time Ocracoke visitor to notice that the island is proud of its piratical heritage. Though some may think our treasured tales are romantic or embellished legends, the truth is that Ocracoke has real pirates in its past. Blackbeard may seem larger than life, but his story is preserved in the history books, and Ocracoke plays a major role. It was right in the sheltered waters of Pamlico Sound, within musket range of what is now Ocracoke Village, that the infamous Edward Teach (a.k.a. Blackbeard) unsuccessfully fought his last battle and was beheaded nearly 300 years ago.
A short stroll through the pristine maritime forest of Springer's Point Nature Preserve will take you to the sandy shore where you can gaze upon the very spot, now known as Teach's Hole, where Blackbeard met his fate. The scene – live oaks, sand, sound, sky – remains virtually unchanged since that windless morning of November 22, 1718.
Blackbeard was the quintessential pirate, standing 6'4" with a beard that covered his enormous chest. Before going on the attack, he liked to braid his beard and tuck smoldering cannon fuses under his hat giving him the appearance of Satan himself. Although he plundered some 40 ships and established a fearsome reputation, his career as a pirate lasted less than two years!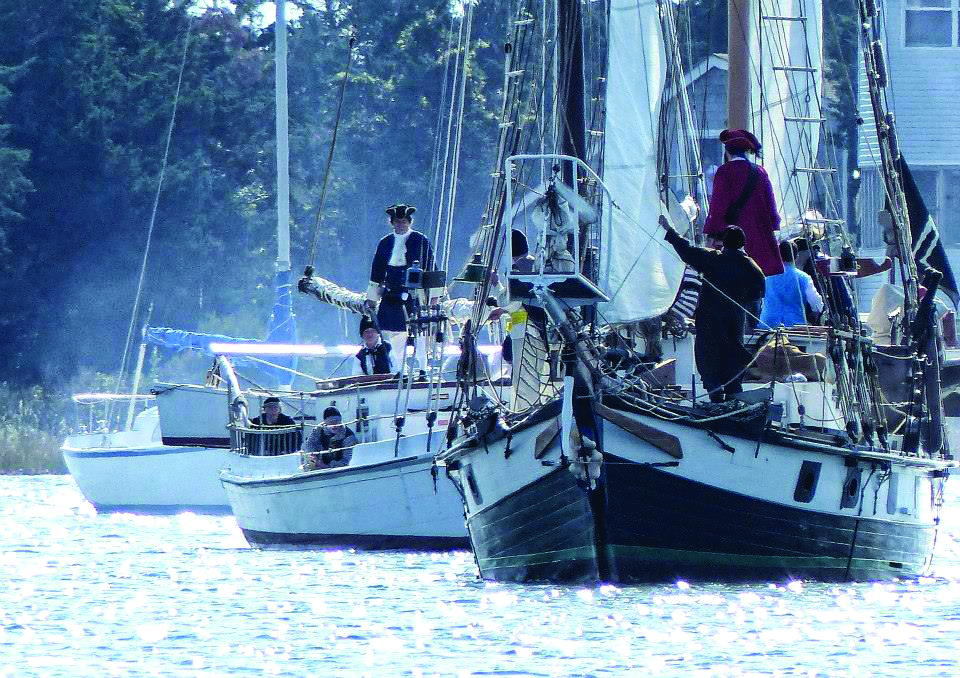 Historians believe Blackbeard was from a privileged family (he could read and write) and that he was 36 years old when he died, but not much is known of his life prior to 1716, including his real name. After numerous adventures, including the blockading of Charleston and taking of hostages to exchange for STD meds, Blackbeard scuttled his flagship, the Queen Ann's Revenge, just off Beaufort, N.C., downsized his 400-man crew to a lean and mean 10 percent, and sailed to Bath, N.C., to receive the king's amnesty from Governor Charles Eden.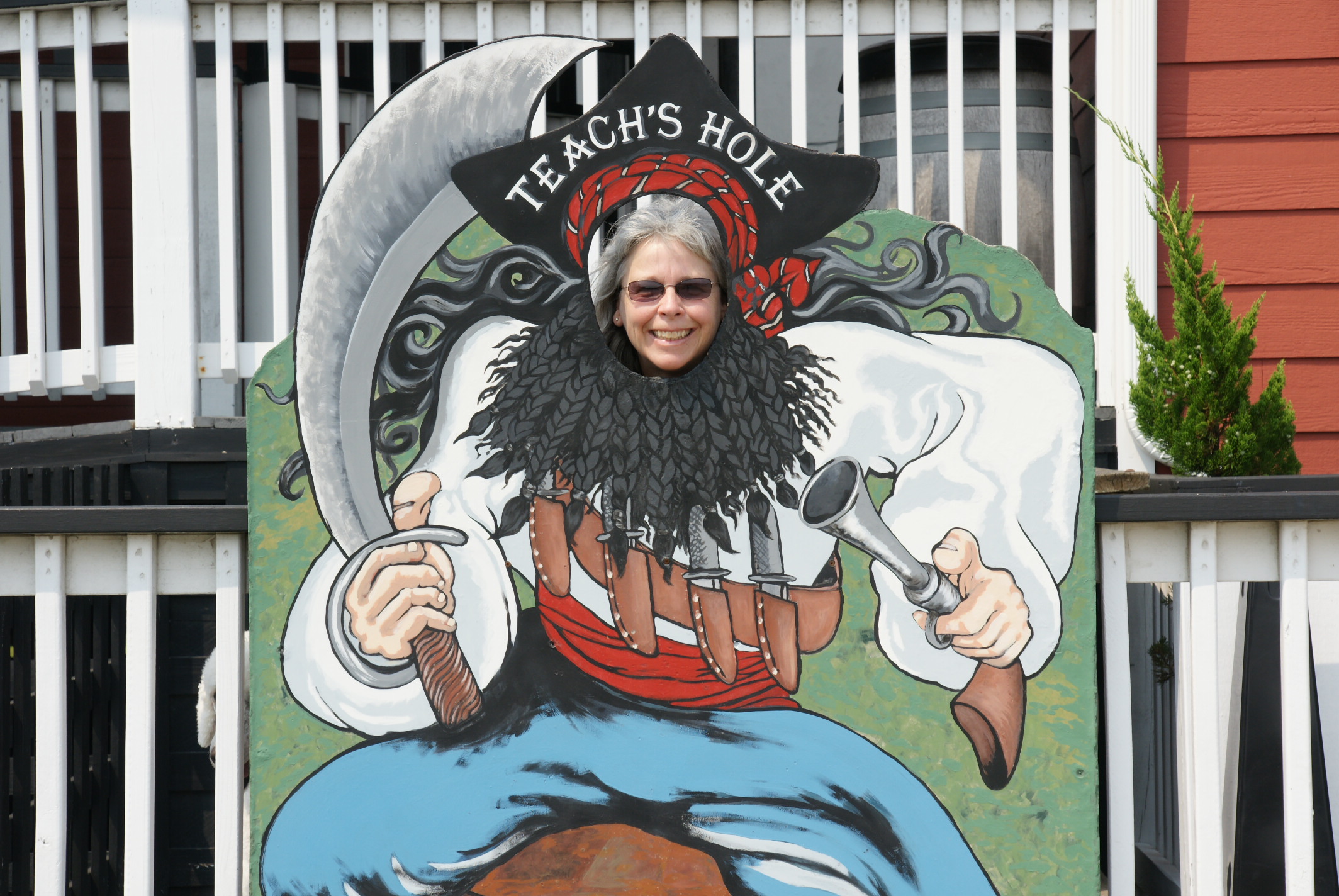 As you enjoy your visit to Springer's Point, you might keep in mind that you occupy the very spot where, in the fall of 1718, Blackbeard hosted a piratical beach party with guests Charles Vane and his crew, including John "Calico Jack" Rackham. The wild jamboree lasted several days. The news of this gathering worried the colony's elders so much that they requested help from Virginia's Lt. Gov. Alexander Spotswood in removing the piratical presence from their midst.
And so it was, on the evening of November 21, 1718, two sloops chartered by the Royal Navy sailed into the inlet with about 50 naval volunteers under the command of Lt. Robert Maynard. Although sensing that they meant him trouble, Blackbeard spent that night at anchor on his sloop Adventure with a crew of only 18 men drinking rum with the captain of a nearby trading vessel.
A charming (if totally incorrect) legend says that Blackbeard, eager for dawn to break so he could get on with his battle, paced the deck all night, tankard in hand muttering, "Oh crow, cock!" thereby naming the island.
As the dawn finally broke, the light wind made it necessary for all three sloops to proceed under oar power. Blackbeard, though out-manned more than two to one, had two important advantages: first was his knowledge of the water depths and second were his eight cannons (Maynard had only pistols, muskets and swords). 
Blackbeard skillfully forced Maynard to ground both his vessels, giving the pirates a chance to positions their heavy guns for a broadside that killed or wounded about half of Maynard's men. When the smoke cleared, only Lt. Maynard and one of his men could be seen uninjured on the deck of that sloop. The other was out of the action with its captain killed in the broadside. The pirates boarded Maynard's sloop expecting a quick and thorough victory, but 20 armed men who had been hiding below deck suddenly surprised them.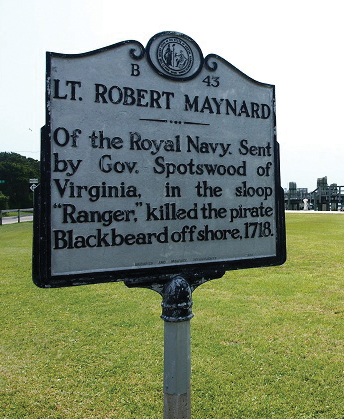 With five bullets in him and 20 sword wounds, Blackbeard finally fell dead. Maynard severed his head and hung it from the bowsprit as proof of the victory. Another popular legend tells that the great pirate's headless body was thrown overboard and that it swam seven times around the ship before sinking to the bottom. Most Ocracokers doubt he could've made it more than two or three times around!
Before returning to Virginia, Maynard sailed to Bath to round up other members of Blackbeard's crew including one Israel Hands whom Blackbeard had kept out of trouble by shooting him in the leg. Of the 15 prisoners Maynard took back to Virginia the following month, 13 were promptly condemned and hanged. One man, Samuel O'Dell, turned out to be Blackbeard's guest, the merchant captain who hadn't returned to his own vessel before the battle occurred, thereby sustaining at least 70 wounds. He was acquitted – the judges figured his injuries were punishment enough for partying with pirates!
The 15th prisoner, Israel Hands, although sentenced to hang, was pardoned at the last minute when word came from England that the King's amnesty had been lengthened.
He spent his final years as a one-legged beggar on the streets of London, exchanging his tales for beverage money and thereby inspiring Robert Louis Stevenson to write about the one-legged pirate Long John Silver in Treasure Island. (Stevenson also borrowed the name Israel Hands for one of Silver's mates.) So there you go – Ocracoke is the direct inspiration for the greatest pirate tales of all time – fact or fiction!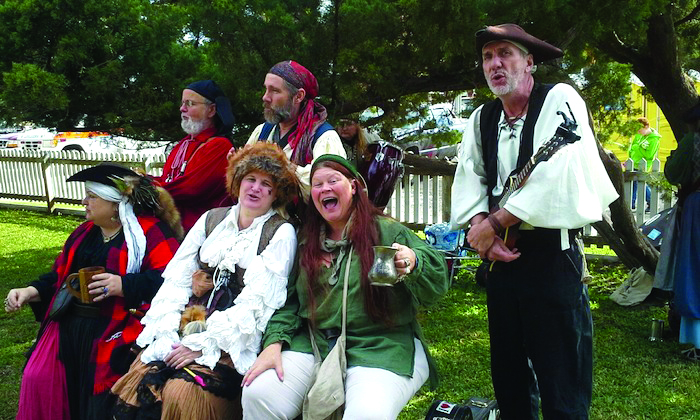 And there are still pirates among us. Prior to the battle at Ocracoke, a former quartermaster of Blackbeard's named William Howard was tried in Virginia for piracy and allegedly purchased his freedom with information on Blackbeard's likely whereabouts. Howard became Ocracoke's first resident owner in 1759. Many of his descendents reside here still, some of them along historic Howard Street. 
Ocracoke's favorite pirate inspired the names of local businesses Blackbeard's Lodge, Jolly Roger Pub and Marina, Pirate's Quay condos, Pirate's Chest gifts and Teach's Hole Blackbeard Exhibit and Pirate Shop. Other island shops sell books, toys and T-shirts with a piratical theme. Children roam the village in bandanas and eye patches, brandishing wooden swords and plastic hooks. Actually, many adults do too! Swashbuckling buccaneers, seafaring wenches and salty dogs all love Ocracoke.
If the lure of Ocracoke's pirate lore shivers your timbers, chart your course to the Treasure of the Outer Banks. 
Avast, me hearties! 
These be piratical pleasures you won't want to miss:

A Tale of Blackbeard 
Monday nights, June 29-August 10
A family-friendly musical by Julie Howard and produced by Ocracoke Alive,
A Tale of Blackbeard
is performed weekly during the summer. For her swashbuckling story, Julie created some inhabitants for Ocracoke village (which was actually a small pilot town in 1718) so Blackbeard's crew could come ashore and meet them. And, being a musical, there's got to be a little romance, so Julie's play has creatures of the fairer sex for the pirates to woo –
the Village Girls at Euphemia's boardinghouse and upper-class Elizabeth Farthingham, daughter of Ocracoke's "watchman." 
True love and sword fighting – what more could you ask for? 
Tickets and information are at
www.ocracokealive.org

3rd Annual Blackbeard's Pirate Jamboree
October 30-November 1
Shiver me timbers! Thar'll be another Pirate Jamboree on Ocracoke, celebrating the last days of Blackbeard the pirate. The centerpiece of the Jamboree is an historically accurate pirate encampment on Saturday, October 31, by Blackbeard's Pirate Crew, an 18-member living history organization, on the grounds of the historic Wahab House. Dressed in historical costumes from the 17th and early 18th centuries, pirates will engage the audience with storytelling, sea chanteys and swordplay. Visitors will see demonstrations of vintage black powder weapons and partake in hearty seafarers' grub and grog. The main event will be the re-enactment of The Battle at Ocracoke, taking place in the island's beautiful Silver Lake harbor. Three ships will re-create the last hours of Blackbeard and his crew as Lieutenant Maynard brings them to battle with cannons blazing. Other weekend events include a Scallywag School for kids, bawdy songs in the beer garden for adults and a Brigand's Bazaar for everybody. The island will be celebrating Halloween for kids and adults, too! 
 
The Hatteras-Ocracoke ferry departs from both sides on the hour, 
5 a.m.–midnight from April 1–May 12. After May 12, it will depart on the hour and half hour. 
For more information about the ferry routes and schedule: http://www.ncdot.gov/ferry or call: 1-800-By-Ferry
___________________________________________________________________________________________________________________________________________