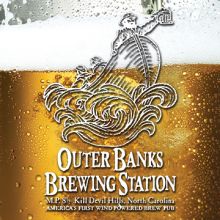 "It's almost beer," reads the red and white sign that once stood on the side of the bypass to announce the Outer Banks Brewing Station's grand opening in March 2001 and that now continues to adorn the inner stairwell that leads to their mezzanine dining area. "That confused a lot of people at first," admits co-owner, Eric Reece, with a laugh. "They thought we were only going to serve non-alcoholic brews!" 
By now everyone knows that was hardly the case, and if you ask anyone to name one of the most iconic establishments on the beach, the Outer Banks Brewing Station quickly springs to mind. Modeled after one of the turn-of-the-century life-saving stations that were once so ubiquitous on our shores, the Brewing Station (or simply "Brew Station," as it's more locally known) looms large and has been a beacon for foodies and beer connoisseurs almost since day one.
Brainchild of longtime friends Eric Reece and Aubrey Davis, who first met during their two-year stint as Peace Corps volunteers in Thailand in the early '90s, the Brewing Station — like any great establishment — has evolved over the past decade and a half. 

While they've retained a reputation as one of the go-to spots for late night entertainment, having raised the bar in terms of bringing in more than 200 local, regional and national acts that run the gauntlet from Tonic to Maceo Parker, they've also proved their chops as a destination spot for world-class dining (Food Network's Guy Fieri had nothing but accolades for them when he visited in 2013), and they've come to establish themselves as a pub in the classic sense of the term — which is to say that, as in many European communities, the Brewing Station offers a laid back public gathering space for people of all ages.
But, of course, anything written about the Brewing Station can't fail to wax poetic about one of their main claims to fame: their award-winning beer. (That's right, and not the non-alcoholic kind either, unless you count the kids' version of their root beer floats!) While craft beer is big business these days in North Carolina — right now there are at least 130 N.C. breweries, more than any other state on the East Coast, and that number only continues to climb — that wasn't always the case. Prior to 2005, a little-known law left over from Prohibition made selling N.C. beer with an alcohol content greater then six percent illegal. With the help of Senator Marc Basnight, Eric and Aubrey joined other independent brewers throughout the state to support the Pop the Cap bill that eventually lifted the ban.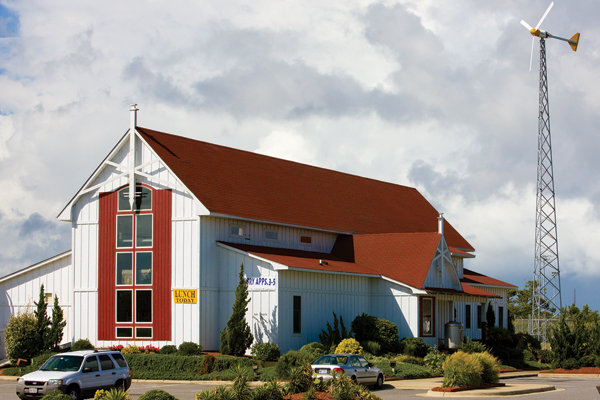 This was great news for everyone. Under the direction of head brewer, Scott Meyer, for the first 13 years, and his successor, Bart Kramlik, since 2014, it also allowed the Brewing Station to get ever more creative with their handcrafted brews. While their refreshing Ölsch and their crisp Lemongrass Wheat Ale are the only two brews they keep on their regular menu, they constantly introduce a rotating list of five or six brews in limited edition batches, and over the years that's added up to an impressive array of more than 125 distinctive styles. Though they don't often enter contests, so far their brews have won multiple state medals and three World Beer Cup awards.
"Brew pubs aren't production breweries, so we're not tied to only a few products. We like being small because it allows us greater freedom," Eric says. "Our philosophy is that it's important to know your ingredients. We look at what's available both locally and seasonally, and we experiment from there — bringing out the flavor of local oysters in a Baltic-style porter, for example, or matching the coriander and orange flavors of a wit beer with local seafood. Pairing great food with great beer — that's what we aim for." 
You might think that the overwhelming success they've had doing exactly that would be enough, but it only spurred Eric and Aubrey to take on another challenge: to demonstrate their commitment to renewable energy by erecting the first commercial wind turbine on the Outer Banks. With the full backing of their partners, baker and pastry chef, Tina Mackenzie, and front of the house manager, Karen Davis, Eric and Aubrey took on the town — and refused to take no for an answer. They first applied for permits to build the windmill in 2002, but they weren't able to secure the final approvals they needed until 2007. At that point it wasn't only a hard-won victory for the local movement toward more environmentally conscious business practices, but it also put the Brewing Station firmly on the national map as the very first U.S. brewery to operate an on-site wind turbine.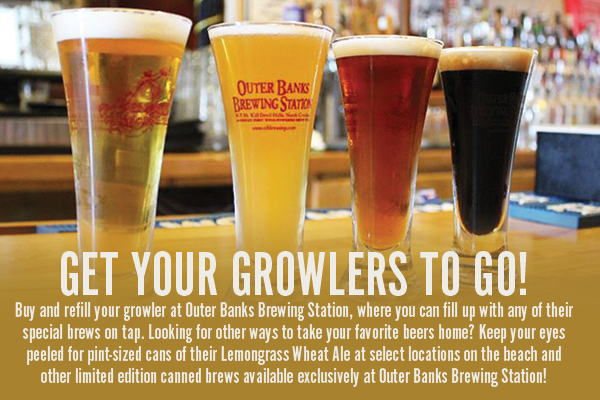 Today, their 92-foot wind turbine boasts some impressive statistics (it saves the Brewing station anywhere from $150 to $250 per month on their electric bill, and it will have paid for itself by 2018), and it's the focal point of their ever-growing backyard area. With a full acre of open space, their backyard is a great place for families and includes a playground for the little ones, corn hole boards, a tiki hut that serves cold drinks and snow cones, picnic tables, the Brewing Station's own herb garden and a small additional stage for bands. During the summer season it's the perfect spot to catch nightly acoustic entertainment and other special events such as local art shows on Mondays.
As Eric points out, all of these changes and innovations have been part of a larger collaborative effort that goes far beyond what he and Aubrey ever could have imagined in the beginning. From their families and friends and the fantastic team they have backing them in every part of the daily operations at the Brewing Station, to the support they've received time and again from the wider Outer Banks community made up of locals and visitors alike, everyone has played a part in making the Brewing Station exactly what it is today.
"There's a great tradition of independent businesses, especially restaurants, on the Outer Banks, and we're just happy to support and be a part of that," Eric says. "For us, it's all about being accessible and inclusive. If we're doing that, then we know we're on the right track."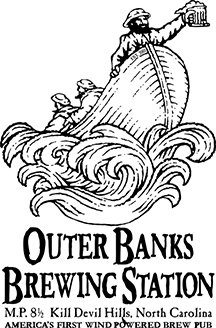 (252) 449-2739
600 S. Croatan  Highway, Kill Devil Hills