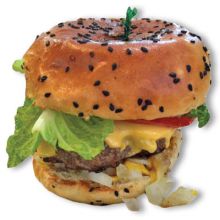 For many, Stack 'em High is synonymous with more than three decades' worth of Outer Banks breakfasts. Go ahead and call it a tradition if you will — one that stems from Perry and Kiki Kiousis' revolutionary idea to open the very first pancake house on the Outer Banks in 1981 after relocating from Greece to America in the early '60s.

Fast-forward through the intervening decades, and Stack 'em High is still serving up some of the best breakfasts on the beach, courtesy of the Kiousis' two second-generation sons, Steve and Nick. Nick and his wife, Dawn, own the Kill Devil Hills location. At the northernmost Kitty Hawk location, which is run by Steve and his wife, Kristine, breakfast isn't all that's on the menu.
"One of our earlier mottos was 'Breakfast. It's all we do,'" explains Kristine as she calls out a few orders and pauses to greet several of their regular customers by name. "That's evolved a lot over the years."

That's been especially true in recent years. In 2014, Steve and Kristine decided to add a full array of lunch items to their original menu, delighting locals and visitors alike with everything from Greek-style burgers, salads and wraps to seafood dishes such as their mouth-watering crab cake sandwiches and their Shrimp 'n Grits Royale … not to mention a variety of wildly diverse daily specials that feature standouts such as a recent Vietnamese-inspired banh mi sub (featured in the photo below), which includes ham, roasted chicken, mayo and Asian relish with a choice of a side.   



It's this blend of old and new that makes every trip to Stack 'em High so exciting. "Normally I just ask Steve what he wants to make me," says one of their longtime customers at a nearby table. "I like being surprised." 

This year, the Kitty Hawk Stack 'em High is also expanding their space with a remodel that includes a brand-new dinner counter for people who want to grab a quick breakfast or lunch — and may be planning to dine solo. "We're single-handedly trying to solve the loneliness problem on the Outer Banks," jokes Steve. 

"He's probably wanted to do this remodel for more than 20 years now," Kristine adds with a laugh. "It's a great way for people to meet and share a meal with each other in a more communal space, and we're always trying to enhance that type of inclusive atmosphere." 

The level of commitment that makes these innovations possible is actually pretty touching to experience, but, as Kristine says, "The people who come here over and over again aren't just customers, they're part of our family."

Stack 'em High's extended family has continued to grow (and grow) over the years with other noteworthy additions to their traditional offerings such as full-spectrum catering services that are designed to accommodate on- or off-site events both large and small. Overseen by their head chef, Johnson and Wales graduate Dave Whelan, they don't stick to a set catering menu but instead leave it open to suggestions that range from assorted soups, sandwiches and pasta dishes to barbeque, oyster roasts and Greek specialties such as moussaka (a delicious layered eggplant entrée) … and lots of delicious options in between. Kiki, the matriarch of the Kiousis family, is never far behind, putting her special touch on all the Greek favorites. She can be seen at the Kitty Hawk location all year. At 80 years young, she just won't retire.

Whether it's their varied menus, a fresh new dining space, their high level of commitment to charity work within the local community or simply the fun, family-friendly ambiance people enjoy every time they go into Stack 'em High, there's a lot of heart behind all the things the Kiousis family continues to do there every day, year after year. 

In large part, this requires a life philosophy that Steve inherited from his dad, Perry, who passed in October of 2014, which can be summed up by the Greek word epimoni. Epimoni means patience with faith that God will provide. Steve, Kristine, Nick and Dawn embrace the virtue of epomoni everyday. "You have to work hard and trust that change comes with time," Kristine explains. "It's not about forcing things to happen, but rather about believing that everything will eventually fall into place as it's meant to."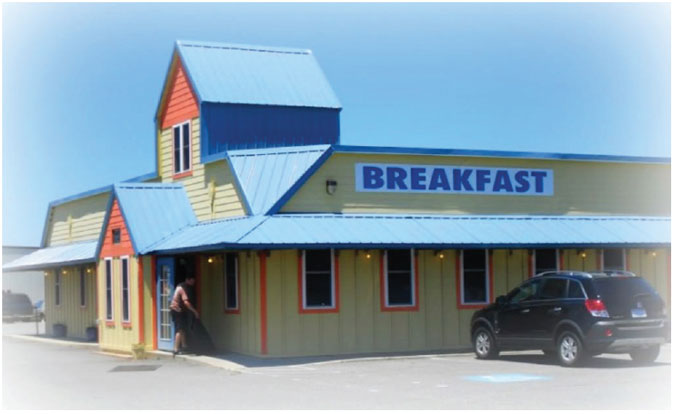 ---
Breakfast to go ...
Recognizing that some families prefer the convenience of dining at home, Stack 'em High offers large to-go breakfast packages that can feed up to 20 people. Pick from one of four options cheekily named after TV sitcom families from the '70s and '80s (starting with The Brady Bunch, which, naturally, feeds up to 10 people!). Call in your order by 12 p.m. the day before to pick up your meal at 8 a.m. the next morning.
---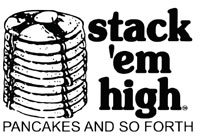 3801 N. Croatan Highway
Kitty Hawk  • MP 4.5 
(252) 261-8221