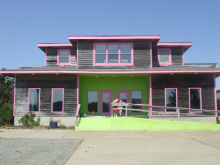 When Pirates & Pixies Toy Store opened for business four years ago, a young boy named Luke was the first customer. He paid for the toy with his own money. This pleased the shop's owners as they were also Luke's parents, Sarah and Beau "Butch" Midgett.
Sarah and Butch have always loved finding toys, games and cute stuffed animals for their nieces' and nephews' Christmas or birthday presents. They were always searching for that perfect gift even before they were married. Once married the searches became a team effort. Butch Midgett of Etheridge Fishing Supply in Wanchese was taken by Sarah's passion to make her loved ones happy. Their marriage blossomed and children arrived, and visiting toy stores became a fun family adventure.
Their search for exciting, quality toys had moved on from the big box retailer's isles of cheap imported plastic. It was the smaller, independent stores like the old local Manteo favorite, Toy Boat, where they found those special toys that put the kid's fun and well being ahead of profit. Sarah and Butch's travels were never complete without visiting local independent toy stores.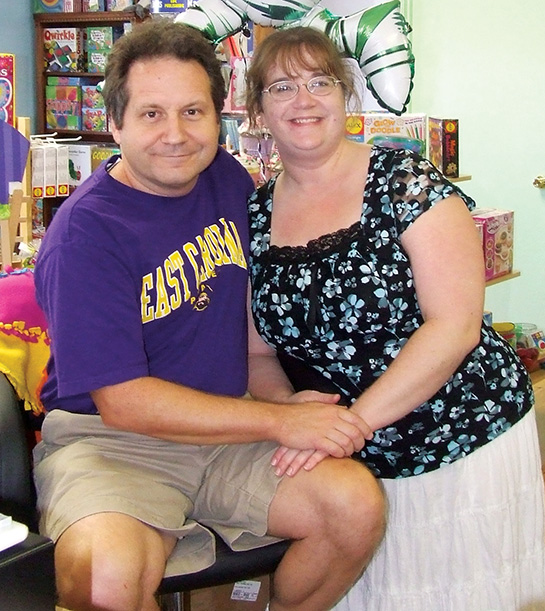 Their casual talk about opening a local toy store slowly grew into active research. They finally decided to take the plunge and chose the former art gallery building located at 7332 S. Virginia Dare Trail in the Whalebone Junction district of Nags Head. They made the call and Pirates & Pixies Toy Store was born.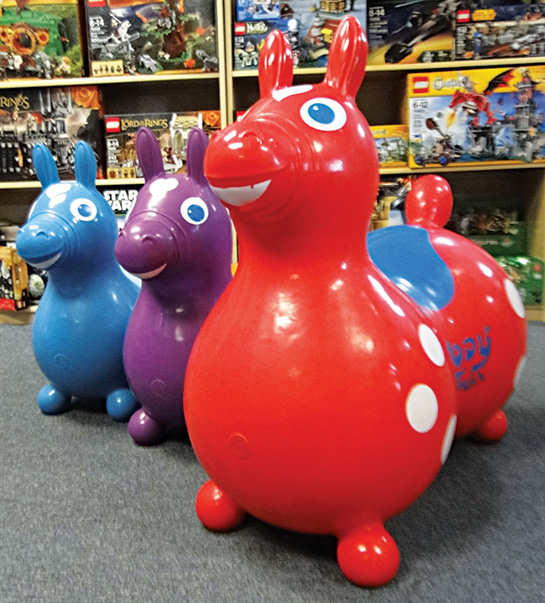 The name Whalebone Junction has real meaning for Butch, whose grandfather, Alexander Midgett, had displayed whalebones from a large whale that had washed up on the beach at his old Shell Station in the early 1930s. At that time the junction was the end of the paved road going to Hatteras. Travelers had to let the air out of their tires to ride the beach south. Alexander used the whalebones to entice visitors out of their car to get a closer look. The toy store is located near where the junction of roads and whalebones once met.
Sarah runs the store, but Butch is very active, working on displays and maintaining their online store at toysobx.com and making sure Sarah doesn't get carried away with adding too much cute plush. With both involved in the buying process, they strive for a broad and balanced selection of toys and games at Pirates & Pixies. Sarah loves making many local girls happy by seeing that the newest and most popular Breyer horse models are available for their ever-growing collections. Butch, on the other hand, seeks out games and those items that call to a different temperament, like the prankish, odorous Fart Bombs that are safely stocked on the top shelf. Sarah sighs with raised eyebrows; she cannot bring herself to call them by name. She calls them stink bombs.
She points out that they prioritize having as much quality American-made products as they can find, but they also enjoy getting the high-quality European products like the puzzles by Ravensburger.
One of their most popular American-made lines comes from Crazy Aaron's Putty World. Think Silly Putty on steroids. Crazy Aaron's Thinking Putty, as it is called, is silicon based so it will never dry out or crumble. You can stretch it into a very thin sheet, and if it gets too big you can tear it or roll it in a ball and bounce it. They have several different styles; one changes color with heat, one style glows in the dark and the magnetic putty seems to come alive as it consumes a magnet. Now that's entertainment!
Parents enjoy the relaxing and social atmosphere in this store, where work is play. While the store is full of high-quality, educational, creative and fun toys - Melissa & Doug, Playmobil and Calico Critters to name a few - Pirates & Pixies is also a place to play. Sarah likes having plenty of toys to test run in the playroom.
"If a kid gets the right toy, he will want to come back again and again," Butch says. "Luke is imaginative and loves Star Wars. LEGOS are a good fit for that."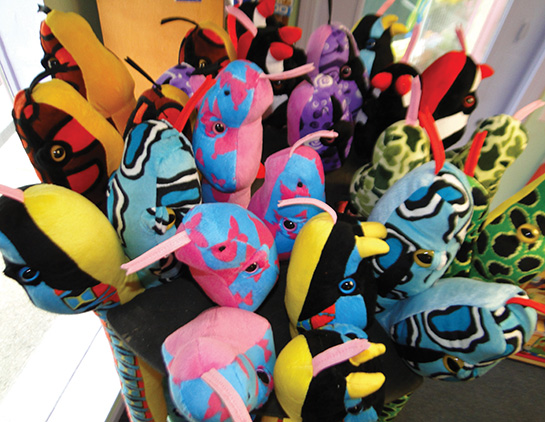 It should be no surprise that Luke, now 9 and a half years old, was named after Luke Skywalker from Stars Wars, or that Butch and Sarah chose the name Ariel for their 13-year-old daughter, from Disney's The Little Mermaid.
A true family business, both children are enthusiastic product testers. Ariel also helps her mother in the store with the constantly in flux "Tween" perspective with what is cool or not. Think mustaches. Luke enjoyed being a fearsome pirate for Pirate's & Pixies advertising.
Pirates and Pixies believes that shopping local is a two-way street, and they support the community that supports them. They donate boxes of lollipops for Eggstravaganza, the 10,000-plus egg hunt held every April at The Elizabethan Gardens. You'll also find them at the annual Kidsfest celebrated at Roanoke Island Festival Park. They all had fun giving out "retro" candy like Cow Tails and Zotz at Trick or Treat Under the Sea at the North Carolina Aquarium. By the way, they have a great selection of candy at the store including Jelly Belly, Harry Potter Chocolate Frogs and Jelly Slugs.
This summer they are pleased to provide door prizes for the Summer Reading Program at the Dare County Public Libraries. The science theme this year will be a good fit, not just because their store has a science section, but also because science - like an explosive soda geyser - can be fun too.
As the holidays approach, the annual Toys for Tots bin is one of the first signs of the season and is often filled with toys placed by Sarah. At this store, the Christmas season is the best time of the year for obvious reasons. It's toy season! And Santa Claus likes Pirates & Pixies Toy Store so much that he and Mrs. Claus have made it one of their official Christmas party destinations. Each year, Santa arrives to enjoy cookies and show children the old school meaning of a laptop. How do we know he's really Santa, you might wonder? Just tug his beard...it's real. But be gentle, or a lump of coal might be in your future.
Naaaaa, the owners of Pirates & Pixies always put in a good word with the jolly old elf so that their local kids get the perfect toy no matter what.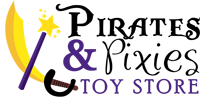 (252) 441-TOYS | toysobx.com
Whalebone Junction, Milepost 17
7332 S. Virginia Dare Trail, Nags Head