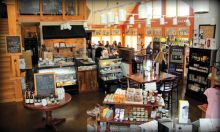 When you travel in France or Spain and visit one of the many small villages tucked away in a valley or alongside the sea, chances are you will find yourself in the town square. This is the place where everyone comes to gather at all times of the day and night to pick up a loaf of bread, meander into little cheese shops or a small deli, afterward enjoying a bite to eat, a homemade dessert or glass of wine at a small table on the street listening to the sounds of local music. This is what it feels like to experience Trio.
In the three years since Trio opened in Kitty Hawk, the unique concept-driven establishment has secured its place as a favorite among locals and visitors. It's a neighborhood place, comfortable and unpretentious. When you walk through the door and into the spacious, light environment, you feel immediately welcomed. As you venture a little farther inside you realize that you are walking into a discovery zone.
A large part of the Trio experience is about trying new things. You can sample from the 24 wines featured in the self-serve wine stations, awesome machines that dispense fresh wines by the taste, half glass or full glass. The cheese counter offers 70 or so artisanal cheeses, all available to sample. Flights from the 24 beers on tap at the bar are also available, and the staff is happy to let customers try whatever they want. They have products that a lot of people have never seen before, and they offer cask ale, when available, on a reconditioned hand-tap originally from a pub in England.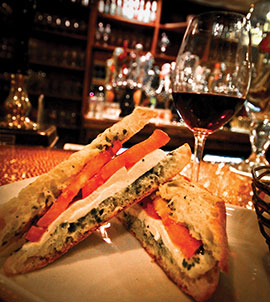 "We're not just saying here, 'Buy these.' We want customers to experience," Kenny Hyman, co-owner, emphasizes. "You've never tasted cask ale before? Here, try it. At any given time we might have something like a '97 Barolo that sells at retail for $150 in the wine stations, and you can taste it for just a fraction of that cost."
When people think of wine and beer and cheese, they can find the idea sort of intimidating because there is a lot to learn about them. At Trio, people who come in who are hesitant to try things see immediately that Trio has a casual, comfortable atmosphere and is a perfect place to learn and experience. If you already have a discerning palette, Trio will not disappoint. The staff tastes everything too, and you can see the real pleasure they take in expanding individual tastes one palette at a time. "We love to do it," John Minnich, co-owner says. "It's about getting our customers to discover new things, but totally within their comfort zones."
And comfort is a big part of the Trio experience. Downstairs the space is divided between the retail section and the bar and restaurant. You can perch on stools at the long inviting bar, on one of several high cocktail tables or cozy into a table for two or four. A corner downstairs has the perfect place to tuck into a comfy couch and some chairs while sipping from the wine stations. Upstairs in the mezzanine there is a bar and casual groupings of couches, tables and chairs to gather with friends while you play a game of pool or stand on the balcony to watch the live music below. No matter where you are the Trio staff is making sure you have something to drink and eat.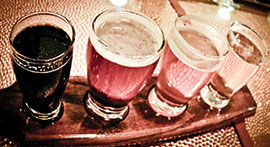 Establishing a solid team with a shared a passion for all things Trio has been one of the most important elements of growing the business, according to the owners. One of the ways they develop camaraderie and knowledge among the staff is by having a Trio book club. The first book they picked was The Naked Pint, a book about craft beer. "It's not a mandatory activity," states John. "It's optional. All we do is buy the book and ask them to show up." And they all do. It has evolved into an opportunity to taste some of the things they read about and share ideas, and it has become a foundation for group discussion that relates back to what's working, what's selling, what are people liking and how to describe things to customers. "We are attracting the kind of people to our staff who are passionate about what we do. When customers come in, they see that," says John. It's been a big relief because since Trio opened the owners have worked countless hours behind the bar, in the kitchen and in the back washing dishes. "They were good problems," Jennifer Minnich, co-owner, laughs. After three years the owners are becoming freer to stop and think about how to add value to the business in other ways.
The concept of Trio began with Kenny and Melissa Hyman. In 2003 they moved here and opened Native Vine in Point Harbor, with the intention of introducing and selling Carolina wines to Outer Banks visitors. It quickly blossomed into a full-scale wine shop with a tasting room that became an integral part of the business, hosting wine festivals and events and attracting a loyal clientele. The Hymans began to realize they wanted to do something more but that it would mean a change in location. They worked on developing the Trio concept for five years before starting to move forward with it. "We were looking for investors, and John and Jennifer were already good customers," says Kenny. John and Jennifer Minnich moved here after John sold a consulting company in Pittsburgh. "We had a house here, and I've been coming since the 70s," John recalls. "We got married here. It's been kind of a goal to make it here." He spent three years exploring business opportunities until one day he went into Native Vine to buy a bottle of wine and Hyman approached him and said, "I have an idea and want to share it with you." It went quickly from there.
Trio is really three businesses in one, all requiring full attention. Passion is the driving force. When speaking about the development of his love of wine, Hyman states, "I either wanted to go into the wine business or the perfume business...because of the smells." Hyman actually can visualize what he is smelling. "He's got a super sniffer," Minnich laughs. "Because of Kenny, I went from solely a California wine drinker to an Old World wine drinker as well."
John, who runs the beer program, became a fan of cask ales while living and working in England for a year and knew he wanted to offer it at Trio. "The idea of cask ale to me," Minnich says, "is that it's the traditional way of serving beer before everything became pasteurized. The beer is still alive, kind of like champagne is, and I knew we needed to have it."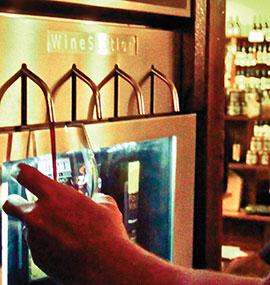 For Jennifer it was cheese. She had stopped practicing law and was a stay-at-home mom but knew she wanted to get back into doing something she was passionate about. "I was really obsessed with cheese," says Jennifer, who had been toying with the concept of opening a cheese shop. "For 10 years!" John laughs. "She'd been asking to open a cheese shop for 10 years!"
"Everything we do is about providing our guests with the experience we'd want to have if we were in their shoes," says John. They all agree it's more work to do it like this - the cask ale, the tastings, the hands-on customer service - but they wouldn't have it any other way.
When talking about the menu, Trio offers familiar food, but it's with a twist. Artisanal grilled cheese sandwiches with a hint of truffle oil, Mediterranean nachos made with pita chips and feta cheese, housemade roasted onion dip, bruschetta and baked brie. "There's nothing complicated about what we do; it's a very simple concept," Hyman states. "It's simple food but with fresh ingredients that have our twist on it," Jennifer adds. "We always call that the Trio twist."
The Trio twist is on everything. The retail side, half of the Trio business model and just as important as any other aspect of the business, crosses over into the entire experience. If you are shopping for beer and wine from the impressive selection of more than 2500 labels, chances are you can taste something similar on tap or from the wine stations before buying it. The cheese counter staff is always happy to help you try any of the 70 cheeses from around the world before making your selections. Round it out with a selection of gourmet crackers, chocolates, pasta, sauces, local food items and countless yummy offerings and you have an easy meal or perfect beach picnic.
Expansion plans are already in the works with a newly opened outdoor patio and plans to enlarge the kitchen. With a well-trained staff they can trust, the partners have begun relinquishing some responsibilities. Chef Neil Beaver has oversight for the kitchen and develops new menu items seasonally. A dedicated event coordinator now handles the ever-increasing number of private events upstairs in the mezzanine, which is a great space that feels kind of secluded and private but also a part of the entire place. It's perfect for a casual wedding rehearsal gathering, meetings, book clubs and parties.
What the partners have succeeded in doing is to bring a new and unique experience to the Outer Banks. Already a regular haunt for many locals, they are well on their way to establishing Trio as a destination that every visitor will want to work into their plan for the week.
Bravo, Trio! Three times we all raise our glasses in tribute!
(252) 261-0277 | Milepost 4.5 | Kitty Hawk | obxtrio.com