There's something exhilarating about any marathon, from the pulse of your heart when you take your starting stance to the final kick across the finish line. But here in coastal North Carolina, it's both the spectacular scenery and the tremendous spirit of the community that attract thousands of runners from around the world to the TowneBank Outer Banks Marathon.
Set between the Atlantic Ocean and the Pamlico Sound, the annual race held by Outer Banks Sporting Events (OBSE) each November is unlike any other, spanning from Kitty Hawk to Manteo and passing iconic landmarks like the Wright Brothers National Memorial and Jockey's Ridge State Park along the way.
"We have folks from all 50 states and 18 countries who run our marathon," says Ray Robinson, of Outer Banks Sporting Events. "You come for the week, you stay and enjoy the beach and you run with us on Sunday. It's a true experience."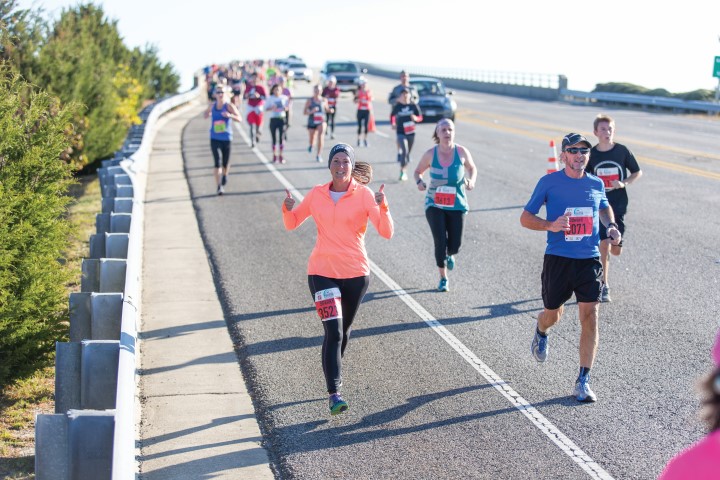 Now in its 13th year, the Outer Banks Marathon and Southern Fried Half Marathon is the biggest annual race for Outer Banks Sporting Events, a local nonprofit that organizes sports competitions that are fun and health-focused while helping those in need. 100% of net proceeds from events like the Flying Pirate Half Marathon, Storm the Beach obstacle course, the Outer Banks Triathlon and, of course, the Outer Banks Marathon go to the Dare Education Foundation and the Outer Banks Relief Foundation.
Since its inception the Outer Banks Marathon has given more than $1 million to both foundations, and additionally Robinson says, "We're happy to announce a more than $60 million economic impact to the Outer Banks thus far."
It was a lifelong interest in nonprofit management that first led Robinson from internationally recognized groups like United Way and Boys & Girls Clubs of America to the OBSE team last year. Today it is his passion for healthy living and giving back to the community that helps him make massive events like the Outer Banks Marathon possible.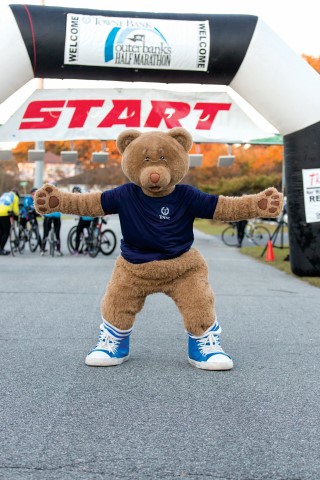 "From stress relief to living a long life to healthy relationships with your family and friends," he says, "recreation and active lifestyles are essential to the everyday health of all of us."
Whether you're a professional, a beginner or somewhere in between, you will find a race that fits your goals and style with OBSE – from 1-mile sprints to full 26.2-mile undertakings. And the Outer Banks Marathon, happening November 11 this year, provides one of the most incredible opportunities to tour the Outer Banks for any athlete.
"Everybody runs the marathon," says Robinson. "We've got elites who come from all over the world to run with us. For the last few years we have had a gentleman who I always talk about, Super Dave. Super Dave is blind and runs our marathon every year, and he doesn't come in last either. In addition I had a lady who was 81 years old who ran our marathon. The list goes on and on."
Professional athletes come to compete for first place, while others are hoping to get a personal best time or qualify for the Boston Marathon. (Robinson notes that the Outer Banks Marathon may be an easier qualifier than other races because of our relatively flat landscape.)
"I had a gentleman last year who is working on (running marathons in) all 50 states and got North Carolina because of us," he says. "A lot of our runners, when they're trying to do all 50, they end up wanting to come to the Outer Banks."
The marathon begins in Kitty Hawk Woods Coastal Reserve then follows the soundfront in Kill Devil Hills via picturesque Bay Drive. After circling the Wright Memorial, it's into the beautiful Nags Head Woods and then on to Jockey's Ridge. You'll join the highway (where the Half Marathon course begins) and cross the causeway and bridge to Roanoke Island – which Robinson has taken to calling Heartbreak Hill, with it being one of the only hills that runners must conquer on the course.
At the finish line in downtown Manteo, a post-race party of 10,000 to 20,000 runners and friends awaits, complete with a live band, local cuisine (in the past, Brunswick stew and barbecue), a beverage and beer garden and awards ceremonies hosted by Taylor Sugg of TowneBank.
As with other marathons, many runners and groups choose to dress in wacky costumes. "You've trained for a number of months to be able to come out and compete at a high level," says Robinson, "and you want to be able to express yourself."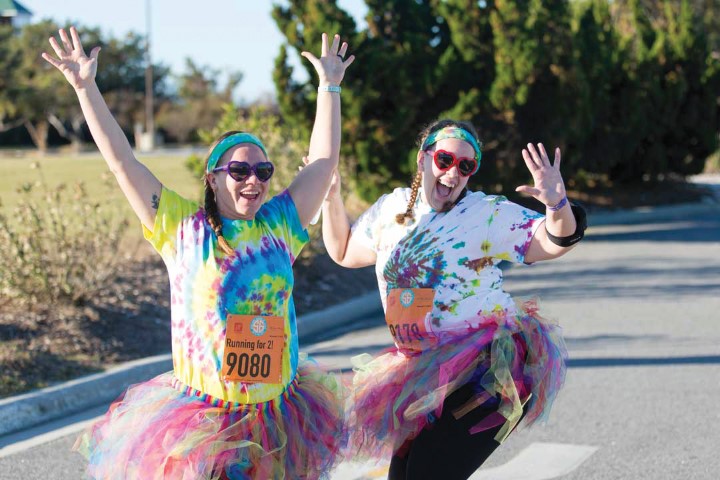 And participants aren't the only ones dressed up. Of more than 800 volunteers, you may spot a group at Pirate's Cove dressed in Forest Gump attire or the Delta Kappa Gamma teachers' sorority dressed as bumblebees. "You could see anything out there!" says Robinson.
According to Robinson it's the volunteers that truly make Marathon Weekend and other OBSE sporting events, and it's the desire to raise up our community that draws them.
"Thirteen years ago a group of individuals built this experience, and now over a decade later we are all able to share in it," he says. "That experience, that weekend, that event allows us to give back to our community in such a huge way. When you see young people and teachers able to benefit from dollars that we give back, when you see folks who may have come on hard times able to be helped, that's a huge impact for our small community."
After all these years Outer Banks locals know the marathon as a holiday in its own right. County commissioners actually made it official last year by declaring Outer Banks Marathon Weekend. And after all the work that goes into the race, there's an incredible sense of accomplishment at the finish line that tops all other emotions that come with the day.
"I can't tell you how many people come across that finish line and break into tears because of all the hard work, all the dedication," says Robinson. "Even though they trained for this, they wondered if they were going to make it. And they made it."
Outer Banks Marathon Weekend
November 9 – 11, 2018

Running of the Leprechauns
March 17, 2019

Flying Pirate Half Marathon
April 12 – 14, 2019

Outer Banks Triathlon
September 14 - 15, 2019

Outer Banks Cycle Event
September 2019
---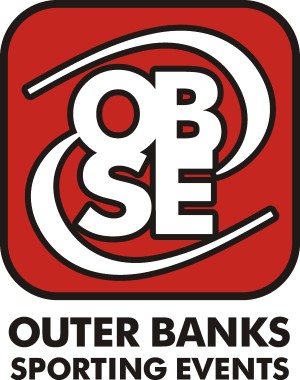 obxse.org
(252) 255-6273
2234 South Lark Ave., Nags Head, NC